Goya Foods unveiled a sculpture of the founder of Goya Foods, Don Prudencio Unanue, in celebration of Hispanic Heritage Month at the Goya Foods headquarters in Jersey City.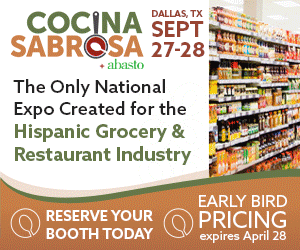 Goya Foods, the largest Hispanic-owned company in the U.S., first began in 1936 during the Spanish Civil War in a small storefront on Duane Street in Lower Manhattan. Don Prudencio Unanue left Spain for Puerto Rico when he was 18, meeting his wife Carolina there, who had also left Spain and together they moved to New York City.
According to a Goya press release, the couple was driven by the belief that there was a growing consumer market for high-quality, fresh tasting Latin foods and began catering to local Hispanic families by distributing authentic Spanish products, including olives, olive oil and sardines.
"Don Prudencio's entrepreneurial spirit and marketing insight led him to create the most recognizable Latin food brand in the United States that would also become an iconic symbol and institution for the Hispanic community," Goya Foods stated in a company press release.
A historic day for Goya Foods
Hispanic communities are known for eating together as a family, with food being an important pillar of Latino culture. There are many Hispanics in the U.S. who have come here from their mother country, seeking new opportunities and a new life. Goya Foods states that the company's history and Unanue's story are as much about family and values, as they are about achieving the American dream and helping to cultivate the Latin culinary landscape in the U.S.
"Today is a historic day for Goya," said Bob and Peter Unanue, President and Executive Vice President of Goya Foods and grandchildren of Don Prudencio Unanue. "For generations to come, this sculpture will serve not just as a reminder of our grandfather's extraordinary life and legacy, but as an inspiration to all of us that through hard work and dedication the American dream is possible."
The sculpture was designed and created by Maritza Hernandez, a Cuban born, Chicago-based artist and sculptor.