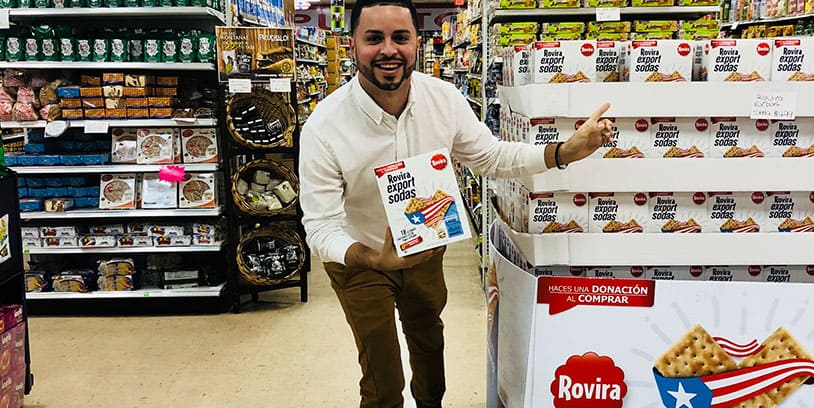 Entrepreneur Willer Vélez, the owner of Willer's Supermarket (Puerto Rican store), opens a Willer Supermarket in Kissimmee, Florida.
Willer Vélez
Vélez desire to become an entrepreneur began at the age of 11 when he opened, in La Moca neighborhood of Peñuelas, Puerto Rico, a candy store he named El Remendón.
Since then, he has managed to succeed in every business he has undertaken, thanks to his innate expertise as a businessman and his willingness to take risks.
That spirit took him to Kissimmee where he opened Willer's Supermarket, the first Boricua store in central Florida, now home to nearly half a million Puerto Ricans.
"To go forward in life you have to be positive, you have to be kind, affectionate… in business, you have to win over people so that they return to the store," Velez said in an interview with Abasto.
Working during the day and studying at night, Vélez has forged his life as a businessman who is not afraid to take risks and who understands the great value of learning from the mistakes that are sometimes made in business.
Entrepreneurial Spirit
The entrepreneurial spirit of the young Puerto Rican has led him to sell candies, to have a sandwich business at age 16, establish a wholesale grocery and beverage store at the age of 19 that he named Cash & Carry, open successful branches in Puerto Rico and with just 29 years, in 2017, he finally jumped from the island to the continental United States to open Willer's Supermarket in the town of Kissimmee, close to Orlando.
It took him almost a year to open the first Boricua supermarket in central Florida. Vélez had to overcome many obstacles because he did not know how the system of regulations and permits works in Florida and several contractors ended up deceiving him.
A look at Willer's Supermarket (The Puerto Rican supermarket store)
Here is look inside what you can expect to find at this Puerto Rican Supermarket grocery store.
The difficulties and setbacks
And in the midst of these difficulties, he had to face the emergency on the island after Hurricane Maria destroyed Puerto Rico in September of 2017.
"María arrived in Puerto Rico and the project (the supermarket in central Florida) had not yet been completed. Due to the hurricane, the Villalba store suffered 100% in damages, the Yauco store suffered 70% in damages. In order to get back up after María, I raised tents outside the stores and with all the work team that was available, two days after the hurricane, we opened Cash & Carry outdoors", said Vélez.
Three months later, operations at two of its three wholesale warehouses in Puerto Rico had returned almost to normal and Velez traveled to Florida to put all his efforts on opening the supermarket located at 1344 East Vine in Kissimmee, which finally opened on December 3rd with an investment of $1.3 million creating 38 direct jobs.
What makes the difference at Willer's Supermarket is the opportunity that customers have to find fresh, "short-dated" Puerto Rican products, as described by Vélez.
Photo Gallery of Willer's Supermarket in Kissimmee, Florida
"Nobody in the past had brought a Holsum product to sell in Kissimmee due to its short expiration date and nobody was going to risk taking it knowing it would expire in two days. Shortbread cookies, cucas, products like those that have short expiration dates, I knew they were going to be the sensation, besides that in my supermarket people feel like in Puerto Rico, when you go there you say, I'm in Puerto Rico", explained Willer Vélez.
No detail was neglected to build the supermarket, from the way the 15,000 square foot store was set up, to its products brought from the island, the decoration, the colors of Puerto Rico, the music and even the Medalla beer, which is finally being sold in the store, all have the seal of la Isla del Encanto.
The Challenges of Independent Supermarkets and the NGA's role
The young entrepreneur wants to keep growing and he has plans to expand the supermarket business to other cities of central Florida. Vélez will open a second store in the city of Lakeland in July and through a franchise, the program hopes that at least three other supermarkets will open their doors before the end of 2018.
For other young entrepreneurs who want to follow in their footsteps, Willer Vélez advises them to "go after their dreams, whoever wants to, it's time to act, if you have a plan, do it and if it comes out well, great, otherwise do another one because when you think about it a lot it only stays in your dreams, let's go forward".
Have you visited Willer Supermarket in Kissimmee, Florida? Tell us what you think about it? Did you find all you needed?