With more than $100 million invested, Smithfield Foods started operations in its new distribution center, located in Tar Heel, North Carolina, which will create about 250 new jobs.
The new 500,000-square foot facility, about the size of eight football fields, and its blast cell cold storage capabilities at its processing facility, will strengthen the company's supply chain to better serve customers globally, according to a press release.
"We are experiencing an exciting time of growth and this new distribution center will help us continue to optimize our footprint," said Kenneth M. Sullivan, president and chief executive officer for Smithfield Foods. "More than 10,000 Smithfield Family members already call North Carolina home, and we're proud that our investment in this project will create even more jobs. We look forward to welcoming new employees into our family."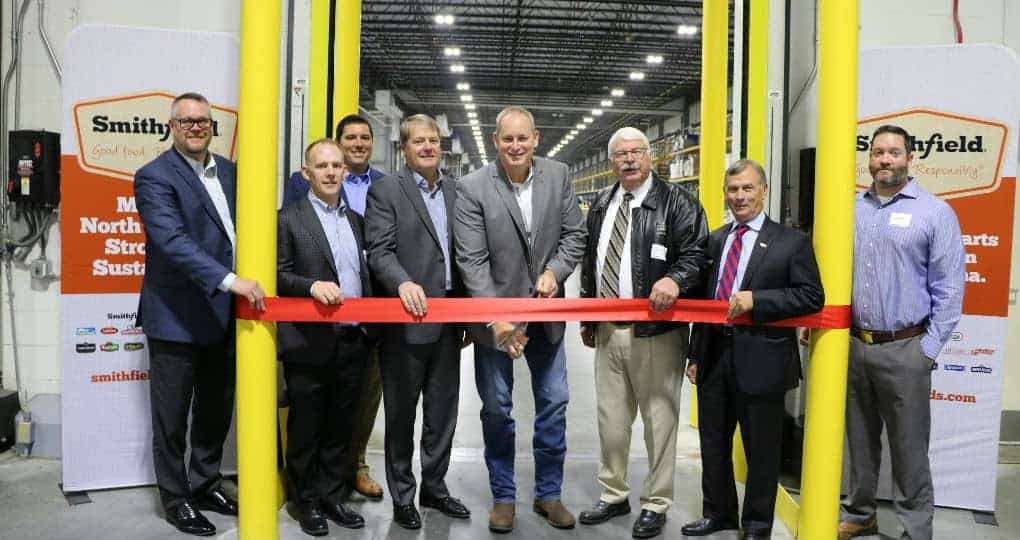 Smithfield leadership attended a grand opening and ribbon cutting celebration at the Tar Heel distribution center, which has begun making shipments and will be fully operational by Jan. 2019. Commissioner Steve Troxler, North Carolina Department of Agriculture & Consumer Affairs, and state Sen. Bill Rabon joined the celebration on December 14th.
"I applaud Smithfield for their continued support of North Carolina's leading industry—agriculture," said Commissioner Troxler. "With this new facility, Smithfield will strengthen the role North Carolina farmers play in feeding our country and the world."
The new distribution center features nearly 50,000 pallet positions and has an annual capacity of more than one billion pounds. It will also optimize its transportation and distribution network to lower fuel usage, cut transportation costs, and improve delivery times.
Related Article: Smithfield Launches its First-Ever Spanish Website to Attract Latino Consumers
It is located adjacent to one of the company's meat processing facilities, which is the largest pork plant in the world, and produces fresh pork products for customers in the U.S. and across the globe.
"This new distribution center exemplifies Smithfield's unwavering commitment to continuously improving its operations," said Dennis Organ, senior vice president of supply chain for Smithfield Foods. "While providing best-in-class customer service, we're reducing the distance our products travel, which shrinks our carbon footprint and positions us to achieve our long-term sustainability goals."
Smithfield Foods is a $15 billion global food company and the world's largest pork processor and hog producer.