Meijer plans to open its second small-format store called Woodward Corner Market in Royal Oak, Michigan, by the end of January.
The company opened its first small-format store, Bridge Street Market, a 37,000-square-foot location on the west side of Grand Rapids, in late August 2018.
The Woodward Corner Market is a 41,000 square foot space located in the Woodward Corners by Beaumont shopping center on Thirteen Mile Road and Woodward Ave. It will open Jan. 29, according to a press release from Meijer.
The new store will offer an assortment of food and beverages, with its every day low pricing format to customers in the area, the Grand Rapids, Mich.-based retailer, reported.
Meijer noted that Woodward Corner Market is coming to the Detroit metro area for the first time with its small-format store concept.
"Our small-format stores like Woodward Corner Market and Bridge Street Market provide new ways to serve our customers," Meijer President and CEO Rick Keyes said in a press release. "The team is working hard, and we are excited to share Woodward Corner Market and see the positive impact it will have on this community."
The Woodward Corner Market store will feature open-air elements with 25-foot ceilings and pedestrian-friendly design, with six garage-style doors that open to an outdoor fresh produce and floral area in warmer months, Meijer said.
The store's wide variety of fresh and prepared foods will include bakery items, fresh meat, and deli offerings, Meijer and national brand products, and an estimated 2,000 local, artisan items, including Daily Dozen Doughnuts, New York Bagel and Bath Savvy Soaps.
Inside, customers will also find a Great Lakes Coffee shop that specializes in nitro brews, an extensive beer, wine, and liquor counter and an expansive international food aisle that will feature eight ethnic backgrounds, including Middle Eastern, kosher, Hispanic, European and Asian foods. The store also will offer a varied selection of health, beauty, and home products.
Related Article: Food Trends 2020, What Products Consumers Will Look For
"Woodward Corner Market will offer a unique shopping experience to meet the needs of our customers, and we can't wait to open our doors," said Rubino, who previously worked at the Royal Oak Meijer. "We are actively engaging the community not only to be a good neighbor but also ensure we have the best products on our shelves."
Meijer said Woodward Corner Market would be the largest tenant in the Woodward Corners by Beaumont commercial development, where also Beaumont Hospital campus is located. The center also includes other retail stores, national and local restaurants, such as Wahlburgers, New Order Coffee and Bucharest Grill.
Similarly, Bridge Street Market anchors a development spanning a city block located amidst the city's current hub of collaboration and mixed-use development, residing alongside apartments named The Hendrik, and an office and retail building.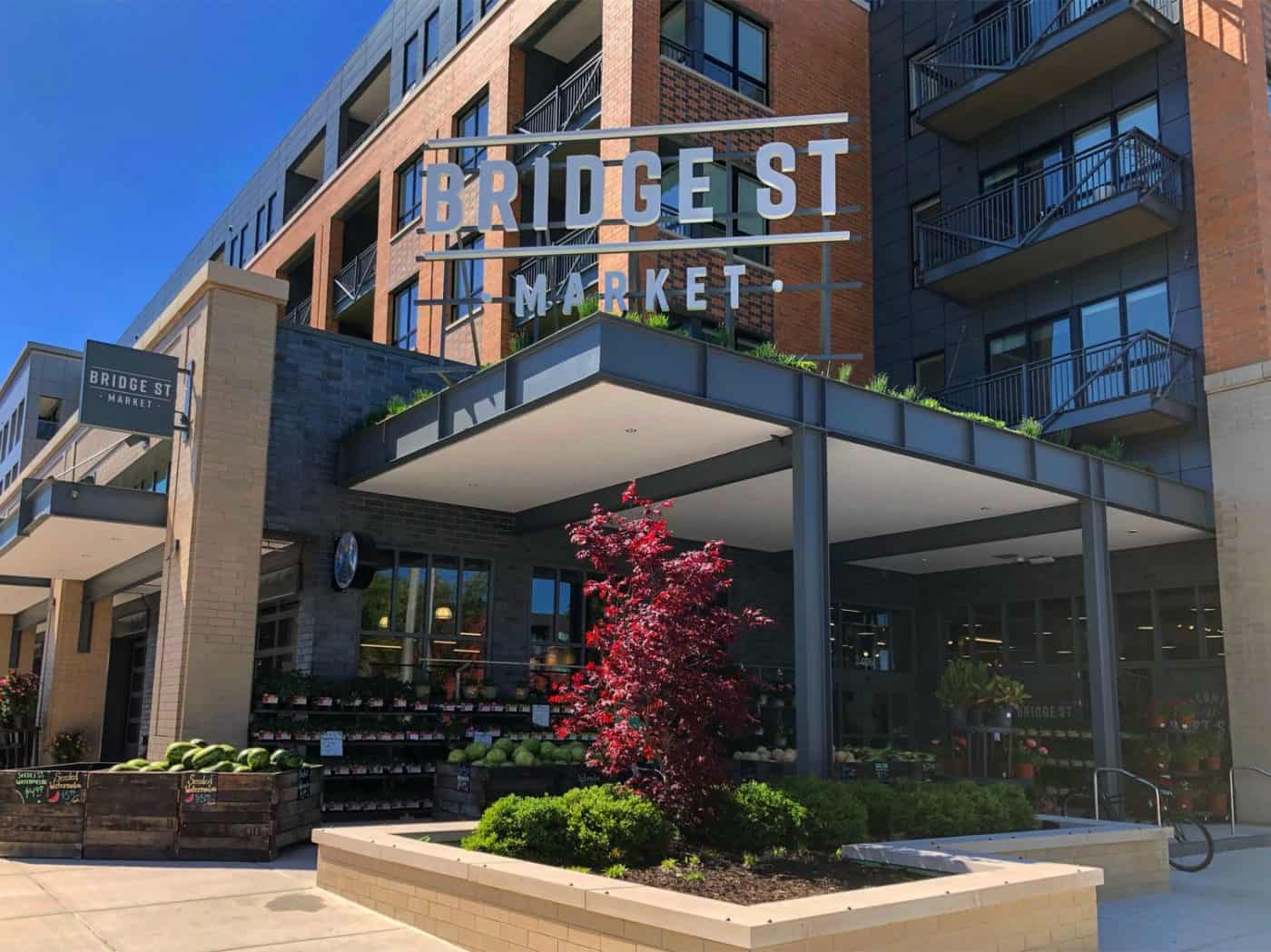 The 37,000-square-foot features open-air elements with 22-foot ceilings and a pedestrian-friendly design with three garage-style doors that open onto the sidewalk along Bridge St. and dedicated parking on the main level of a connected parking deck.
The store hosts a Mayan Buzz Café coffee shop and offers a full assortment of fresh and prepared foods, including bakery items, fresh meat, and deli offerings.
In its first year of operation, Bridge Street Market expanded its assortment of locally-made or sourced products by 33 percent to more than 5,000 local items, Meijer said. The store also has 130 feet of vegan products, averages 220 organic products each week and has sold more sushi than any Meijer store across the Midwest, the company said.
"We couldn't be more pleased with the success of Bridge Street Market this first year," said Justin Stricklen, Director of Market Format Stores for Meijer.
Meijer, with superstores averaging about 200,000 square feet, aims to open half a dozen urban small-format stores by 2021. Overall, the retailer operates 246 supercenters and supermarkets in Michigan, Ohio, Indiana, Illinois, Kentucky, and Wisconsin.