National fast food chain McDonald's recently launched a campaign that centered around a beloved Latino character: El Chapulín Colorado.
Abasto spoke with Boden Supervisor Natalie Asorey, who was in charge of the campaign with McDonald's $1, $2, $3 Dollar menu.
The campaign was for the January launch of McDonald's value menu and included a media tour, event takeover and social media outreach.
"At Boden, we talk about the importance of writing love letters to our community. No one wants to receive a love letter that says to 'whom it may concern.' You want it written to you as an individual or as a community. This campaign, 'Síganme los Buenos,' is a love letter to our community.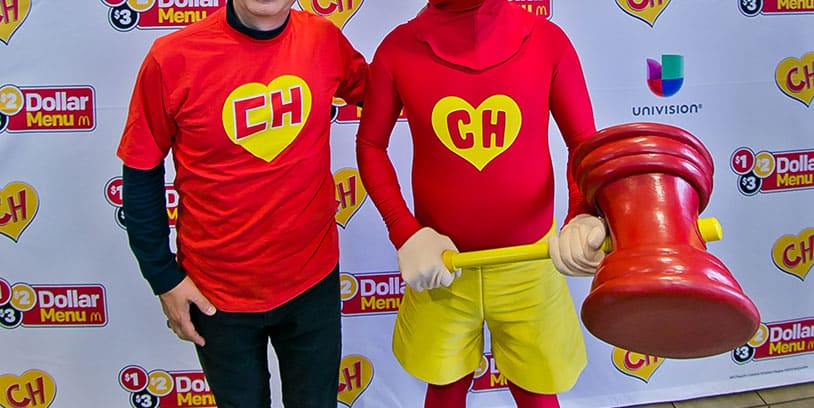 It's showing that McDonald's understands not only the rational drivers, but also the emotional drivers of our consumers. We developed this campaign based on the insight that Hispanics seek the best for their families and are always looking for clever ways to find a great deal without compromising quality. For this campaign, we brought together the new $1 $2 $3 Dollar Menu with one of the most beloved and clever Hispanic icons: El Chapulín Colorado."
When asked why McDonald's chose El Chapulín Colorado out of the many popular and more modern characters in Latino culture, Asorey responded that when Boden did an in-depth media analysis and looked at Google trends, they found that El Chapulín Colorado was still highly popular and relevant year-round in the U.S.
Asorey explained that online for example, there was a peak when the animated movie was announced in 2017, then a bit later Marvel announced a new super heroine that was based on the character, which created another peak. She told Abasto that they also saw many costume searches for El Chapulin Colorado in October and before that, media had covered El Chapulín across the spectrum.
She said she even read a Buzzfeed article titled 18 Ways El Chapulín Colorado is Mexico's Greatest Export.
"We knew that there was equity, relevance and popularity with the character. Even though the sitcom aired decades ago, the character would still be relevant, tap into our cultural pride and reach into our Hispanic consumers' hearts. El Chapulín Colorado is our very own Latino Mickey Mouse," Asorey told Abasto.
The campaign launch began with an animated social video that teased the brand's partnership with El Chapulín Colorado, which was posted on McDonald's Latino, as well as the local McDonald's Houston Facebook and Instagram pages. To formally announce the campaign, they also launched a second animated video that revealed the character and encouraged consumers to try the new $1 $2 $3 Dollar Menu.
This was followed by a full-blown media tour, which featured Roberto Gomez Fernandez, the son of the El Chapulín Colorado actor, Roberto Gómez Bolaños. Fernandez was a spokesperson of the campaign and served a s a representative from Grupo Chespirito. The campaign worked closely with Grupo Chespirito and Univision on the design of the limited-edition games to ensure that the integrity and quality was kept according to the global standards of the Chapulín Colorado brand.
"In media interviews, Roberto said that he felt his father would have been proud of this partnership," Asorey said.
The campaign also worked with Nelly Quijano, a local McDonald's owner/operator in Houston and owner of the restaurant where the first ever sausage burrito was created. An event takeover took place at Quijano's restaurant where consumers had the chance to meet Fernández and to interact with and take photos with a life-size animated version of El Chapulín Colorado.
The El Chapulín Colorado campaign offered limited edition games
In addition to that event, the campaign had giveaways and limited-edition games that were designed with both El Chapulín Colorado and McDonald's. The games were the traditional lotería games with some of the traditional El Chapulín Colorado elements, such as el corazón and el Chipote Chillón. There was also a deck of playing cards and the games were available to the Houston-area families when they made a $1, $2, $3 Dollar Menu purchase at those participating restaurants.
"It was a rewarding experience to see not only consumers' excitement but also see a line out the door. Consumers had a powerful cultural connection to the character and McDonald's was able to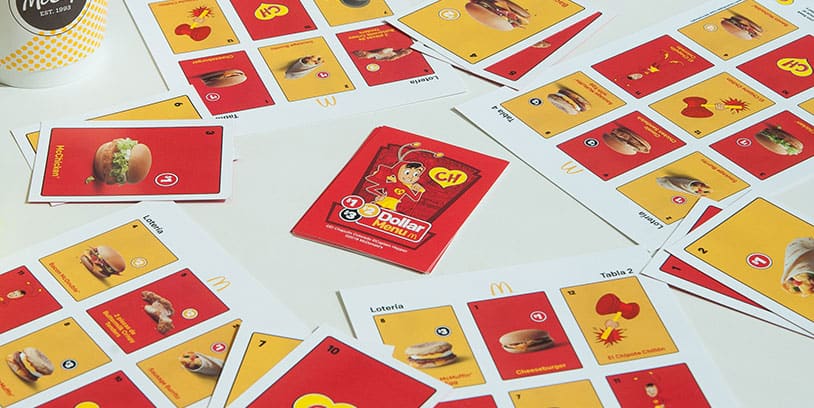 tap into that to build reputation and drive sales," Asorey told Abasto."
Asorey described the campaign as a national strategy with a very strong hyper-local execution. She said they identified that Houston was a great market not only because of its position within the value category, but also because its density in Latino population.
"The campaign was designed as a test model that could be adapted in other key Hispanic markets. Both nationally and in Houston, the campaign helped build brand reputation, showing consumers that McDonald's is a brand that's committed to and understands their community."
Asorey described the immense opportunities within the Hispanic/Latino market for any campaign or any business in today's world.
"2018 is the year of the Hispanic market. It's the year of embracing diversity – it's a business imperative. Brands looking to grow will find that developing a highly targeted Hispanic communications plan will be key to reaching that consumer," Asorey said.