Today, Hispanic consumers are recognized as a backbone for any growth plan in U.S. industries. With 57 million Hispanics in the U.S., they represent almost 18% of the country's population and important spending power. Hispanic buying power reached $1.4 trillion in 2016 and is expected to reach $1.8 trillion by 2021.
Hispanic spending continues to rise across the total fast-moving consumer goods (FMCG) market, according to Nielsen's Target Track retail measurement service. In year-to-date (YTD) 2017, Hispanic consumers have increased their FMCG spending by 0.6%, in comparison with 2016. Non-Hispanic dollars are down 0.7% more than last year.
However, if you focus in on all the various departments, four of the 15 departments tell a different story. Sales in the beauty, dairy, general merchandise and meat departments are lower YTD for both Hispanic and non-Hispanic consumers. Nonetheless, Hispanics are spending more in several main departments that non-Hispanics are pulling away from including bakery, deli, frozen foods and household care. It's also worth noting that sales among non-Hispanics are not growing in any department where Hispanic spend is down.
Although there have been shifting patterns in sales, Hispanic consumers are not spending less than they were in previous years. However, they are not increasing their spending at the rate that retailers and manufacturers have grown used to in recent years. Across 10 of 15 key departments, YTD sales growth among Hispanic consumers are lower than they were last year. Similarly, YTD spending among non-Hispanics is down across 12 departments.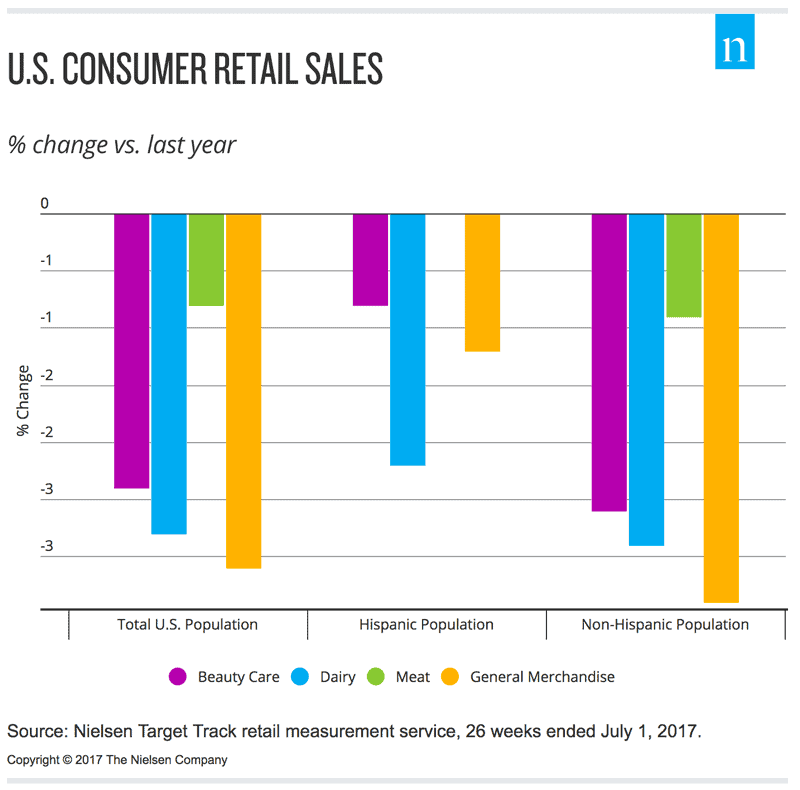 Hispanic consumers' spending increases
Yet, Hispanics consumers overall spending has increased this year. As Hispanic consumers prompt growth, the uptrend in spending is helping to counteract the spending declines among non-Hispanics. FMCG manufacturers and retailers should also take into account that though Hispanic consumers are continuing to spend money, they are changing their shopping behaviors. For example, they are shifting to larger basket sizes per trip, suggesting to manufacturers and retailers that they must ensure larger product formats (i.e., family size) are available to meet a growing demand.
By understanding the cultural core that drives multicultural consumer behavior, marketers and advertisers can establish a long-term relationship with the fastest growing segment of the U.S. consumer economy.
With information provided by Nielson