Pasta is one of the world's most favorite foods! Spaghetti, lasagna, rotini, tortellini – there are over 600 known pasta shapes. It's delicious, it's nutritious, it's versatile. Pasta is a great staple to accommodate many other healthy foods like fresh veggies and lean proteins, and fits into so many diets and lifestyles. Its nutrition value, cooking ease, low cost, and delicious taste make it a go-to meal for many families all over the world.
In honor of National Pasta Day, which is celebrated annually on October 17th, we remember its origin and how was introduced to America.
According to the National Pasta Association (NPA), pasta's history is as varied as its shapes. While widespread consumption is documented from the 14th century, it is believed to have existed in some form in ancient China and Greece. And evidence of pasta dishes appeared in Italian recipe books in the early 1200s.
In 1279 a.d., a will drafted by Ponzio Bastone was found bequething a storage bin of macceroni. Early Romans used a very simple flour and water dough. Pasta is the Italian word for dough.
Thomas Jefferson introduced pasta to the Americas after first tasting it in Naples, Italy. He was the American Ambassador to France at the time. In 1789, he brought the first "macaroni" maker, back to the United States.
The Brooklyn waterfront boasts the claim to fame for the first pasta factory located in the United States, opened in 1848 by French immigrant Antoine Zerega.
Related Article: La Moderna Inaugurates First U.S. Facility in Texas
Pasta became a common North American food in the late 19th century with the surge in Italian immigration.
In Mexico, the taste for pasta consumption among the population is growing, and La Moderna is the biggest pasta producer in the country. In Texas they also have a modern plant that produces about 4,000 tons of pasta per month.
Facts about pasta La Moderna
La Moderna, is the number one pasta in Mexico and is made with Mexican wheat.
Pasta consumption in Mexico amounts to 3.2 kg per person per year, while in Italy it amounts to 25.3 kg.
La Moderna is a 100% Mexican pasta, a company founded in the city of Toluca, State of Mexico almost 100 years ago.
La Moderna pasta is made with durum wheat semolina, with a low glycemic index, which causes a slow absorption of carbohydrates that generates energy to the human body for a longer time. Therefore, these pastes do not get fat, since they provide natural carbohydrates for the body.
Is a versatile food because it combines with everything and can be prepared for any time of the day, be it lunch, soup, main course or dinner.
La Moderna is the only brand in Mexico that has more than 40 different pasta figures, so you can prepare a different recipe for more than a month, without repeating!
Is an easy food to prepare because it is ready in 3 steps, boil, drain and serve.
La Moderna Penne Rigate recipe with mushrooms, cauliflower and sweet potato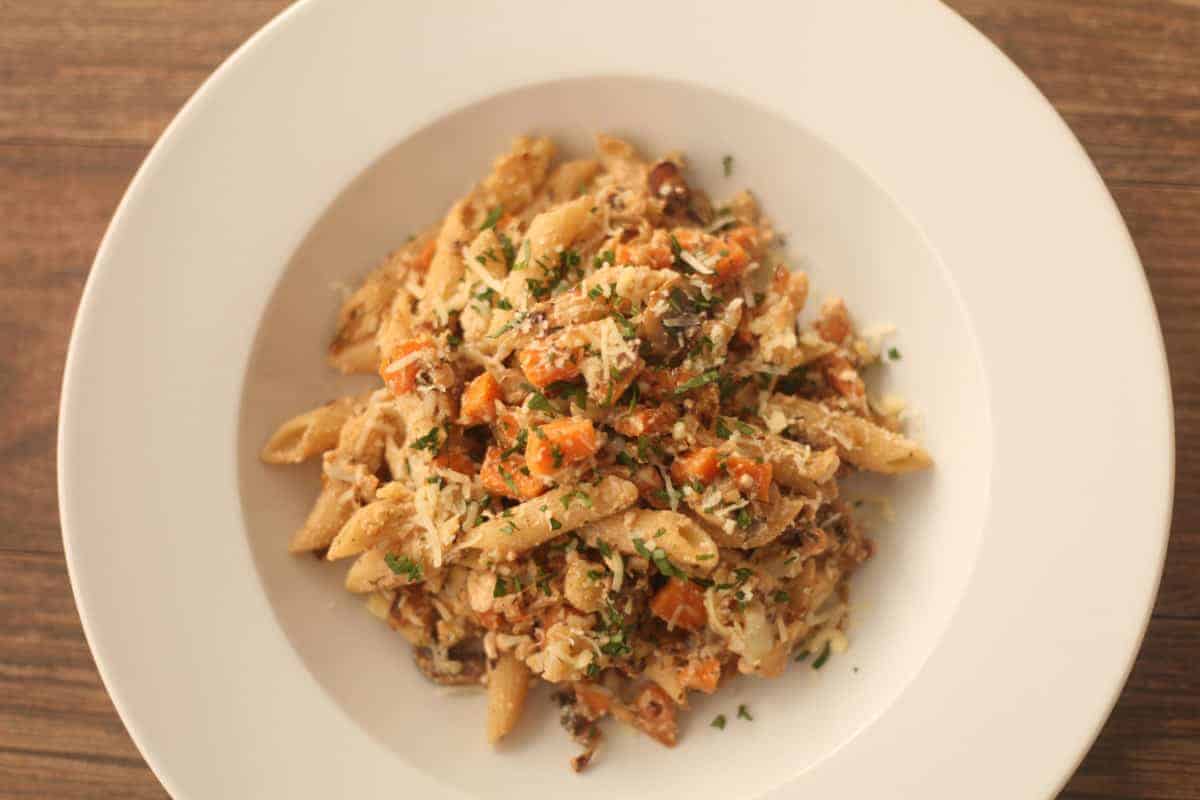 Ingredients
1/2 Penne Rigate Golden Harvest Box
2 Pcs Garlic clove
1 Pc Onion girl
15 g Thyme
250 g Mushroom
1 pcs Cauliflower
15 g smooth parsley
100 g Ricotta Cheese
1 Pc Lemon meyer
20 g Parmesan Cheese
Preparation
In a pot, boil 2 liters of salt water, once boiling, place the Golden Harvest ® Penne Rigate and cook for 11 to 13 minutes until al dente. Strain and reserve 2 tablespoons of cooking water.
Finely chop the garlic, onion, cut the mushrooms into thin slices and the cauliflower and sweet potato, peel it and cut into small pieces.
In a pan heat some oil, sauté the onion, garlic and thyme cook until they begin to brown.
Add the sweet potato, cook for 5 minutes and then add the mushrooms and cauliflower. Cook for 10 more minutes.
With the help of a fork, crush the cauliflower until it is completely crumbled, add the Parmesan cheese and then the ricotta, season with salt and pepper and the juice of half a lemon.
Add the Penne Rigate Golden Harvest ® to the pan and sauté to integrate the sauce and pasta well, add a little water. Serve and garnish with finely chopped parsley.
La Moderna PRODUCTS
Here is a complete list of the products offered by La Moderna and how to order them for your store.