Acidic, salty and spicy, a set of very particular flavors with which Roger Treviño Sr. launched more than three decades ago in San Antonio, Texas. It was an idea inspired by Mexico, to add citrus salts at the edges of containers of beers and cocktails to give these drinks a truly original touch.
Treviño Sr. began creating that perfect combination of salt with different flavors in 1986 in his house garage with the help of his wife and four children, naming his creation Twang.
Twang's citrus salts for beer, with their original flavors of lima, lima-limón, michelada and lima picosa, have become famous in San Antonio's stores. Thus, Twang became the brand that started the tradition of adding citrus salts on the edges of beer bottles and cocktail glasses in the United States, which is known as "dressing your drinks."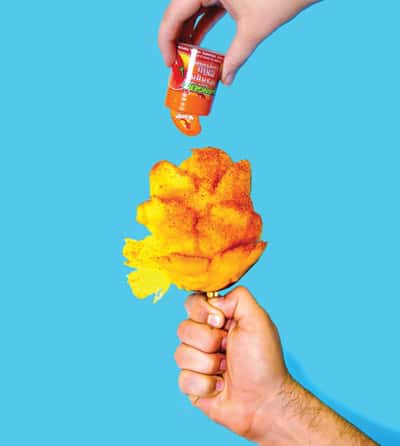 Initially a packer in Illinois sent barrels with 50,000 packages of salts to the Treviño house and the family repackaged them for sale in stores, where they were sold at 10 cents per package.
"Convenience stores called them creators of change because they were placed next to the cash register and customers used their exchange to buy Twang," Treviño said in an interview with the San Antonio Express-News.
In the face of great demand, they expanded their distribution throughout Texas, moved their production from Illinois to San Antonio in 1992 to facilities that are now expanding to 50,000 square feet and the family continued to work in the company, no longer packing the salts, but in the administration area.
One of the great successes of this Hispanic company was its association with the giant brewer Anheuser-Bush, for whom they created a custom salt to dress their Tequiza drink. From that, other associations arose with Taco Cabana, the Margaritaville tequila brand and TGI Fridays.
The acceptance of Twang in the market motivated them to continue growing, taking their citrus salts to 46 states in the nation and created new products that offer consumers unique flavors to their drinks and food.
To the family of products, they added salt shakers to make it easier for consumers to use citrus salts in their meals. They created the original mini-bottles of citrus salts, "Beer Salt," to dress the beer and also couldn't miss out on these flavor families: the Clamato Twang, which is very desired among the Mexicans and the Twang-a-Rita, the line of salts with their flavors Golden Roar (orange, lime), Unwind Lime (lime), Nectarberry (strawberry, lime), Citrusplash (lemon, lime), Paloma Love (grapefruit, lime) and Sunrise Spice (chili peppers, cayenne, lime) to apply on the edge of the glasses in which margaritas and other cocktails are served.
In the seasoning line, Twang launched Zas! Super-Seasoning, garnishes with exotic flavors that give your meals a sensational touch. When it's time for coffee, the experience is even more pleasant when you add your Zuca Coffee flavored sugar.
Visit the website www.twang.com where you'll find a great variety of Twang products, the firsts originals, as well as many ideas for spectacular recipes.