Minsa, the Mexican pioneer in the nixtamalized cornmeal industry with an outstanding 70-year history, is regaining its presence in the United States with a new image and the high quality that has always characterized them.
The new packaging of the different varieties of Minsa flour products that are already distributed in the U.S. is designed to stand out on the store shelves.
The final consumer will be able to easily identify Minsa products, such as their white, yellow, blue cornmeal, for tamale and for pupusas, as well as for industrial consumption, which is offered a variety of special flour for tortillas, tamales, chips, nachos, extrudates and special products.
Grupo Minsa launched its new image as part of its strategy to strengthen its presence in the U.S.
Related Article: Minsa innovating new lines of gluten-free business
In this new stage of the nixtamalized cornmeal manufacturing company, its objective is to strengthen its presence in the market to satisfy the general public in the U.S.
Minsa is dedicated to the production, distribution, and sale of nixtamalized cornmeal and has more than 20,000 customers, promoting the globalization of food made from corn.
In the face of increasingly demanding consumers, who demand transparency in product manufacturing processes and are healthier, Minsa makes every effort to make the processes for the production of its flour of the highest quality. They are characterized by the use of the most advanced technology with high safety standards, respecting the traditional processes of nixtamalization, exclusive of Mexico to the world.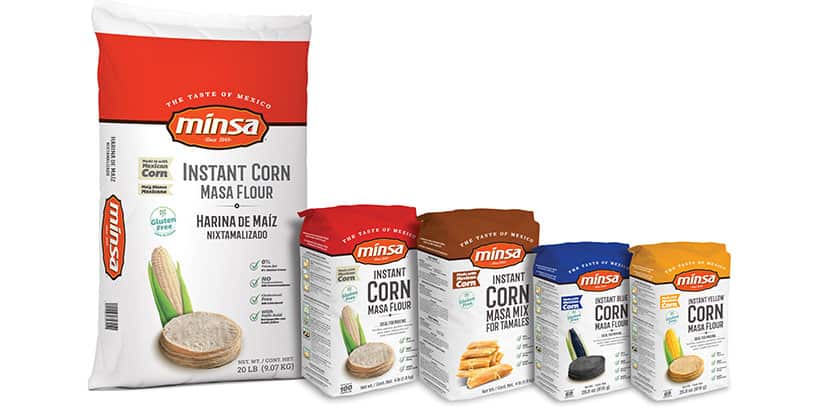 The company has innovative, functional, and value-added products, always at the forefront of the commitment to provide a favorable nutritional level to its consumers, based on 100% select Mexican corn.
For customers, Minsa is a profitable option that favors competitiveness and growth in an increasingly demanding market.
All of Minsa's efforts have as a priority to satisfy its consumers globally.
Being a company with enormous tradition in Mexico for its products, eminently rooted in culture, it has a commitment that reiterates day by day with effort and dedication.
As is traditional, Minsa will be present at Expo ANTAD & Alimentaria México, which will take place from July 22 to 24 at Expo Guadalajara.