As we approach the end of the year, many people begin to take stock and check if their wishes or goals for 2017 were fulfilled or not. This leads to repentance and disappointment, when what was planned did not become actuality.
It also starts the preparations and expectations for a new year. With all the enthusiasm, wishes, predictions and even superstitions begin to take shape so that the next 12 months will be wonderful and unforgettable.
Over the years, we set many goals for ourselves, such as traveling to dream destinations, changing jobs, getting fit, buying goods and many others. However, sometimes they only remain good thoughts that we fail to meet.
So this time, start with your right foot. We propose eight simple tips through this infographic that are useful and practical for you to make your goals, (even if they are not in the new year), following a coherent and well thought-out process.
DESIGN GOALS THAT YOU CAN FULFILL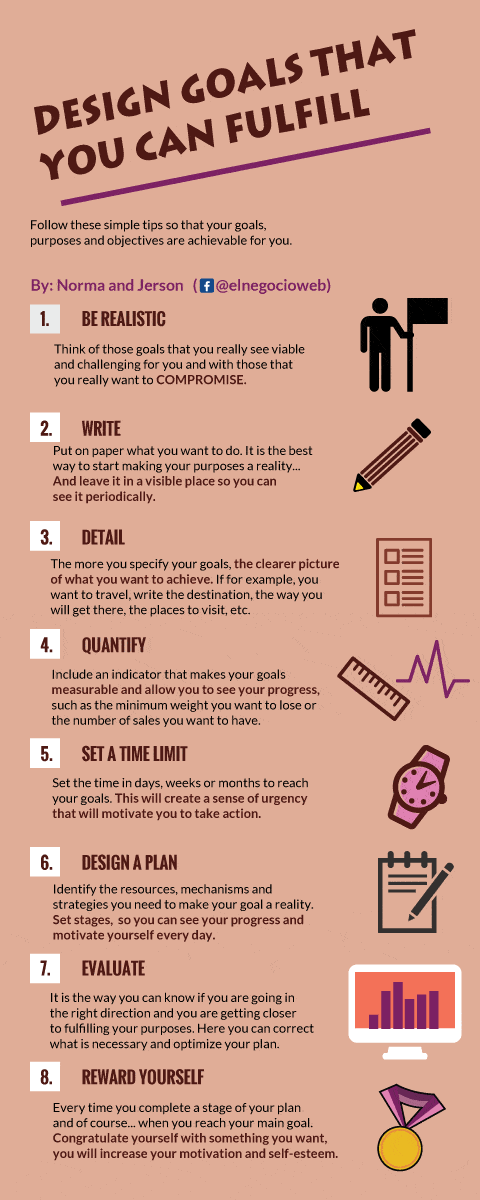 Follow these simple tips so that your goals, purposes and objectives are achievable for you.

1. BE REALISTIC
Think of those goals that you really see viable and challenging for you and with those that you want to COMPROMISE.
2. WRITE
Put on paper what you want to do. It is the best way to start realizing your purposes … And leave it in a visible place so you can see it periodically.
3. DETAIL
The more you specify your goals, the clearer picture of what you want to achieve. If for example, you want to travel, write the destination, the way you will get there, the places to know, etc.
4. QUANTIFY
Include an indicator that makes your goals measurable and allow you to see your progress, such as the minimum weight you want to lose or the number of sales you want to have …
5. SET A TIME LIMIT
Set the time in days, weeks or months to reach your goals. This will create a sense of urgency that will motivate you to take action.
6. DESIGN A PLAN
Identify the resources, mechanisms and strategies you need to make your goal a reality. Set stages, so you can see your progress and motivate yourself every day.
7. EVALUATE
It is the way you can know if you are going in the right direction and you are getting closer to fulfilling your purposes. Here you can correct what is necessary and optimize your plan.
8. REWARD YOURSELF
Every time you complete a stage of your plan and of course … when you reach your main goal. Congratulate yourself with something you want, you will increase your motivation and self-esteem.