Electrolit is the leading brand in the category of hydration and shows a greater growth in the category of sports drinks with more than 60 years of presence in Mexico is now available in the United States in 6 flavors: grape, orange-mandarin, coconut, strawberry, lemon-lime, and Apple in bottles of 21oz. (625ml).
Scientifically formulated, Electrolit has the perfect balance of ions, glucose, and electrolytes so you can recover body hydration after a long day physical activity, partying or prolonged sun exposure.
But, are they really as good as they claim to be? Our Electrolit review covers every aspect and curiosity you have about this drink.
Who is Electrolit?
Electrolit is a Mexican product manufactured by Grupo Pisa, the leading pharmaceutical company in Latin America, with more than 70 years in the market. Produced with pharmaceutical quality grade ingredients in the most innovative manufacturing facility, with a fully automated and integrated manufacturing process.
Due to the success of the product in Mexico, Grupo Pisa decided to create CAB Enterprises Inc in 2014, the exclusive distributor of Electrolit in the United States and the company responsible for positioning the brand as the best premium hydration beverage in the country.
Frequently Asked Questions About Electrolit:
What is Electrolit?
Electrolit is a product responsible for restoring the body's hydration levels in a natural way, without the use of compounds that can generate any type of dependence such as caffeine and sugar.
For this, it uses four essential electrolytes for the human body (sodium, magnesium, potassium, calcium) to prevent and treat dehydration.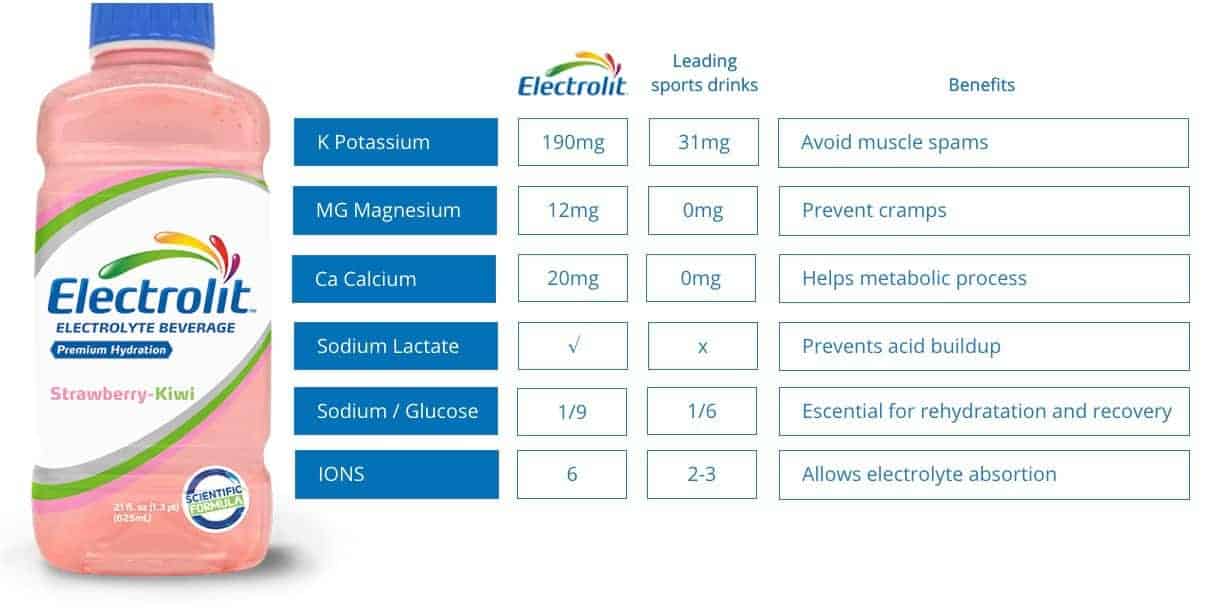 Their hydration formula includes the 4 electrolyte minerals mentioned above, 6 ion sources, optimal sugar/sodium ratio, and no artificial colors.
Are oral electrolyte solutions only beneficial when one is sick?
No. You can lose fluids and electrolytes excessively because of acute gastroenteritis, intense physical activity or exposure to extremely hot environments.
Electrolit prevents or treats dehydration by providing liquids and electrolytes contained in its formula; it also provides glucose which is a useful source of calories.
Electrolit is recommended to treat unbalanced caused by dehydration in 6-year-olds or older.
Does it cause renal diseases?
No, Electrolit does not cause renal diseases by itself. Consult your doctor if you have a renal disease.
Does it make you gain weight?
NO, this beverage has 50 calories/8 oz. The energy needs of people are determined by several factors:
There are mainly 3 components that define the daily energy needs of an individual:
Basal metabolic rate (the minimum consumption).
Physical activity.
The specific dynamic action of food (food-induced thermogenesis).
Diabetes and Electrolit
If you have diabetes, you should consult your doctor before adding Electrolit to your diet.
Electrolit drink World Health Organization And Other Benefits
Electrolit has been approved by the World Health Organization thanks to its components and nutritional value, since it functions as a serum capable of regenerating calcium, potassium, sodium and magnesium levels, after physical wear.
In addition, it can also replenish the electrolytes lost due to dehydration due to being hungover.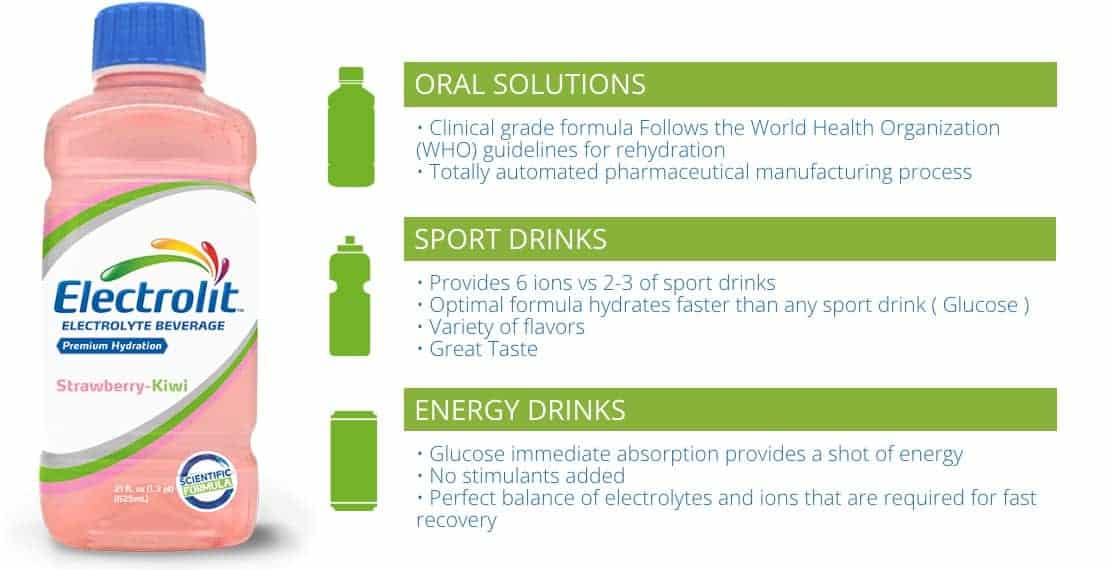 Is this beverage worth drinking?
Yes. Electrolit hydration drinks have built a name for themselves in Latin America. With over 60 years in the market, we can safely say it's a great option for those looking for hydration beverages. Their proven track record and satisfied costumers speak for the brand.
They offer several flavors and they can be purchased in stores such as Walmart and online through Amazon. Electrolit beverage is one of the best options on the market by far. They are accessible, hydrating and with a great variety for all tastes.
We're curious: Have you tried an Electrolit beverage before? If not, will you consider drinking one after reading this Electrolit review?