FreshTake, a brand-new grocery store concept, is set to open its doors in Augusta, Georgia, for next year.
It will bring a cutting-edge blend of convenience, dining, and recreation to the community in the former 42,000-square-foot Whole Foods location at I-20 and Washington Road.
FreshTake promises to elevate the way to shop and dine by seamlessly integrating quality groceries, diverse dining options, and recreational amenities.
It is an innovative grocery store concept spearheaded by CEO Jackson Mitchell, a fourth-generation Mitchell Grocery family business member.
Jackson Mitchell Holdings operates five Little Giant Farmers Market locations in the Atlanta area.
FreshTake's grand opening is anticipated for Summer 2024, offering Augusta's community an unmatched shopping journey that will blend convenience, culinary indulgence, and leisure.
The Birth of FreshTake
At just 28 years old, Jackson Mitchell's passion for the grocery industry and his creative vision have culminated in the birth of FreshTake. Drawing on years of experience and dreaming up the perfect grocery store concept, Mitchell is excited to unveil this unique venture to Augusta residents.
"We are thrilled to introduce FreshTake to Augusta," said Jackson Mitchell, CEO.
"This store represents the culmination of my career and a deep love for the grocery business. Our goal is to create a space that not only offers top-quality groceries but also becomes a hub for the community, where people can come together to enjoy great food, entertainment, and convenience."
As a full-service grocery store, FreshTake will carry the legacy of Mitchell Grocery's commitment to quality meats a step further.
The store will feature in-store butchers and a dedicated section for meat, thoughtfully categorized into prime, fresh, frozen, and packaged selections.
Customers can choose fresh meat and have it prepared by in-store chefs with the innovative "grill while you shop" option.
The fresh seafood department will also provide free steaming services.
"We are proud to continue our family's tradition of delivering the best quality meats to our customers," said Jackson Mitchell.
"With FreshTake, we aim to raise the bar even higher and provide an unparalleled grocery shopping experience for the Augusta community."
Related Article: New Store Concept Leevers Locavore Debuts in Denver
More Than Groceries
FreshTake design aims to cater to the diverse needs of the modern shopper, offering a seamless integration of shopping and leisure activities.
The store will feature seating for 130, two outdoor balconies, and a spacious mezzanine seating area above the in-store cafe, providing professionals with a cozy spot to work or meet over coffee while enjoying complimentary WIFI.
The outdoor patio seating area at FreshTake will be a prime attraction, boasting a walk-up barbecue smokehouse for a mouthwatering lunch or dinner experience.
Patrons can also unwind by the fire pit or practice their golf skills on the 5-hole putting green, making FreshTake a destination that appeals to families and individuals alike.
One of the highlights of FreshTake will be "Jackson's," a beer and wine bar within the store.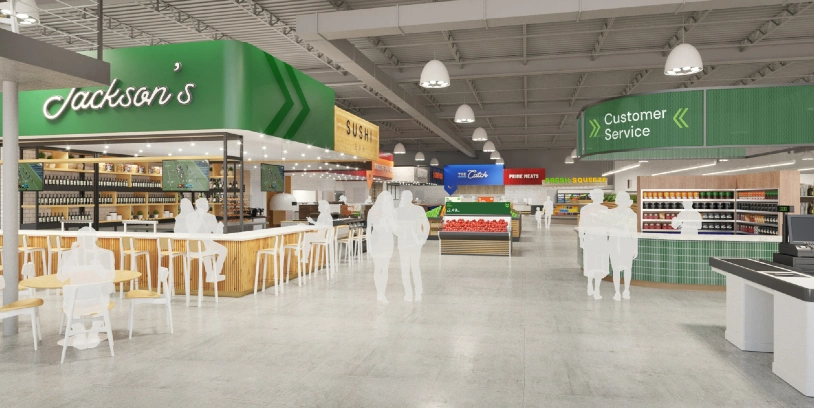 Shoppers can relax and catch up on their favorite sports on 13 large televisions while savoring ten tap beers, wine, made-to-order sushi, and bar food items.
Augusta residents and visitors will dive into a delectable culinary experience at FreshTake, where their diverse food service offerings cater to all tastes.
FreshTake customers will enjoy the artistry of an in-store sushi bar, indulging in comforting slices at the pizza and pasta station, crafting their ideal sub at the sandwich bar, and exploring the delights of the full-service hot food bar and bakery as well as a large selection of import cheeses.
Customers can visit the fresh-squeezed juice and smoothie bar or discover easy meal solutions with various grab-and-go options for a refreshing twist.