Xochitl Torres Small became the first Latina woman named Deputy Secretary of the U.S. Department of Agriculture (USDA). On July 11, 2023, the U.S. Senate voted 84-8 to confirm her to her position.
On Monday, July 17, Torres Small was sworn into her new position, making history as the first Latina in the No. 2 position at USDA.
"To get to be Deputy Secretary and in charge of the backend of the shop is really exciting because we impact people's lives in so many ways," Torres Small said in an interview with NPR before her swearing-in ceremony at USDA headquarters in Washington, D.C.
"I'm the granddaughter of farm workers, and of course, that's a way that it has impacted my life. But my parents were educators. And when it comes to thinking about the kids they're teaching, making sure that those kids have healthy, nutritious food to help them learn is crucial."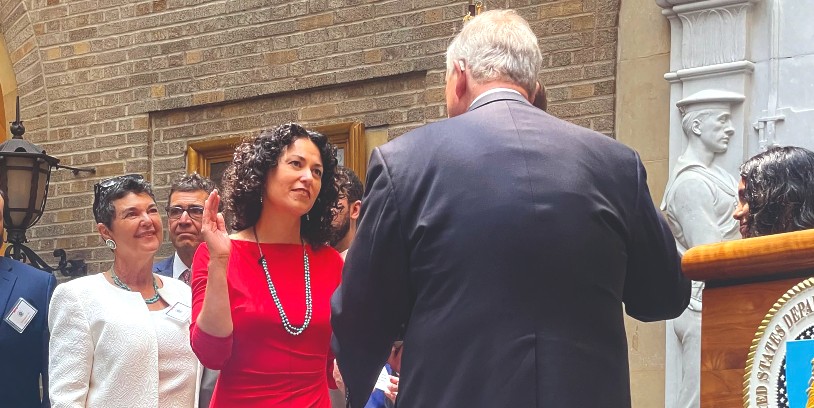 Torres Small's Journey at USDA
Before receiving confirmation in her new position, Torres Small served as USDA's Under Secretary for Rural Development.
Under her leadership, the USDA Rural Development team made unprecedented progress in reducing energy costs.
Similarly, they secured $2 billion to support improved high-speed Internet access. They oversaw loans and grants to improve infrastructure, business development, affordable housing, community facilities such as schools, public safety, and health care to help America's ranchers.
"Xochitl Torres Small has dedicated her career to serving the agriculture industry and the American people, and I have witnessed her lead with energy, authenticity, and personal investment that I know will leave an impact on USDA for years to come," said Agriculture Secretary Tom Vilsack following Torres Small's confirmation as Deputy Secretary of the Department of Agriculture.
Related Articles: FDA Names First Deputy Commissioner for the Unified Human Foods Program
Her Time in the House
Before joining USDA, Torres Small was a congressional representative for the nation's fifth-largest congressional district.
As a Representative, Torres Small was a member of the House Agriculture Committee and the House Armed Services Committee and chairwoman of the Oversight, Management, and Accountability subcommittee of the House Homeland Security Committee.
She was the first woman and person of color to represent New Mexico's second Congressional District.
The granddaughter of farm workers, Torres Small, grew up in the New Mexico borderlands.
She has worked as a field representative for Senator Tom Udall, a U.S. District Court Judge Robert C. Brack clerk, and an attorney specializing in water and natural resources law.
"As the granddaughter of migrant farmworkers, Xochitl experienced firsthand the challenges that many rural producers and communities face day in and day out. The hard work and determination she witnessed are the foundation of her commitment to public service and her respect for those we serve," noted Secretary Vilsack.
More About Torres Small
Torres Small holds a law degree from the University of New Mexico School of Law.
Also, she has an undergraduate degree from Georgetown University's School of Foreign Service and an international baccalaureate from Waterford Kamhlaba United World College of Southern Africa.
She is married to New Mexico State Representative Nathan Small.