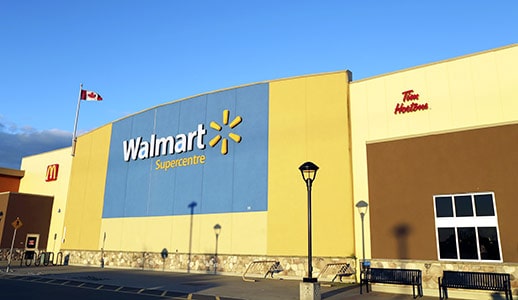 A few months after Target announced its departure from the Canadian market, Walmart Stores Inc. announced it will expand their operations in that country with the acquisition of 13 former Target stores.
Walmart will invest $136 million in the 12 store leases and the acquisition of a distribution center, adding about 1.6 million square feet of retail space and 1.4 million square feet of distribution space.
In addition, the company said it expects to invest an additional $153 million in renovations, bringing its total investment close to $289 million.
"Walmart is committed to the Canadian market and this agreement helps us accelerate our growth plans, ensuring that more Canadians have access to our low prices," said Dirk Van den Berghe, president and CEO of Walmart Canada. "The 13 stores acquired are well placed and we are excited to bring successful  Walmart Supercenters deals to customers in these markets."
In early January, Target announced it would close its Canadian operations, ending the first attempt by the discounter to expand beyond the US.  The decision came after a more than $4 billion investment to set up its operation in that country. However, the effort was undermined by a number of errors due to bad store locations and high commodity prices.
Meanwhile, Walmart has grown its Canadian presence. In February, they announced plans to invest about 280 million dollars in 29 Supercenter projects in Canada, where 395 stores currently operate.
The agreement is subject to approval by a Canadian court and other customary conditions, Wal-Mart said. It is expected to start adaptation works in the coming months.