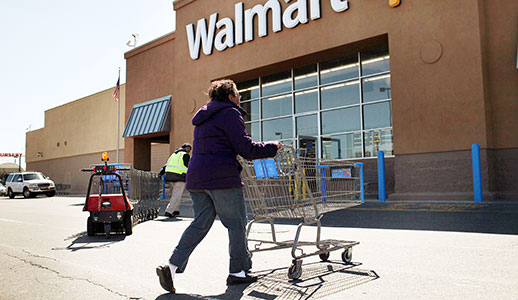 Comparable earnings for Walmart Stores' first quarter fell 7% after net profit attributable was located in 3.341 million dollars, compared with 3.593 million dollars earned in the same period last year.
Meanwhile, the chain's net sales reached in the first quarter, which ended on 30 April, were 114.002 million dollars, up 0.1% from the 114.167 million reached same period last year. Both income figures and benefits have been worse than the market had anticipated.
According to the company, the strong dollar had a direct negative impact on first quarter results. Exchange rate fluctuations affected net sales by nearly 3,300 million. Regardless of the dollar exchange rate net sales would have increased by 2.7% to 117,258 million dollars.
According to the president and CEO of Walmart, Doug McMillon, the company recorded a "solid first quarter", in which there have been "some important strategic steps" to strengthen the foundations for the business' future.
"We need to constantly improve the performance of our large establishments, shops and e-commerce where we operate… and we are on it" added McMillon.
Similarly the chain indicated another reason why growth targets were not met is that their customers used their tax refunds and savings to pay off debt rather than spend on buying items.
Similarly, Walmart said in February it would invest 1,000 million to increase wages and provide training to employees in its US stores.