Hispanic grocer Vallarta Supermarkets had the grand opening of its new store in Van Nuys, California on Wednesday, April 27th. The supermarket is located just a few miles from where Vallarta's first store opened more than 30 years ago. The supermarket chain now has 53 locations.
Representatives from Mayor Eric Garcetti's office, the office of Los Angeles County Supervisor Sheila Kuehl, of LA City Council President, Nury Martinez, the office of Senator Bob Hertzberg, and the office of Assemblymember Adrin Nazarian joined Vallarta Supermarket's executive team for a ribbon-cutting ceremony to mark the official grand opening.
The new location, at 16040 Sherman Way, Van Nuys, CA, opened its doors to the community by offering a free bag of groceries to the first 300 customers along with free samples, photo booth opportunities, mariachi music, ballet folklorico dancers, and a performance by the Van Nuys High School marching band.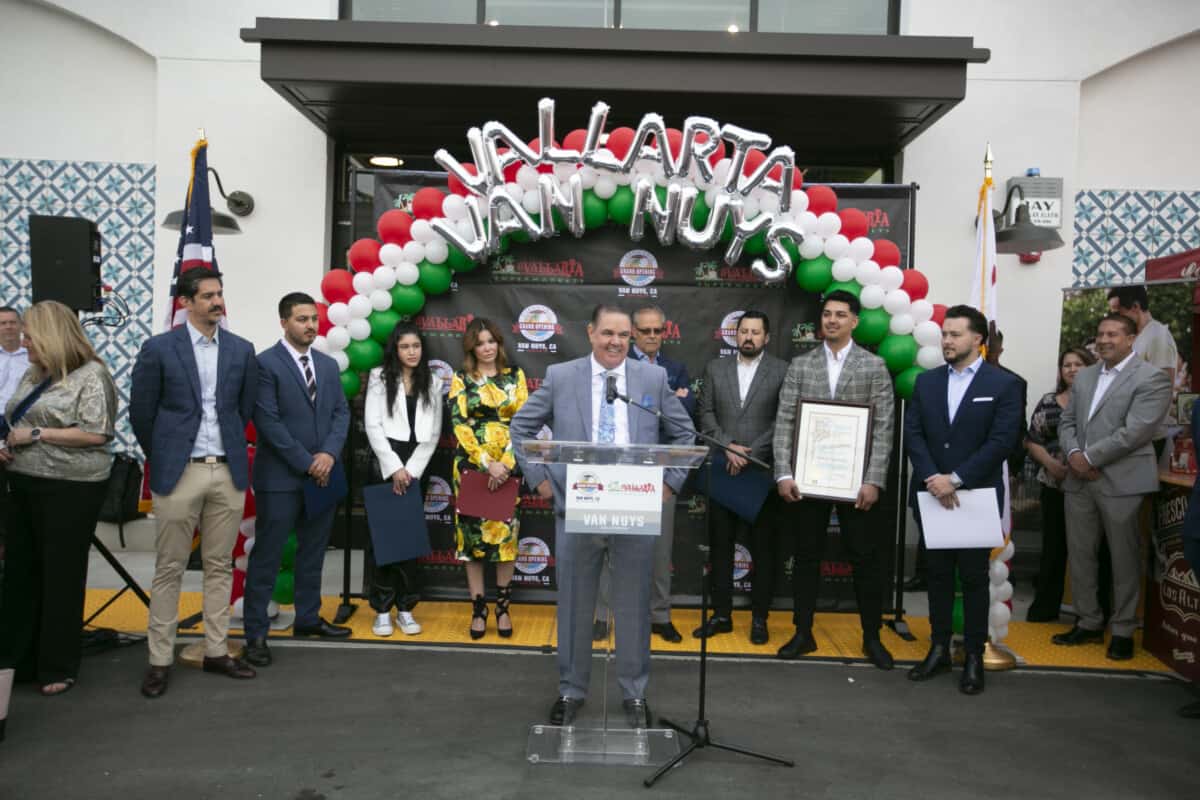 Vallarta also donated $5,000 to local schools including Van Nuys High School, Birmingham Community Charter High School, Mulholland Middle School, Bassett Street Elementary School, and Van Nuys Elementary School as part of the grand opening celebration.
Just a few miles away, Vallarta celebrated the reopening of its newly remodeled store located at 9136 Sepulveda Blvd, North Hills, CA. The celebration included giveaways, raffles, and live entertainment.
"We are proud to open our newest store in Van Nuys, the location where our business success story first began," said Andrew Lewis, Vice President of Marketing, Vallarta Supermarkets. "Customers can expect the same authentic Latino products and cuisine while enjoying a spectacular shopping experience in this gorgeous new location."
The new Van Nuys Vallarta supermarket offers the community a refreshing new go-to destination for fresh, quality products, outstanding service, and great prices, the company said in a press release. The store will also have a positive economic impact, bringing additional new jobs to the local community.
Vallarta's newest location will offer a wide variety of food products and services including La Cocina, the authentic in-store Mexican taqueria, and kitchen, with delectable recipes serving traditional meals. For those looking for variety, the new store will also be offering fresh sushi – prepared daily by an in-house sushi chef. 
Related Article: Vallarta Aims to Inspire Latinas to Become Entrepreneurs and Leaders
The new Van Nuys Vallarta Supermarket location will continue to uphold the company's reputation as the Home of the Original Carne Asada and will feature a full-service Carniceria (meat department) offering fresh, top-grade meats, as well as poultry and seafood, along with grass-fed and organic selections. The Panaderia (bakery) will be serving sweet and savory baked goods made from scratch including pan dulce, bolillos, decadent cakes, pastries, and more. The Tortilleria will produce freshly made tortillas and masa for customers' tamal-making needs. The Produce Department will offer the highest quality and wide variety of fresh produce.
The Cremeria (Deli) is where customers will be able to find a wide selection of fresh Latin-style cheeses, cremas, store prepared chorizos, salsas, guacamole, and pico de gallo. The new location also has an in-store juice bar, La Isla, to provide refreshing made-to-order fruit juices, including aguas frescas as well as ice creams. Other offerings include a full-service floral department and an expanded liquor/wine selection.
Through the Vallarta Go delivery service, customers can shop from the convenience of their homes and have their groceries and fresh authentic foods delivered to their homes. La Cocina prepared foods are also available for pickup or delivery.