On February 18, 2002, the specialty food distributor company Family Food was born twenty years ago. Working out of a basement office with one computer and an old Van, the Castañeda family started their business in the New York metropolitan area with no idea of what the future would bring. It was a three-person team that set out with great faith to succeed.
On Saturday, April 23, 2022, Family Food celebrated its 20th anniversary with a party along with its team that now consists of more than 100 people. It was also attended by customers, family, and friends who have been part of the growth of this Hispanic specialty food distribution company for two decades.
"Today, we not only operate in the New York metropolitan area, but we also have a warehouse in the Massachusetts area that opened this year, and we have an operation in Chicago, in addition to commercial allies in other states," said Andrea Castañeda, commercial director of Family Food, during the inauguration of the anniversary party held at the Hilton Meadowlands Hotel in East Rutherford, New Jersey.
Castañeda also extended her appreciation to the entire team for their dedication, contributing to the growth of the specialty food distribution company and bringing Hispanic food products from Central and South America to more than 1,200 points of sale on the East Coast, Illinois, Texas, Arizona, and California.
Among the special guests at the anniversary party were: Juan Pablo Cuesta, Trade Commissioner of Ecuador in New York, Michael Ordóñez and María Cecilia Gutiérrez; the Consuls of Ecuador in New Jersey, Gabriela Carrido, Andrés Piedra, and Alexis Villacres. Bernardo Muñoz, Trade Commissioner of Peru in New York, and Mykool López, Trade Commissioner of Costa Rica in New York.
Related Article: Family Food Announced the Re-Launch of its Private Label
Photo Gallery of Family Food 20th Anniversary Party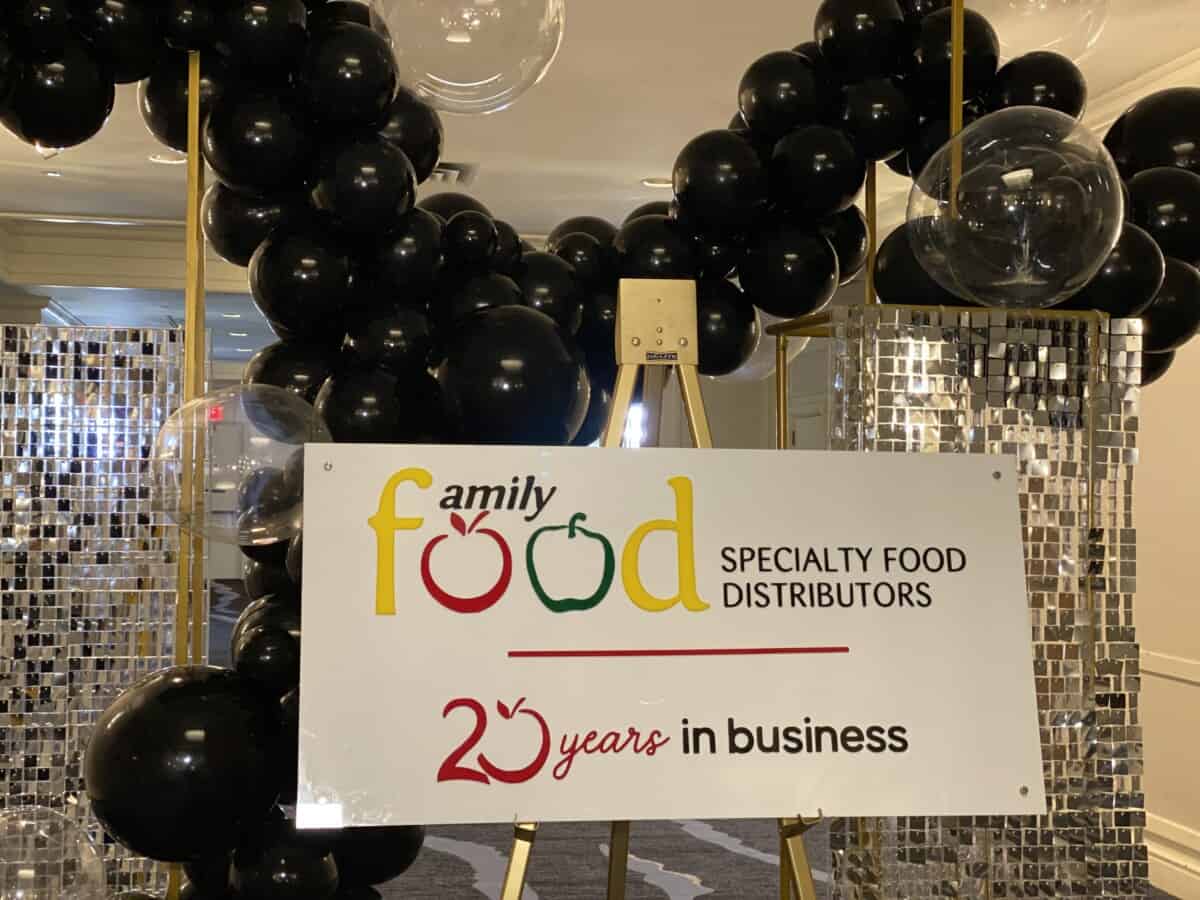 "Costa Rica was the first Central American country we started working with. It is a country we love very much, which has meant a lot in our company's history," said Patricia Castañeda Méndez, CEO of Family Food.
Mykool López, Trade Commissioner of Costa Rica in New York, addressed a few words of congratulations to Family Foods on its 20th anniversary.
"Family Food is a company built on passion, commitment, and dedication, from people like Patricia, John, Andrea, and each of their family members who have been working tirelessly with them. We have seen them start small, fight hard, rise from a hurricane, reinvent themselves, and serve their customers and clients during a pandemic. Here we continue to see them moving forward. From the Promotora del Comercio Exterior de Costa Rica and on behalf of Costa Rican businessmen, I must say thank you," said López.
For his part, John Rivas, president of Family Food, emphasized how faith in God has helped the business and his family to grow, opening doors amid significant challenges over the years.
"God has been working and bringing together people who have allowed us to create the synergy between us; from there comes the team we have, the customers who are a fundamental part of our company, and I think we have done a good job together to be able to grow," said Rivas.
Emphasizing the meaning of the company's name, Family Food, Andrea Castañeda said that the support of her family and her husband has been fundamental in the success of the business because in good times and bad, the family has been united to move forward and that is why she is confident that they will continue to grow in the Hispanic food distribution industry.