Vallarta Supermarkets, one of the nation's largest Hispanic supermarket celebrated the opening of its 50th store in Pasadena, California, with the presence of former boxing champion Oscar de la Hoya, founder Enrique Gonzalez, Sr., his family and local dignitaries.
The totally remodeled 50,000 square-foot facility was built with an investment of $8 million, and will maintain the services of a Wells Fargo bank branch as well as a pharmacy.
With the opening of its new store in Pasadena on Wednesday November 29th, Vallarta Supermarkets has launched into a new multicultural market with the creation of a new design style of its stores and new offerings in the food and beverage shopping experience.
"It's an opportunity to expand the Vallarta brand. Our motto is that we are a supermarket for all families, so we do not necessarily differentiate between customers, but yes, in the past we focused on Hispanic customers, but we are confident that the products we offer in our stores satisfy all ethnic groups," Rick Castillo, Marketing Director of Vallarta, told Abasto.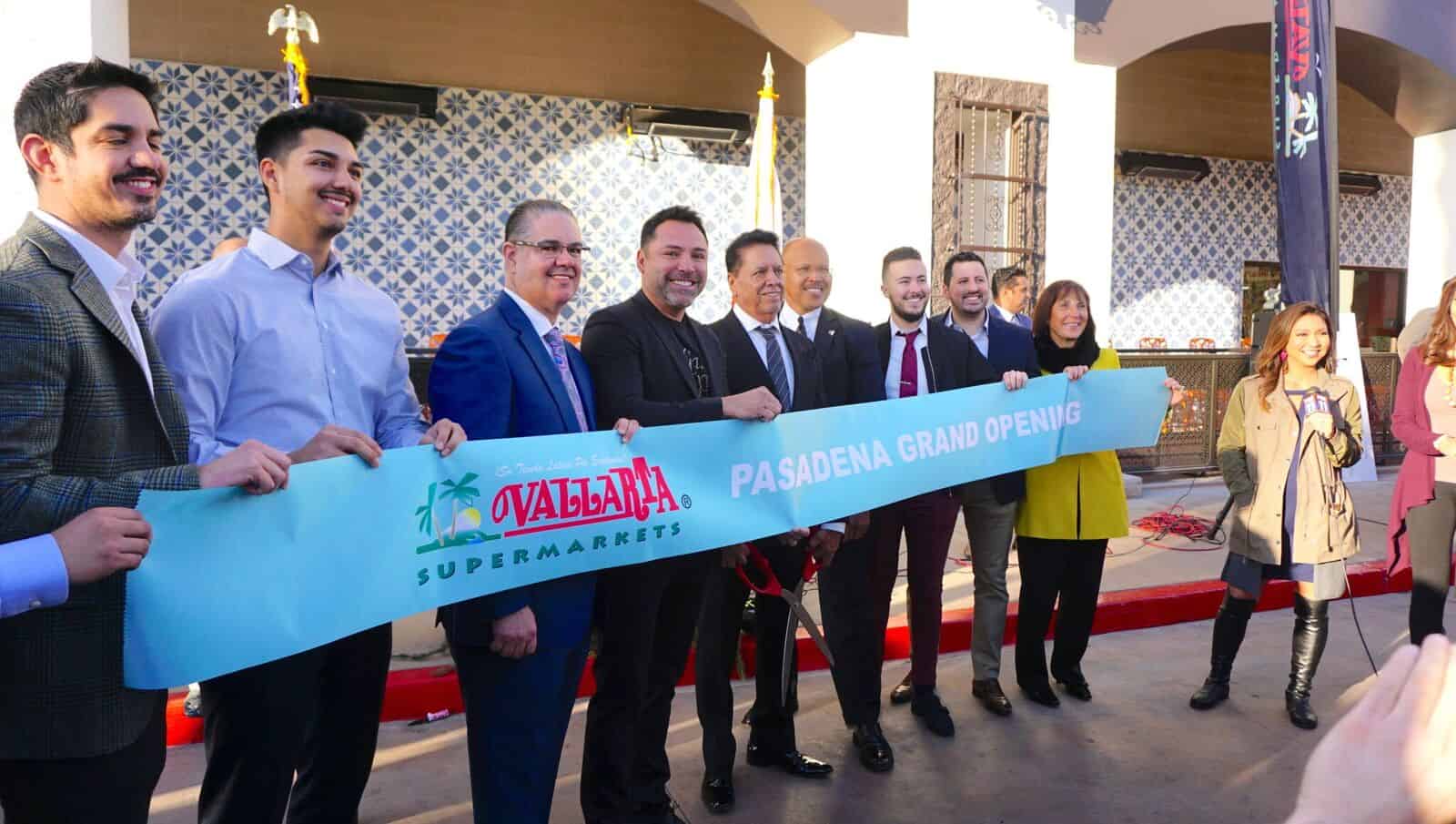 The new supermarket, located at the Fair Oaks Renaissance Plaza Shopping Center, on the southwest corner of North Fair Oaks Avenue and Orange Grove Boulevard, was previously occupied by a Vons Supermarket.
To attract Pasadena clientele, Vallarta spared no effort in giving their store a new look and surpassed the expectations. In order to create this bold new contemporary design, the Vallarta management team hired the services of the renowned interior design firm of DL English Design which has extensive experience in the design of grocery stores in the US, Mexico and Europe.
The New Style of Vallarta
"The result of our investment was a new supermarket with a contemporary style and very colorful patterns in vibrant pastels," said Castillo.  "With 32 years of grocery success under our belt, the company wanted to introduce an image that looked and felt more contemporary for our customers."
The new Vallarta Supermarket will provide local residents with a wide-range and variety of food products and services including: "La Cocina" (Authentic Mexican Kitchen) with traditional recipes serving authentic meals ready to eat and enjoy, as well as a hot and cold food island with fresh salads, enchiladas, build your own taco bowls, hot soups and stews, and new to Vallarta Supermarkets, Latin-infused sushi prepared daily by an in-house sushi chef.
Customers will also be offered a full service floral department and an expanded wine selection.
Vallarta Supermarkets will also have a full-service meat and seafood department including a wide variety of fish, beef, pork and chicken along with grass fed and organic selections.
The Latino Food Industry Association Ready to Help Hispanic-Owned Businesses
The Bakery Department (Panadería) will be producing items made from scratch including pan dulce, bolillos, savory cakes, pastries, and more.
The Tortillería will produce freshly made tortillas and masa for customer's holiday tamale making needs.
The Cremería (Deli) will offer a wide selection of fresh Latin-style cheeses, cremas, store prepared chorizos, salsas, guacamole, and pico de gallo while "La Isla" (The Island) will provide refreshing made-to-order fruit beverages and ice cream.
The opening of the Vallarta supermarket will not only provide new and varied options for buying groceries for Pasadena residents, but will have a positive economic impact in this area of the city with the creation of 330 local jobs.
Photo gallery of the new supermarket in Pasadena: