Withdrawing from the North American Free Trade Agreement (NAFTA) would cost retailers and consumers up to $16 billion a year and lead to the loss of 128,000 retail-related jobs over the next three years, according to an AT Kearney study released on Monday. Hispanic food businesses would face many more losses than other companies.
The study was prepared for the National Retail Federation, the Retail Industry Leaders Association and the Food Marketing Institute.
"Limited progress has been made and people close to negotiations see that it is a real possibility that the parties do not come to an agreement," Johan Gott, Principal in strategy and management consultant A.T. Kearney's private equity practice and co-author of the study, told Abasto.
In 2017, retailers imported $128 billion worth of merchandise from Mexico and $54 billion from Canada, according to the study. NAFTA has made most of those goods tariff-free since it took effect in 1994.
The study finds that withdrawing from NAFTA would subject retail imports to $5.3 billion in annual tariffs that would that would most likely be passed along to consumers in the form of higher prices.
Abasto asked Gott what the impact would be for Hispanic businesses in the food industry if negotiations fail.
"We can expect a termination of NAFTA to impact Hispanic food businesses disproportionately hard. Already for a generic shopping basket, food & beverages originating in Mexico are the largest drivers of retail cost increases in a NAFTA termination scenario. This is due to American reliance of Mexico as a source of fresh produce. For Hispanic products, Mexico should be an even more important source country and that would mean even higher exposure," said Gott.
Food and beverages sold at grocery stores would see the biggest hit at $2.7 billion, followed by apparel and footwear at $501 million, electronics and appliances at $390 million, household goods at $498 million and auto parts at $240 million.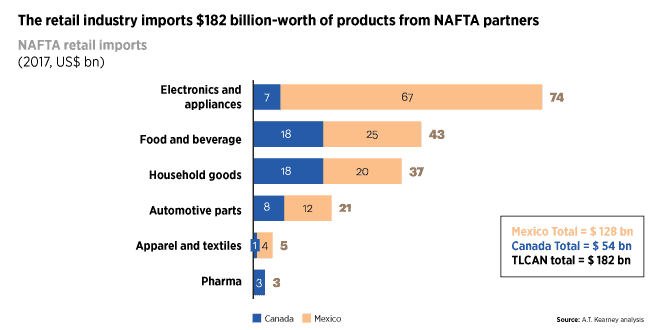 The remainder would come from the "flow-through" costs of tariffs imposed on other industries that would drive up retailers' costs for services such as transportation.
"There's a lot at stake for American retailers, workers and consumers as the administration resumes NAFTA negotiations," NRF President and CEO Matthew Shay said. "It's clear NAFTA must be modernized, but we can't lose sight of the fact that this agreement helps ensure that American families have access to products they need at prices they can afford. As this report shows, withdrawing from NAFTA would jeopardize countless U.S. jobs and force consumers to pay more everyday products like groceries and blue jeans."
Retailers would face two choices if United States leave NAFTA: absorb the higher costs or pass them on to consumers. If they attempt to absorb them, the new tariffs' impact could cause significant damage to retailers who operate on low margins, particularly in the grocery business.
The US food and beverage retail sector generated total operating profits of $20 billion in 2017, from sales of $719 billion, an operating margin of 2.8 percent. Taxes of $5 billion were paid on these profits, implying an effective tax rate of 25 percent.
The additional $2.7 billion in costs arising from new tariffs in this industry would equal an increase in the effective tax rate from 25% to 35%, equivalent to a 10% rate increase.
Even with the tariffs passed on, retailers would see a $10.5 billion hit to their bottom lines, the report said. Retailers would likely leave 68,000 jobs unfilled over the next three years and another 60,000 jobs supported by the retail industry would be lost.
Products we like and the price we will have to pay for them without NAFTA
Chocolate
The United States consumes $18 billion-worth of chocolate each year, 20% of all the chocolate eaten around the world annually. To keep up with this gigantic sweet tooth, US retailers import $2 billion-worth of this candy from Canada and Mexico.
Fifty percent of it comes from Canadian plants of companies such as Ferrero, Storck, Lindt, Barry Callebaut, and Mondelez and 20% comes from Mexico.
Without NAFTA, 10% of all chocolate consumed in the United States would be hit by tariffs, at a total cost of $261 million annually. For Valentine's Day alone, when 5% of all sales of chocolate occur, new tariffs could cost US consumers an additional $13 million.
Asparagus
US retailers often carry asparagus from Mexico, which produces 55% ($426 million worth) of the crop for US stores.
Asparagus is a labor-intensive crop and production costs in Mexico have made it affordable to US buyers and a competitive advantage to Mexico. Without NAFTA, asparagus would face MFN tariffs of 5 to 21.3% for product coming from Mexico, resulting in an average $50 million in higher costs each year for this single vegetable.
Other produce
Looking at produce in general, retailers that carry fruits and vegetables will be forced to make this kind of difficult choice for many items. Their most likely reaction will be to charge significantly higher prices, especially in winter months when domestic production is not feasible.
Pushing the cart through the produce department, among items imported from Mexico, asparagus' tariff rate would take it from $2.48 a pound, based on a composite average for the vegetable across select states, to $3.01 a pound, based on retailer imports of $426 million annually.
The price of a watermelon would increase from $4.88 to $5.71 for the $248 million in imports each year. Avocados would go from $3.26 per pound to $3.42 on $2.3 billion of imports each year.
Tomatoes, which retailers import at a rate of $1.2 billion annually, would see their price raised from $2.24 to $2.29 per pound. Broccoli, imported at a rate of $248 million each year, would rise from $3.31 to $3.97 per pound. Cucumbers, imported at a rate of $463 million, would be hit with a tariff, taking this salad favorite from $0.63 to $0.66 per cucumber.
During just one shopping trip, a basket filled with these fruits and vegetables would go from $16.80 to as much as $19.06 during winter months, an increase of 13%.
"This report helps illustrate how – thanks in part to our expanded trade with Mexico and Canada – U.S. grocery shoppers can wander the produce section in January and take home groceries that allow them to eat like it's a day in June," FMI President and CEO Leslie G. Sarasin said. "Customers are accustomed to this type of access to fresh products and increasingly demand it in their efforts to make healthy choices. The quality, consistency and affordability that stems from the interconnectedness of our three economies helps guarantee that Americans have the most abundant, safest, healthiest and most cost-effective food choices in the world."
With information from Business Wire.