Sprouts Farmer Market is opening today, July 31st, two new supermarkets, one in Trinity, Florida and the second in West Hollywood, California, while preparing to open a third store in Greensboro, North Carolina, on August 7th.
The Phoenix-based grocery chain, specializing in natural and organic products, plans to open a total of 13 new stores in six states during the second half of 2019. By the end of the year it expects to have 340 supermarkets in operation in 22 states, according to the store chain.
The new 30,000-square-foot supermarket opened in the Village at Mitchell Ranch shopping center in Trinity, Pasco County, Florida.
Trinity shoppers will enjoy the newest operational and design enhancements from Sprouts Farmers Market that highlight department destinations and promote customer engagement throughout the store, according to a press release.
In addition to the abundant selection of fresh produce at the center of the store that Sprouts is known for, eye-catching display cases at the Butcher Shop and Fish Market emphasize the department's knowledgeable service where in-house butchers assist with custom cuts, handcraft sausages and offer meat and seafood seasoning.
The Market Corner Deli in the enhanced store will feature a detached, rectangular island to optimize customer service and convenience with offerings such as made-to-order sandwiches, a salad bar, prepared foods, sushi made in-store and fresh juice.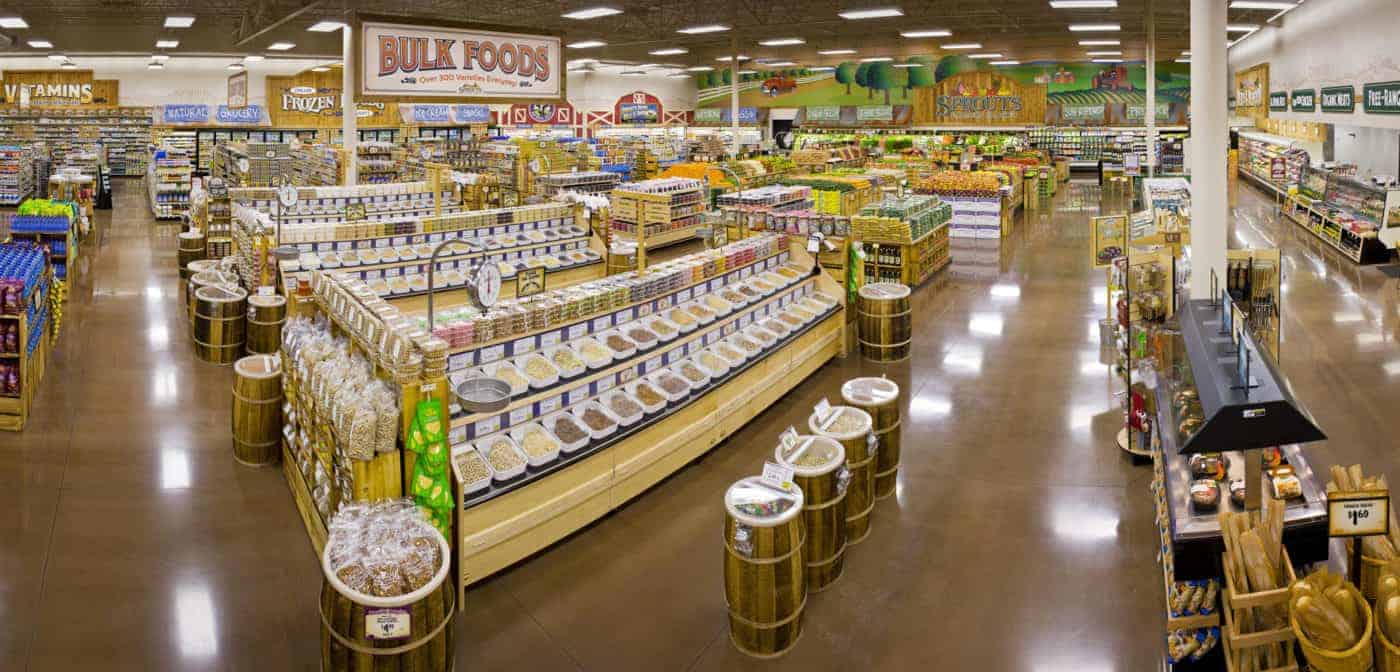 Sprouts' popular Bulk Department is enhanced with a larger selection of items, including loose teas and coffee beans, freshly-ground nut butters, local honey and staples like nuts, grains and trail mixes all sold by the pound.
The West Hollywood Sprouts Farmers Market store, located at 8550 Santa Monica Boulevard, in California, also opened its doors on Wednesday, July 31.
Products from local brands such as such as Better Booch, Broguiere's Dairy, Clover Stornetta Farms, Hakuna Banana and Matcha Marketplace, will be offered at the 25,000 square foot supermarket.
Related Article: NGA Names Greg Ferrara as New President, CEO
As part of Sprouts' commitment to "zero waste," the new store will donate unsold and edible groceries to Los Angeles Regional Food Bank through the grocer's Food Rescue program.
Meanwhile, on August 7th in Greensboro, the natural and organic foods store chain will be opening its fifth store in North Carolina.
At 7 am, Sprouts Farmers Market will open the doors of its 30,000-square-foot store located at 3357 Battleground Avenue.
The Greensboro store will offer locally made products from brands such as Big Spoon Roasters, Buchi Kombucha, Carolina Kettle, Nello's Pasta Sauce and Ran-Lew Dairy.