Definitely Covid-19 has been responsible for an unprecedented disruption of trade, as it was 9/11 in the tourist industry. This has generated a crisis that is rapidly impacting stores, in a positive way for e-commerce, and negative for physical stores.
Shopping from home, following the #stayathome mandate, considerably increased the demand for e-commerce, especially the categories considered essential such as medicines and food.
But, on the other hand, it negatively impacted the categories considered non-essential, due to the temporary closure of establishments, such as restaurants, fashion, or specialized stores, which are suffering an impressive drop in sales.
Of the store chains that are being more favored, the winner of the crisis is Costco. Its sales increased to $15 billion in March, not including membership revenue, almost 11.7% more compared to last year, and its online sales rose 50% (Daniel Kline, fool.com).
Due to panic buying and fear of food shortages, store traffic overflowed in the initial weeks of Covid-19 confinement, such as at Walmart. Operations management took measures to limit the entrance capacity to establishments, queue management, social distancing, and protection of employees (gloves, masks).
Related Article: News About the Coronavirus and the Food and Beverage Industry
In recent weeks, some states have established an emergency order directed at the population to wear masks in public places to avoid contagion with the Covid-19.
At the beginning of January, I published the article "Commerce is alive and evolving". What I never imagined, like anyone else, that within months I was going to see a crisis that would accelerate the process of the digital transformation of companies and the accelerated adoption of online shopping.
This implies that companies define a single-channel strategy, which integrates online sales with physical stores, by offering the pick-up service, which they call "BOPUS Buy online-Pickup store". Also, have a replenishment center with local coverage and suppliers that avoid interruptions in the supply chain.
This confinement has highlighted the great importance of the role of stores in the lives of consumers to offer experiences, opportunities to socialize, and entertain visitors.
Finally, the use of technologies to automate processes and facilitate customer service. (see table below).
A world without stores is unimaginable, it is the heart of many cities, and today more than ever people realize the role of entertainment in our lives.
Of course, the consumer context changed in 2020, feeling safe became a priority to visit a supermarket. The new buyer is afraid of contagion, which is why he buys more online and decreases his frequency of purchase in the physical store, and due to the decrease in his purchasing power, he looks for more promotions, prices and incentives.
Orienting the strategy to become the safest post Covid-19 where "Your safety is our priority" will make those retailers the winners of 2020.
So it is a key success factor that management has an effective response to Covid-19 and a transition plan to "Retail to Go" to return to the new normal that includes objectives and metrics towards Post Covid-19.
We are at the moment to win the battle to Covid-19, store managers must be smart, "Smart Retail", that means being flexible, agile, and fast in the face of this crisis. Able to do good, serve our community, and rely on new technologies to be more efficient and productive. What we call CHID: Competitive-Human-Intelligent-Digital.
In the following table we propose some actions of the "CHID Method":
Increase Revenues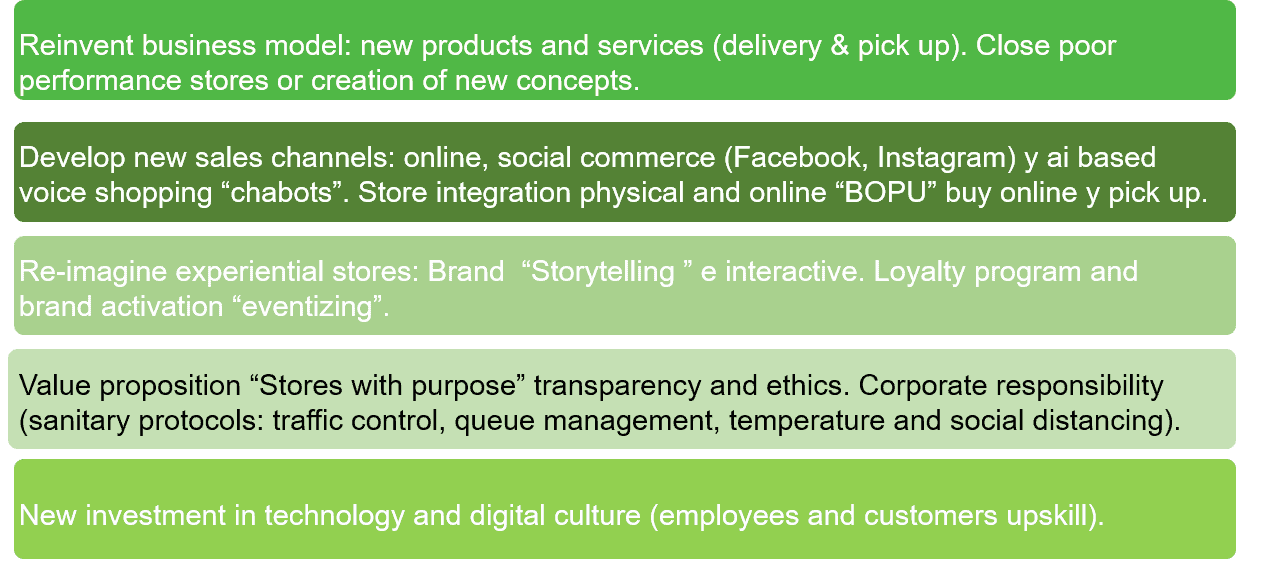 Reduce Costs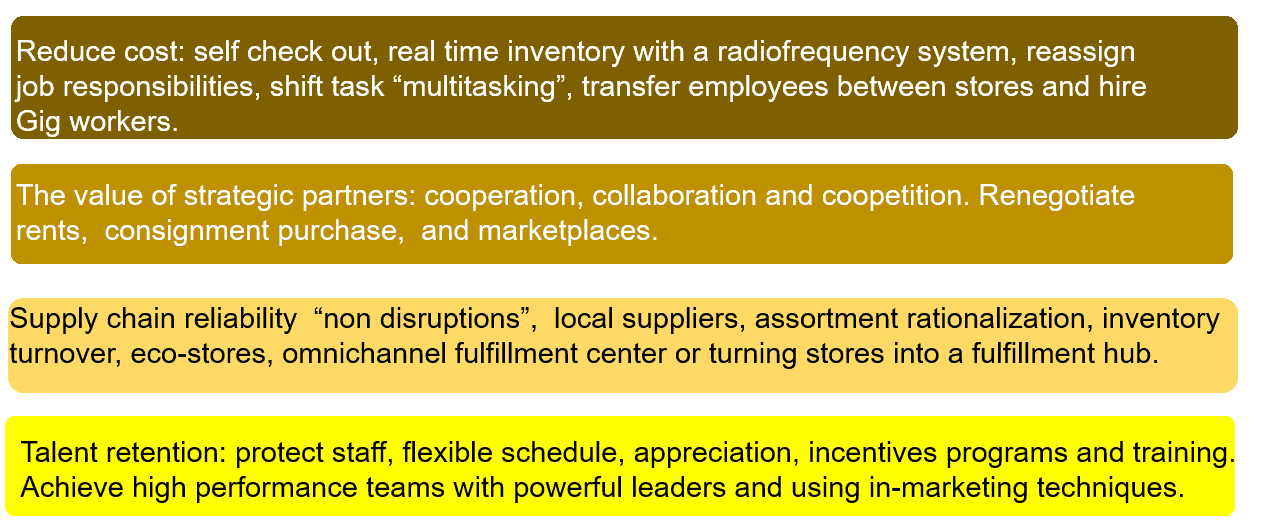 Retail is alive and vibrant, but only those prepared to face adversity will be able to survive. The equation is simple, increase the money that goes into the business "income" and reduce the money that goes out "expenses".
Competitive Commerce has developed a Retail Covid Plan for merchants, and we offer training to stores to support them in that strategy. Interested in the plan contact us at [email protected]