Abasto presented a plaque of recognition during the Expo ANTAD and Alimentaria 2016 Panovo.
Panovo is one of the leading brands in the industry of bread that was there to receive this award from Abasto Media.
Backed by PROAN, Panovo is the leading company in the production of foods with more than 60 years of experience.
Their bread is a product of the care of the smallest details: they know that each grain makes a big difference, and that the best taste depends on a delicate balance between ingredients.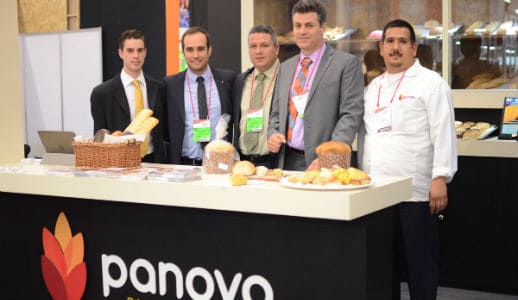 The quality, the essential ingredient
To produce each piece of bread, they follow strict standards that certify all stages of preparation and the optimal quality of the process of reception and storage of the raw material they use.
They also have a team of research and development that ensures the continuous improvement of their products.
A memorable bread
They see each of their pieces of bread as a craft,
Created with carefully selected ingredients from Mexico, Europe and United States. They want you to remember their flavor.
A bread that you like
You will always have good profit, because their bread is quality certified by agencies with international recognition. This will help you to create value in your company.
Standard process of preparation
These are general instructions for use. For more specific information on the process, we recommend to consult the technical data sheet of the product to prepare:
Without leaving the freezing area, extract from the box only parts of bread you need to prepare. Freezing canned the rest of the content.
Put bread in the pan with enough space so that each piece ferment without sticking together. It takes into account that in the end the mass will have at least twice the size.
Place the tray in a drab, and defrost during the time indicated in the technical data sheet of the product.
With the Chamber of fermentation adjusted according to temperature and moisture required by the product, put it to ferment until press the piece of bread with the fingertip is mark a footprint: this would be the optimum point of fermentation. You can take as a basis the time indicated on the technical data sheet of the product.
Preheat oven and bake according to the time recommended in the technical data.
Let cool to room temperature.