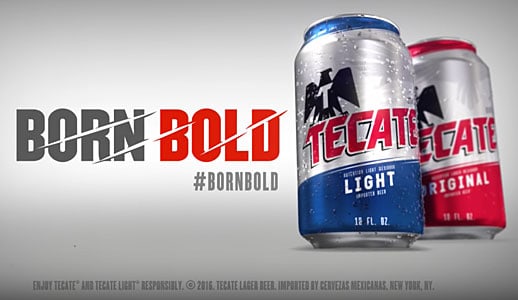 Mexican beer Tecate announced a nationwide expansion of Tecate Light. The light beer had previously focused distribution to the Sunbelt states, where it had a growth of 47%. Since then Tecate Light has become the fastest growing light beer in the US versus its competitors.
Additionally, Tecate has released the new version of "Born Bold", taking the successful national advertising campaign introduced in 2015 to align with the new distribution. The campaign 39-week campaign launched in English and Spanish and new TV ads already made their debut at a national level.
"The success Tecate Light saw in 2015 has set our brand up for an even bigger year in 2016," said Bethlehem Pamukoff, brand director of Tecate. "For the first time ever, the entire United States can taste one of Mexico's most popular light beers while seeing our masculine Black Eagle as he takes flight across the country through the 'Born Bold' campaign."
Created by Tecate with Saatchi & Saatchi NY, two 30 seconds television spots once again put the focus on the barand's main character, the Black Eagle, while highlighting the two biggest passion points of Tecate's bi-cultural Hispanic consumer – soccer and boxing.
Tecate Light reveals new package design
In line with the national expansion, Tecate and Tecate Light also unveiled a new contemporary and dynamic packaging, amplifying modern masculinity to attract 21+ millenial consumers. Preserving the essence of the brand, the new design was developed by the global agency Elmwood.
"Tecate has a history of innovation dating back to 1949, when the first beer was launched canned in Mexico," said Felix Palau, vice president of Tecate. "The redesign of our renowned red can will open up the Tecate franchise in the US for a new wave of consumers, in fact, since the launch of the new image in Mexico last July, we have seen a double-digit growth in the country. "
https://www.youtube.com/watch?v=O2Ip6bK045U