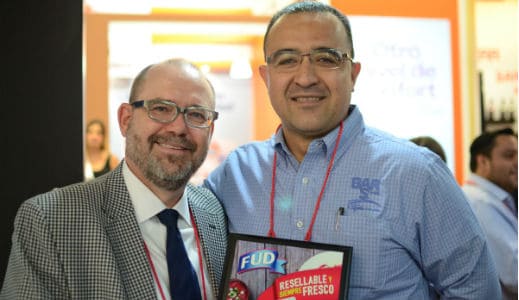 Abasto Media awarded a "Thank You" plaque to their partners during the Expo ANTAD & Alimentaria 2016 in Guadalajara, Mexico.
During the event, Abasto Media recognized the continuous support of companies that day by day make a difference to increase the Hispanic Food & Beverage Market, while supporting the Hispanic Retailer.
Bar-S Foods (FUD), one of the leading brands in the industry, and one of the present companies that associated with Abasto Media, was the recipient of this award given by Dan Calhoun, Publisher for Abasto Media.
Bar-S Foods History
Founded in 1981, Bar-S is the surviving successor to the Cudahy Company, which was branded packaged foods business. Cuhdahy was a "full-line" meat packer with a history dating back to 1890.
In August 2010, Bar-S merged with Sigma Alimentos, which is a subsidiary of Alfa-one of Mexico's leading industrial companies.
With headquarters in Phoenix, AZ.
Employs approximately 3,500 people.
Markets over 250 meat and dairy products under a total of seven brands: Bar-S, FUD, La Chona, Longmont, Playero, Menu del Sol, and Norteñita.
Owns 5 production plants, 2 central distribution and service centers, 10 distribution centers, and 4 sales offices.
Our 5 production plants are SQF (Safe Quality Food) certified with Level 2 Certification in food safety and Level 3 Certification in food quality (both levels are the highest certification a company can achieve).
Is the largest packaged foods company by volume in North America when combined with Sigma Alimentos.
The company prides itself as being an aggressive and experienced Team. They strive to employ and develop the best people through training, coaching, motivating, and giving them every opportunity to excel. They believe the experience and extensive service of the Bar-S Team brings a level of stability and expertise to Bar-S Foods that gives them a direct competitive advantage