Nielsen's (NLSN) most recent report, Multicultural Millennials: The Multiplier Effect, explores key aspects of the Millennial population, including demographic information and trends, analysis of their choices of home cities, and how culture, food and technology are essential points for targeting this generation.
According to Nielsen, 75 million Millennials, age 18-34, make up country's second largest generation that include multicultural Millennials of African American, Asian American, and Hispanic heritage who comprise 42% of the cohort, the nation's largest workforce demographic. They are choosing homes in a variety of metropolitan areas. 44% of multicultural Millennials are choosing to live in the "Top 10 Nielsen DMAs" that include New York, Los Angeles, San Francisco and Houston.
Multicultural Millennials' unique buying habits are inspiring popular cultural trends, having a profound effect (referred to as the "halo effect") on their peers, parents and children. Multicultural Millennials have the need to express a connection to culture on their own terms, with palates that have been heavily by their heritages.  When exploring the top consumer categories that multicultural Millennials purchase, African-American Millennials spend more than average on ethnic hair and beauty products (80% share), Asian-American Millennials spend more on skin care preparations (10% share), and Hispanic Millennials spend more on dried vegetables and grains (10% share) compared to the average consumer.
In the category of dining, multicultural Millennials look for a comprehensive menu that reflects their diverse, culturally derived tastes. It's very important that companies offer multicultural products, 44% of Millennials say that it's important or essential for their foods to include "multicultural flavors."
Multicultural Millennials treasure experiences, and look to products to enhance and support their connections to their culture via technology, with 96% of them having a smartphone as they influence more than $1 trillion in total consumer packaged goods and entertainment spending.
"In addition to the influence they command on their more non-Hispanic white peers, there is another reason marketers and advertisers should be interested in multicultural Millennials: many of them are first generation professionals who are in prime acquisition mode," said Courtney Jones, vice president of Multicultural Growth & Strategy at Nielsen. "A growing disposable income among multicultural Millennials is a ripe opportunity for companies that court them and make an effort to cultivate and earn their business."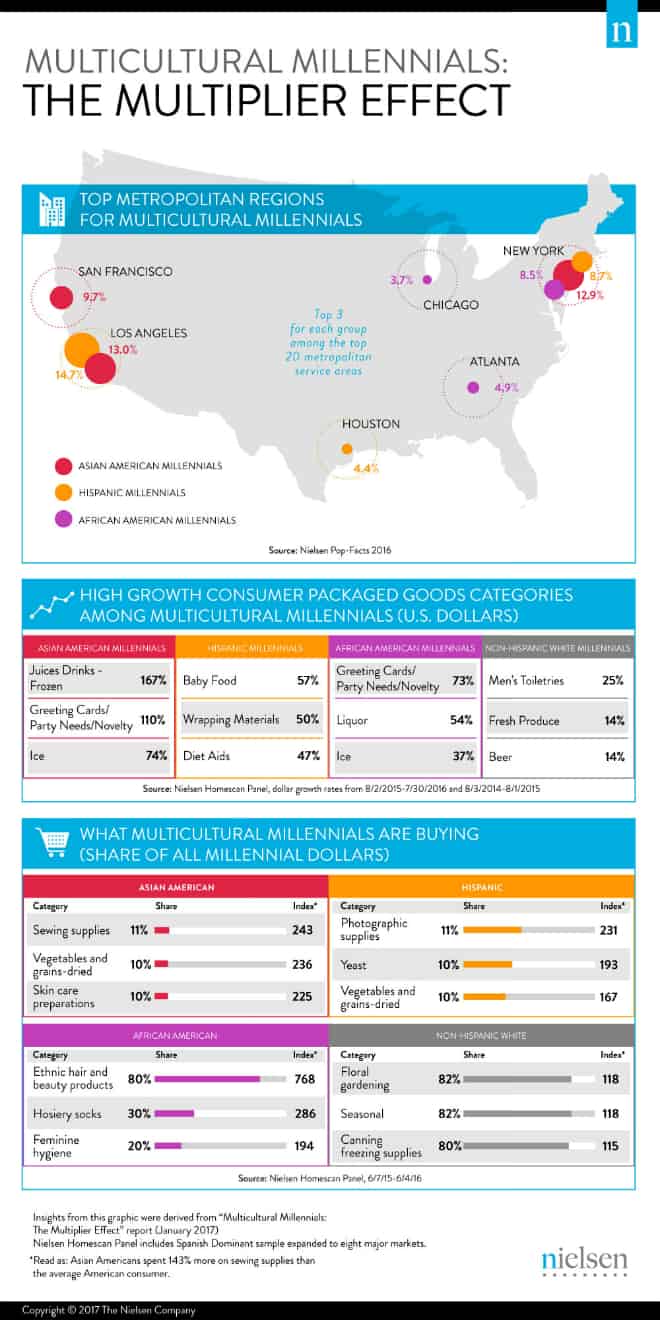 Save
Save
Save