The authentic Mexican soft drink brand, Jarritos has launched four give-back initiatives this summer to support business owners, workers, and the community. 
"Beyond creating super good products, we are committed to championing the communities we come from, live in, and do business with," said Eric Delamare, marketing director for Jarritos. "We believe in providing continuous learning opportunities and recognizing those who help keep our communities tightly knit by celebrating food and beverages flavored by culture."
Flavored By Culture
The Jarritos Flavored by Culture Education Fund is designed to financially support food truck owners, workers, and/or their families along with their academic pursuits. Food truck owners and employees can apply and explain why they or their family members want(s) to pursue a degree, certification, lesson, or any other form of education.

Jarritos will select three individuals who will receive a one-time gift of $5,000 which can be applied toward tuition and related expenses.
Currently, there are over 24,000 active food trucks in the country, employing over 29,000 people. Application criteria include answering the following:
Where did your passion for cooking come from, or why did you choose to open/work a food truck?
What are your goals/dreams? (for you or your children/family)
What type of education or field of study are you pursuing? Why?
What would it mean for you to get the opportunity to continue your education?
Related Article: Jarritos Conquers The Social Media World With Original Videos
The application form is now open at www.jarritos.com/food-truck-champions, and the deadline to enter is June 30, 2021. This opportunity is only valid for those residing in the United States.
Championing Small Businesses
Jarritos, in partnership with el Restaurante Magazine, are uplifting restaurant owners and managers with their 1st Annual Independent Restaurant Owner of the Year and 6th Annual Restaurant Manager of the Year awards.
Due to the pandemic, nearly three-quarters of the owners of independent Mexican restaurants reported that business was down in 2020 in comparison to 2019, according to el Restaurante Magazine's 2020 Independent Mexican Restaurant Report. Yet, the Mexican restaurant industry is expected to increase by 22.5% in 2021.
Submissions for the two awards are open for nominations of any owner or manager of a Mexican or other Latin-cuisine restaurants in the U.S. with 10 or fewer locations. Nominations are free, and restaurant customers, employees, and other community members who know of deserving owners and/or managers are encouraged to nominate individuals who demonstrate competence, compassion, and innovation.
"While the past year has been a tumultuous time for the restaurant business as a whole, the stats of the Mexican restaurant category are strong," said Ed Avis, publisher of el Restaurante Magazine. "We are delighted to partner with Jarritos in these special contests that recognize independent Mexican and Latin restaurants' contributions to their community and encourage them to keep working hard."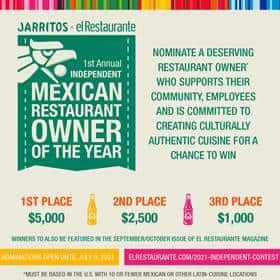 The deadline to nominate a Restaurant Owner of the Year is July 9, 2021. The first-place winner will receive $5,000, the second-place winner will receive $2,500, and the third-place winner will receive $1,000. Winners will also be featured in the September/October issue of el Restaurante magazine (print and digital issues) and receive a Jarritos cooler and certificate. To nominate, please visit https://elrestaurante.com/2021-Independent-Contest.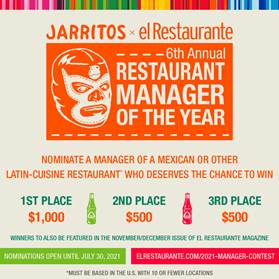 The deadline to submit a nomination for Restaurant Manager of the Year is July 30, 2021. The first-place winner will receive $1,000, the second-place winner will receive $500, and the third-place winner will receive $500. In addition, winners will be featured in the November/December issue of el Restaurante Magazine (print and digital), receive a Jarritos cooler and certificate. The nomination form and rules can be found at www.elrestaurante.com/2021-manager-contest.
Mixing Up Innovative Flavors
Jarritos and el Restaurante Magazine announced the 1st Annual Cocktail Recipe Contest to encourage creativity and originality among mixologists.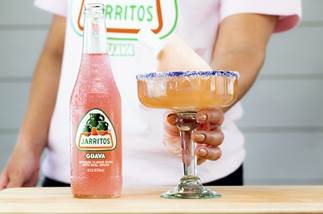 The contest calls for mixologists to submit innovative cocktail recipes using one of the 13 Jarritos flavors: Jamaica, Mexican Cola, Grapefruit, Tamarind, Strawberry, Passionfruit, Mandarin, Lime, Guava, Fruit Punch, Pineapple, Watermelon, and Mango.
The following three judges will select the winner based on the originality of their cocktail recipe that is infused with a spirit and one Jarritos flavor of their choice.
Chris Mesa, partner, and barman for Pez Cantina Coastal Mexican Kitchen, a modern Mexican seafood restaurant in Los Angeles.
Dylan Holcomb, a mixologist at Seven Grand Whiskey Bar in Denver, Colorado, and House Mixologist for HotMixology, a program on Fusion Network.
Miguel Vallin, a chief mixologist at El Mariachi Tequila Bar in Chicago.
The top five finalists will be featured in the September/October issue of el Restaurante Magazine and Jarritos social media. Also, they will receive trophies, a year's supply of Jarritos soda, and cash prizes: 1st place ($3,000), 2nd place ($2,000), 3rd place ($1,000), 4th place ($500), and 5th place ($250).
The submission form is available through July 1, 2021. To submit a recipe, bartenders and mixologists can go to: www.elrestaurante.com/Cocktail-Recipe-Contest.
Created in 1950, Jarritos are delicious fruit-flavored sodas from Mexico. Sold in iconic glass bottles throughout the U.S., the brand offers 13 unique flavors, all made with natural ingredients and real sugar. Jarritos is now distributed in 38 countries around the world.