Where will consumers spend in 2023, and how will their behavior change from pandemic-era trends? A new report from IRI provides new insights on purchasing behavior and key CPG trends to note in 2023.
Food and beverage dollar sales will moderate in 2023 but will remain higher than the historical baseline, even as volume sales decline, according to IRI's Impact of Inflation on Consumer Behavior report.
The study leverages IRI's latest point-of-sale data, which reveals that at-home food and beverage inflation was up 13.2% in Q4 2022 versus Q4 2021. While consumption levels are continuing to soften, at-home food spending remains strong, with center store sales up 11.1% and perimeter sales up 6.3% in Q4 2022.
"The CPG space has proven to be less volatile and more resilient during economic downturns than other sectors," said Alastair Steel, executive of Client Engagement, IRI. "However, shoppers are feeling the impact of high prices and are shying away from discretionary purchases. Multiple tactics are used to reduce spending and manage budgets, with value channels performing well."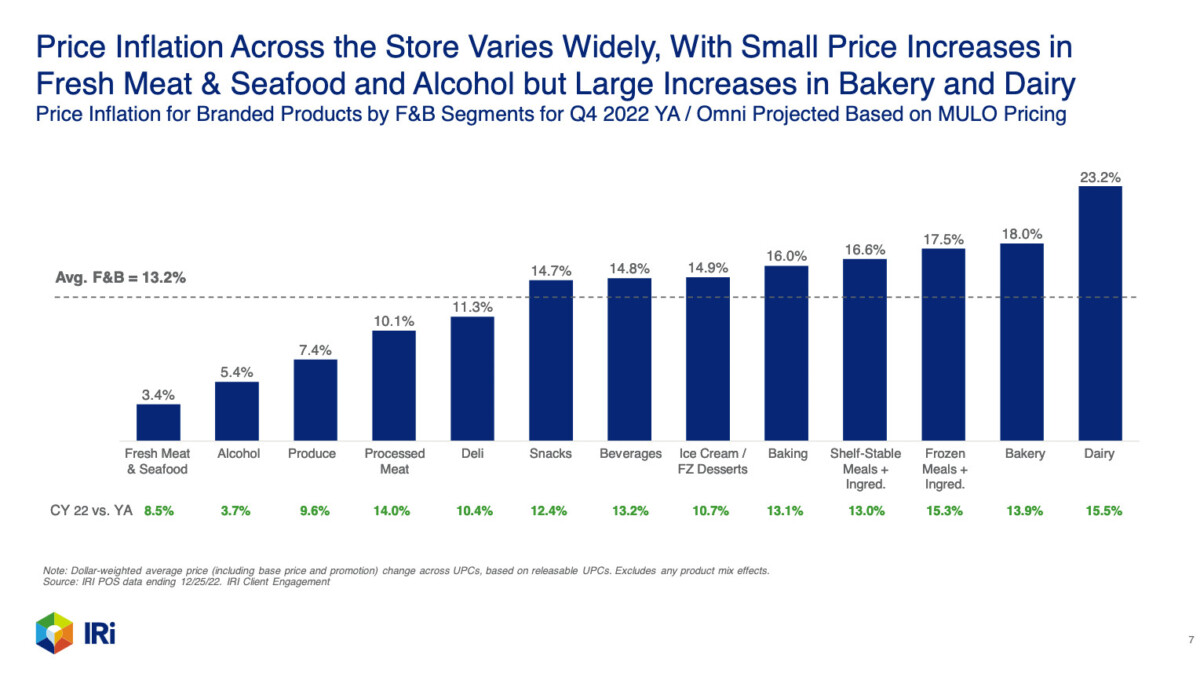 Key insights from the Impact of Inflation on Consumer Behavior report include the following:
Price inflation across the store varies widely.
Inflation in the alcohol category was up 5.4% in Q4 2022 versus Q4 2021, while fresh meat and seafood were up 3.4%. Bakery and dairy experienced larger increases, up 18% and 23.2%, respectively.
Center store inflation remains elevated at 15.3% in Q4 2022, while inflation is coming down in the perimeter departments (7.5% in Q4 2022).
Shoppers are seeking value and convenience.
The food channel is not growing as quickly as online, dollar, and club channels. At the end of January 2023, online grew 16%, the dollar channel grew 14%, and the club channel increased by 12% versus a year ago.
Comparatively, the food channel only grew by 7%. Value shopping behaviors will continue to define 2023.
Related Article: Why do consumers Believe Grocery Store Profits are Higher than Reality and Inflation Is Twice as Actual?
Private label and promotions are on the rise, while premium purchases are on the decline.
Many consumers are shifting to private label brands due to the impact of inflation, with private label gaining a share of the category in 75% of all food and beverage categories seeing growth within private label.
Premium growth is slowing down as trade-down behavior increases, with premium food and beverage brands losing 0.6 share points for the 12 weeks ending Nov. 27, 2022. However, pockets of growth remain for premium products, including beverage alcohol and energy drinks.
Multifunctional products and at-home cooking are increasing in popularity.
Shoppers opt for beverages that offer functional hydration, energy attributes, and health and wellness benefits like electrolytes, vitamins, and prebiotics.
Authentic, high-quality meals and snacks that are easy to make and provide a better-for-you home cooking and snacking experience are on the rise.
Food and beverage dollar sales growth will moderate in 2023 as a result of easing inflation and price stability, increasing-price elasticity, and increasing at-home consumption.
Inflation is expected to remain relatively high versus historical standards. Despite trade downtrends, consumers will look for premium experiences at home, innovation, and better-for-you products that offer taste and convenience.