Hispanics in the United States have more available income for their holiday shopping, planning on spending 33% more than last year and many more will use smart phones to do their shopping instead of going to physical stores.
This was revealed by a survey conducted by the multicultural market research firm ThinkNow Research, in association with the Jelena Group.
The poll analyzed holiday shopping habits, online as well as in-store, as well as the main retailers and spending habits. According to ThinkNow Research, in comparison to last year, Hispanics and African Americans feel okay about their capacity to spend.
However, less non-Hispanic, white consumers and Asians said in the poll that they plan on spending more for this year's holiday festivities in comparison to 2016.
"Hispanic consumers are buying more this Christmas season despite the speculation of a lowering tendency in Hispanic buying," said Mario X. Carrasco, co-founder and director of ThinkNow Research.
The expert added that "while retailers like Target can see a decrease in Hispanic consumers, our investigation with 20 retail companies shows that more Hispanic consumers are shopping in Amazon and Walmart."
Jennifer Elena, founder of Grupo Jelena, agrees that the industry report is more indicative of holiday shopping trends and provides insight into Hispanic habits. "Hispanic consumers continue to get smarter every generation. Retailers should take into account that Hispanics are buying and connecting with them is more important than ever. Think first about mobile phones, since Hispanics will shop from their smart phones to find better offers."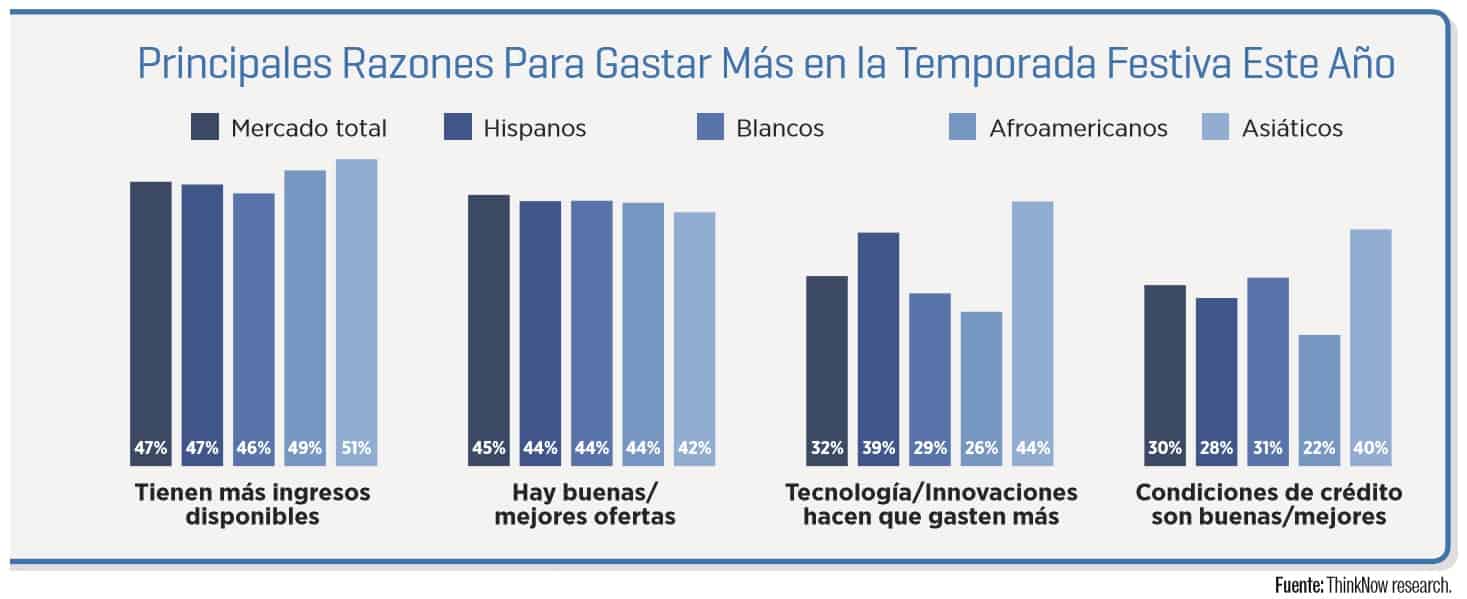 Accelerated change towards online purchases
In 2016, 52% of all purchases done by Hispanic consumers were made in physical stores.
In 2017, only 46% of Hispanic purchases during the end-of-year season plan to be in stores. These purchases will be made through the internet and specifically by cellular phones.
62% of Hispanics who will make purchases online will do it through their mobile phones. This is a figure significantly higher than 50% of the total market average and 46% of non-Hispanic white online buyers who intend to use their smartphones to make purchases.
Amazon is the principal online buying destination for all consumers, except African Americans, who prefer Walmart with a 62%. Amazon and Walmart are the most preferred websites for Hispanic consumers, but they are also more likely than other consumers to visit the online sites of Target, Macy's and JCPenney.
Good forecasts for the holiday shopping season
The National Retail Federation (NRF), predicts that this will be a strong sales season.
According to estimates done by the NRF, sales for the end of the year season in the U.S. increased between 3.6% and 4% in comparison to the previous year. Excluding car sales, gas and restaurants, U.S. retailers could accumulate $678, 075 million in sales during the next Christmas season.
The forecast for 2017 sales performance could equal the 4% increase in year-end sales in 2016 or it could fall slightly. It indicates that retailers are in a good position to have a good season since time is on their side.
They will have 32 days after Thanksgiving, the official start of the Christmas season and Christmas Eve. The calendar offers one more day of sales than the 2016 season, according to NRF.
Seasonal hiring is expected to decline, said Matt Shay, executive director of the NRF. In 2016, retailers added 570, 000 temporary positions. For the next season, it's predicted that they will add between 500,000 and 550,000 seasonal jobs. "It's not as strong as we'd like to see, but it's solid," said Shay about the United States market. "We think that the economy in general is a good place. The actual state of commerce for retail is positive."