H-E-B opened its new, 96,000 sq.-ft., H-E-B Buffalo Heights location on October 9th. The store features expansive shopping options and marks the first H-E-B built in a mixed-use development.
The store located at Washington Ave. and Heights Blvd. (3663 Washington Ave) is equipped with elevators, escalators and a cartalator to easily navigate to and from the first-floor shopping experience, along with products and services tailored specifically for this historic Houston community.
H-E-B Buffalo Heights is the first one to receive a gold-level award from the Environmental Protection Agency's (EPA) GreenChill Partnership for green refrigeration technology. H-E-B becomes the second retailer in Texas to have a store receive the gold award.
As part of the GreenChill Partnership, H-E-B continues its path to adopt more environmentally friendly refrigeration technologies, strategies and practices that will reduce refrigerant emissions and their impact on the environment.
"H-E-B is proud to join this cutting-edge initiative, which further signifies our commitment to be strong environmental stewards, providing our customers with more than just a great place to shop. We want them to know we're actively protecting the state we proudly call home," said Winell Herron, H-E-B Group Vice President of Public Affairs, Diversity and Environmental Affairs.
As with H-E-B Houston openings at Bellaire Market and The Heights, the company continued its arts initiative with a permanent art installation, Sluice by Flying Carpet Creative.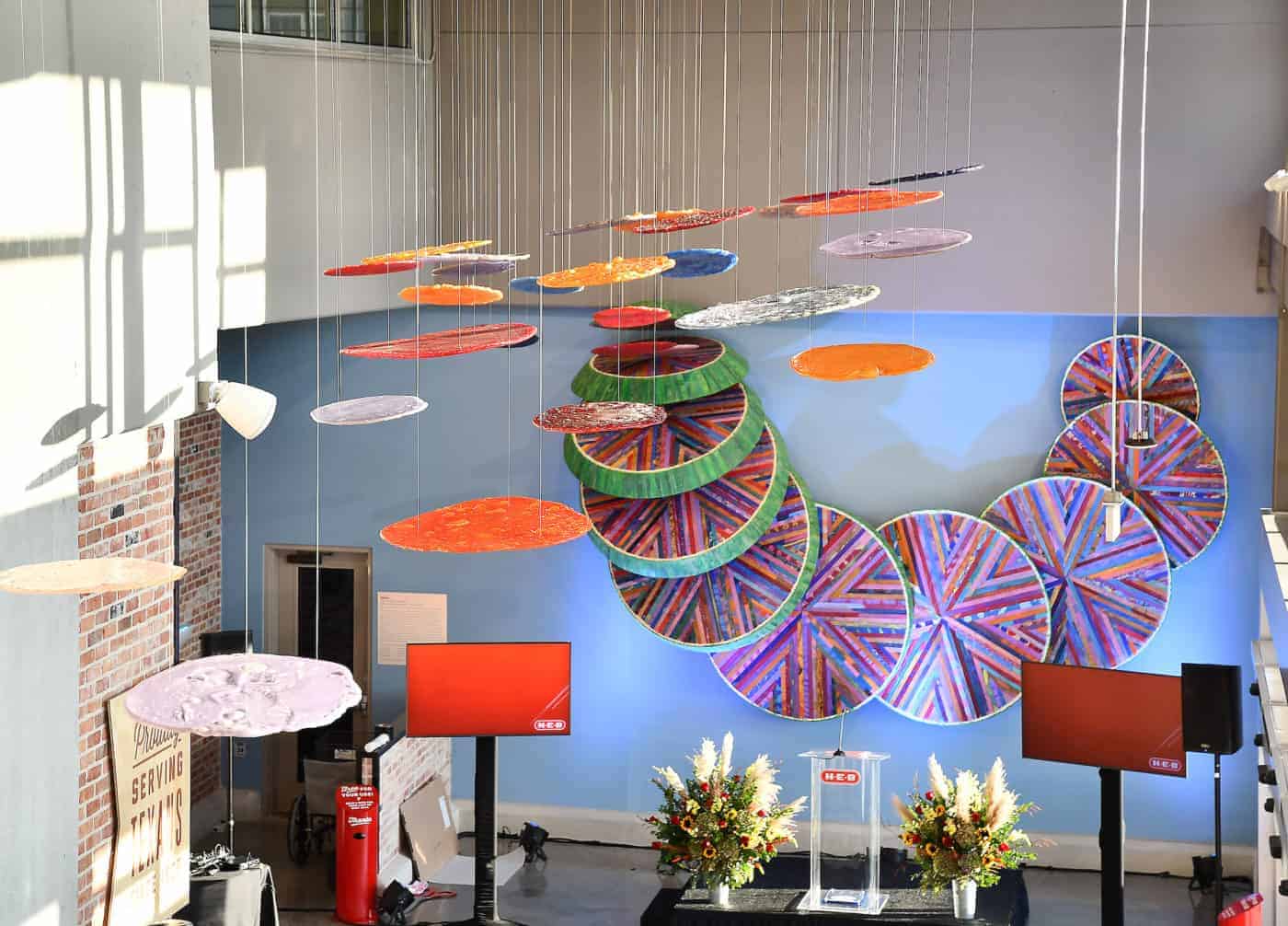 Sluice is a sculpture inspired by the fresh produce found in abundance at H-E-B and takes its name from an interesting hybrid citrus variety. A flock of juicy disks flies through the foyer, gushing from the origin on the wall: a mythical amalgamated future-fruit…maybe a citrus…a melon…or something else?
Celebrating sustainability, the artwork is made with upcycled and repurposed materials. Although they could be mistaken for pieces of blown glass, the color drops are disks of once-molten plastic, discarded from a Houston industrial casting facility, and now have a second life in this art application. The sculpture's bright skin and pulp is constructed from wood that was saved from going to the landfill and painted by H-E-B employees earlier this year.
Related Article: H-E-B Acquires Favor Delivery to Become the Digital Retail King in Texas
Donna Theriot, a 28-year grocery industry veteran counting 13 years with H-E-B, serves as General Manager of the new store. "I have always believed in the importance of people and relish the opportunity to serve and work with the Washington corridor community," said Theriot. "While each H-E-B is special, my team and I have collaborated to create a truly unique store from its aesthetics to its contents."
H-E-B Buffalo Heights offers the full line of its popular H-E-B Meal Simple heat and eat options. With a range of options from grab and go salads to casseroles and entrees, it's like a restaurant quality meal without the high cost of going out.
The store features hundreds of H-E-B Organics options and its H-E-B Select Ingredients, a line consisting of H-E-B brand products that excludes unwanted ingredients like high fructose corn syrup and artificial flavors.
Across this expansive store with more than 50,000 options – from local produce to the fresh meat market to the freezer section – shoppers will find more offerings for less, and unsurpassed freshness, quality and variety.
H-E-B Buffalo Heights Highlights
Largest assortment of Texas-made products
A 15-foot-long Salad Bar of more than 60 options , variety of nine dressings and 28 different topicals/oils to finish off a salad and take home in an eco-friendly craft container. Breakfast is served all day starting at 6 a.m. with all other items set and freshened daily 8 a.m. – 8 p.m.
Prime Case Butcher Shop offering USDA Prime, Natural, and Organic meats, 21-day dry age beef or the option for custom age, as well as many fully cooked and kosher selections
Fully-stocked Healthy Living department with bulk foods including honey, nuts, grains, dried fruits, snack mixes, a wide variety of supplements and more
A full-service Pharmacy with convenient delivery options including FREE delivery now until the end of 2019
Full-service Seafood department with fresh fish and seafood, fresh sushi and poke bowls handmade in-store daily by Sushiya
The Wine and Beer Selection features more than 1,800 bottles of wine (sampling in store!) and 300 beers with an emphasis on Texas craft and hyper local craft (with four kegs on tap to try before you buy!)
Full-service Scratch Bakery and Tortillería highlights a wide selection of organic and artisan breads baked daily, fresh tortillas, large varieties of decadent desserts, pastries and custom cakes
H-E-B Blooms! A florist section with delivery options
Cooking Connection and the Showtime Kitchen feature live demonstrations and daily samplings using quick and easy recipes that can be replicated at home
Made in-store palate quenchers, including fresh squeezed juices and freshly made guacamole
The Roastery Coffee Kitchen. Located on the first floor in a corner location, the coffee shop and eatery will feature indoor and outdoor seating and plenty of charm for a friendly visit, informal meeting, or grabbing a cup on the go, along with a chef driven menu.