Alejandro Ruiz tried his luck working in construction, picking tobacco in the fields, in a mechanical workshop, but in the end, he decided to continue with the family tradition of having a small supermarket, as his grandparents and then his parents did in México. In the 90s Ruiz left Guanajuato, México, in search of a better future in the United States and settled in Florida.
When the construction industry no longer was a good source of income, he moved to Louisville, Kentucky, where he realized, after trying his luck in various jobs, that it was better to become an independent merchant.
"We opened the first store in April of 2007, it was small as 1,800 square feet and we named it Tienda Mexicana Guanajuato," Ruiz told Abasto Magazine.
He opened the store with the support of his wife and brother Rogelio at a small shopping mall at 9901 La Grange Rd., in Louisville, where they began to progress, giving them the opportunity to expand. They bought the neighboring restaurant they named El Mariachi and also opened a bakery and a butcher shop.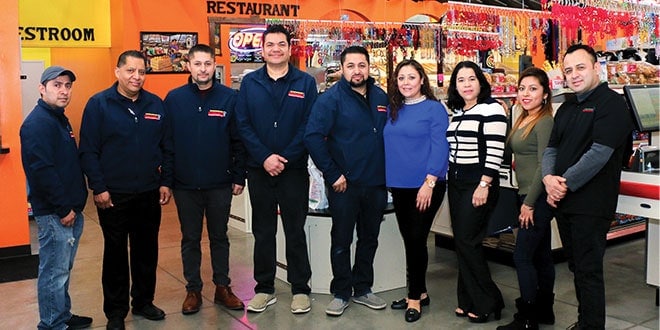 The store changed its name to Supermercado Guanajuato.
Thinking about getting lower prices for groceries, Ruiz explained that they opened a distribution warehouse, "but we were like three years in the market, it did not work for us and we closed it".
Ruiz said that after taking time to think about the next step in his business, he decided with his brother to open a second supermarket at 6201 Preston Hwy., also in Louisville.
Seeing the positive reception that the Hispanic community gave his supermarket, Alejandro Ruiz and his brother Rogelio took a new step in their expansion plans by opening their third Supermarket Guanajuato last year at 5625 Bardstown Rd.
"We also opened a warehouse again in order to give our customers better prices," said Ruiz, who added that their businesses success is due to their focus on offering low prices, having a wide variety of Hispanic products, a good fruits and vegetables, butchery, tortillería and bakery departments.
But one of the best additions of the three supermarkets are the restaurants where they offer a delicious variety of Mexican food.
Related Article: Fresh Products Are The Key to Success in a Supermarket
"We are focusing on making a supermarket that has everything the client is looking for. When I say, today I do not feel like cooking, but I want to eat some tacos or some cakes, here he also finds them," Ruiz said.
Currently, Ruiz employs about 100 people in his supermarkets and restaurants and said that this year he has no plans to open new stores because he wants to dedicate himself to improving his three supermarkets.
"We are going to do remodeling, we plan to install a flour tortilla making machine in the Preston store, we are trying to innovate so that our customers enjoy something new and also improve products and services," Ruiz stressed.