In a year dominated by Covid-19, Amazon eclipsed last year's winner H-E-B and runner up Trader Joe's to take the top spot, due to speed, digital and strong price and quality, according to the fourth annual dunnhumby Retailer Preference Index (RPI), a comprehensive, nationwide study that examines the approximately $1 trillion U.S. grocery market.
Due to strong Covid-driven momentum, Target broke into the First Quartile of the RPI for the first time, jumping six places to move out of the Second Quartile, a spot they occupied the previous three years.
Of the 56 retailers included in the survey, the retailers in the First Quartile with the highest overall customer preference index scores are: 1) Amazon, 2) H-E-B, 3) Trader Joe's, 4) Wegman's, 5) Aldi, 6) Market Basket, 7) Sam's Club, 8) Costco, 9) Publix, 10) Target, 11) Fresh Thyme, 12) ShopRite, 13) Sprouts Farmers Market, and 14) Walmart.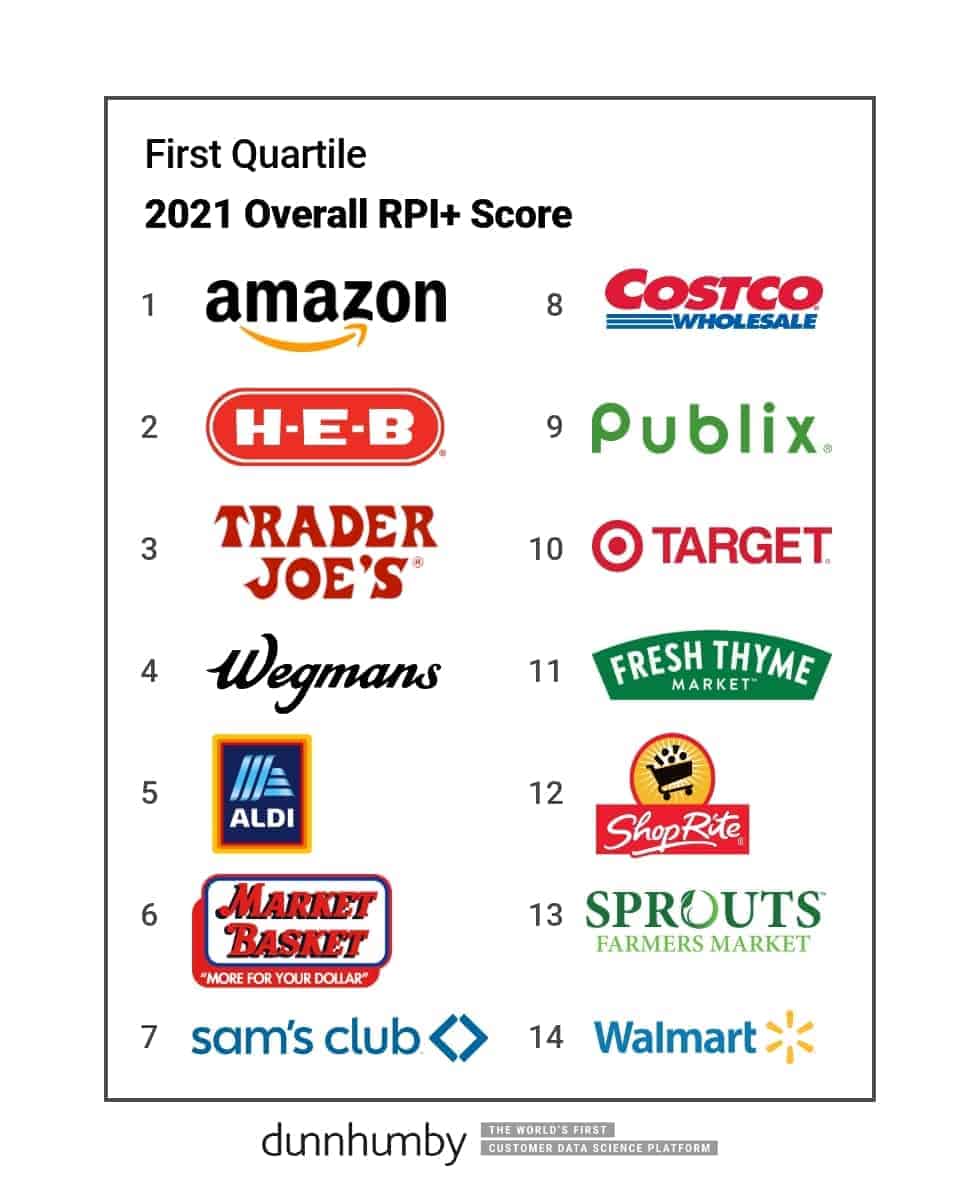 "Covid has led to record highs and lows in economic metrics, along with huge shifts in where and how consumers shop food retail, changing the competitive trajectories of retailers who were winning and those who were struggling before the pandemic. As a result, we viewed 2020 through a different lens than we've viewed the grocery industry in previous years," said Grant Steadman, President of North America for dunnhumby.
"Amazon accelerated past every other retailer on our Covid Momentum Metric and customer safety ratings, due to its speed to shop and virtual store format. As we begin to emerge from the pandemic, we should expect value perception to come back strongly. Beyond Covid, retailers with customer-first strategies will best adapt to changing behaviors and deliver what matters most to their customers," added Steadman.
Related Article: U.S. Grocery Consumers Increasingly Worried About Rising Food Prices
The overall RPI ranking evaluates retailer performance on seven drivers of customer preference: price, quality, digital, operations, convenience, discounts, rewards & information, and speed.
The retailers who focus their business on superior value perception or "Value Core" – defined by the strongest combination of price and quality – tend to have the most financial success and the strongest emotional bond with customers.
This year, the Covid Momentum Metric was added to the calculation, dunnhumby said. This metric is the result of a statistical model that predicts how retailer execution on the same preference drivers impacts short-term financial success, i.e., market share gains or losses during 2020.
Key findings from the dunnhumby study:
Speed is the common denominator for grocery retailers with superior Covid Momentum. Retailers who were well-positioned to deliver on speed, digital and discounts, rewards & information tended to gain more market share, visit share and have higher year-over-year sales growth in 2020, even if they weren't as strong on price and/or quality. According to over 10,000 U.S. households surveyed, speed was important for two reasons: 1) The pain point of slower shopping brought on by the safety measures retailers put in place during Covid; 2) Speed to shop being synonymous with safer to shop.
Amazon's strengths in speed and digital propelled it to first place overall. The distance between Amazon and second place Target on COVID Momentum and safety is much wider than the distance between second place and the rest of the pack. Amazon also occupies a clear price-first position, ranking 11th on price, ensuring a strong Value Core.
Everyday Low Price (EDLP) retailers are more likely to be well-positioned for long-term success than Hi-Lo retailers, but Hi-Lo retailers saw momentum swing in their favor. Price volatility and relatively dramatic price increases brought on by supply chain disruptions and increased demand made "everyday low prices" a less reliable claim for customers, who perceived grocery prices to be 12% higher in 2020 versus 2019. Additionally, many of the most successful EDLP retailers like Market Basket have very large formats, which runs counter to the need for speed customers want during COVID, whereas many Hi-Lo banners like Fry's Foods are neighborhood grocery stores, with average to smaller footprints.
Digital became less important during COVID in driving long-term emotional bonds with customers. While sales of eCommerce tripled in 2020, for some customers it may have been purely transactional and not something they wanted to do or enjoyed doing. Only retailers delivering a positive digital experience will retain them post-COVID.
Execution on Price and Quality still matters for long-term success. Retailers who have a stronger overall Value Core (quality and price) have better overall long-term sales growth. Retailers who are above average on both quality and price have a five-year sales compounded annual growth rate (CAGR) of 6.9%. On the other end of the spectrum, retailers who are below average on both quality and price have a CAGR of only 2.3%.