A hard, personal battle with cancer motivated Carlos Rivera and his wife Carmen Rios, the owners of Dulzura Borincana, to support others who suffer through this devastating illness and who can't afford the expenses to receive appropriate treatment.
During the fight against this illness, the young entrepreneurs had the idea to start a fundraising campaign for the American Cancer Society in Puerto Rico, which they named la Dulzura de Servir (the Sweetness of Serving).
In recent days, Carlos and Carmen have officially presented the money raised, a check for $25,000 dollars. This money will be used to fund treatments for cancer patients who otherwise would not be able to afford them.
In an interview with Abasto Media, Carmen Rios said that due to the lymphatic cancer that her husband was diagnosed with two years ago, they were able to know in depth the type of services provided by the American Cancer Society in Puerto Rico (SAAC), and also they realize the great difficulties faced by thousands of patients who due to the lack of money do not receive the appropriate treatments.
For Dulzura Borincana, the fight against cancer is personal
"When you live through it up close, you see everything and I think that has been one of the purposes that God has had for us, to have the opportunity to serve as a tool so that other people can have financial, as well as emotional help in the process," said Carmen.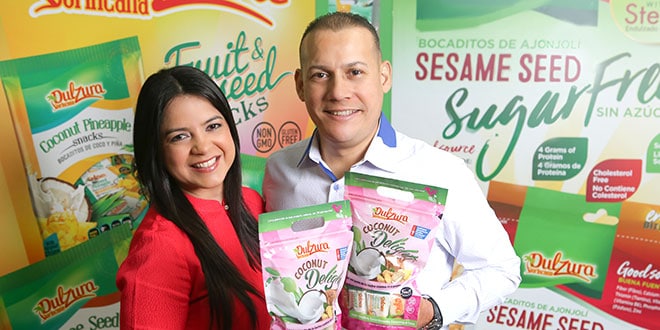 That's when the owners of Dulzura Borincana started the fund-raising campaign La Dulzura de Servir for the SAAC. For the campaign, they used one of their products, "Coconut Delight," and prepared a special packaging design with the color pink that identifies support for the fight against cancer to get the special product for sale.
"We created this package so that 50 cents for each unit was donated to the Society. It was 50,000 copies (those that were sold) and donated $25,000 dollars to the American Cancer Society and last week we gave them the donation with which we are going to impact many lives that really need it," said Carmen.
While Carlos continues stable with his treatment, this Puerto Rican marriage has realized during this delicate process that it has been fundamental to stay grateful for everything they have received.
"We decided to thank God and life for all the blessings we have received helping other people because there's no point to living if you're not helping your neighbor," said Carmen.
Related: With sweetness, they make their way into the United States
Aside from this successful fundraising campaign for the American Cancer Society in Puerto Rico, the owners of Dulzura Borincana hope to motivate other companies to unite and donate, "to causes like this or many other causes that exist in the world where people really need us."
Dulzura Borincana is a family business founded in Moca, Puerto Rico, 19 years ago, that is dedicated to the production of sweets and snacks with totally natural products. From the manufacture of a handmade product, they became a global industry, with presence in more than 40 states in the United States through chains like Marshalls and TJ Maxx. Their sweets and snacks are also found in markets in Panama, the Dominican Republic and Trinidad and Tobago.
Save