Sergio De Leon and his wife Mayra formed the perfect team to create their own businesses and achieve success. Sergio is a born entrepreneur, he is not afraid to take risks, he likes to investigate, to use data and he knows that he also learns a lot from mistakes. Mayra, with many dreams and ambitions, has a great leadership capacity that is reflected in the management of her employees and masterfully manages customer service.
The Mexican couple found in the city of Spokane, Washington state, the perfect place to open De Leon Foods in 2004, its first Hispanic grocery store, although more than a decade ago there were not many Hispanics in the area. But that did not stop them and now they own two stores with tortillería, a bakery, and a butcher shop. Also, they have a Taco Bar restaurant and another one that will open in the fall.
Sergio de Leon was born in Tampico, México. When he was seven years old he moved to the United States with his family to work in the fields, traveling with them through different states picking crops.
When he turned 18, he decided to leave the agricultural work to give a new direction to his life, initially doing a little bit of everything, from janitor jobs and working in warehouses, to create his own businesses.
Mayra grew up in Zacatecas, Mexico, where she helped her family in the fields and working in stores, until she got tired of working hard and not earning enough money. She decided to seek better opportunities in the United States and traveled to meet her brother in Spokane, where he was living.
It was thanks to her brother that Mayra met Sergio and they ended up being a couple and business partners.
In an interview with Abasto Magazine, the Mexican businessman said that the most important thing to get ahead in life is to take advantage of every opportunity that comes along. "Many people are afraid to do something, but in reality, if you never try, how will you know if you are going to achieve it?"
To open their first store, the De Leon couple used the common sense and craftiness of Latinos. "To choose the place we look at where other large supermarkets were located, because they have already done studies on how many people live in the area and we settled nearby, but they are bigger and eventually there was not going to be competition between us. In addition, we have tortillería, bakery and butchery and they do not", said De Leon.
The first De Leon Foods store, which opened 14 years ago in Spokane, is located at 102 E. Francis Avenue and two years ago they opened its second store at 15510 E. Sprague Avenue, where you can get the main Hispanic brands of food and beverages, also the tortillas that are made in the establishment, the typical Mexican breads and even the piñatas for the holidays.
The entrepreneurial spirit of Sergio and Mayra led them to try their luck in another business and they opened the restaurant De Leon's Taco Bar at 10208 N Division St Ste 110, in June 2017. Since the restaurant has been a success, they decided to open a second location near the University of Spokane in the fall.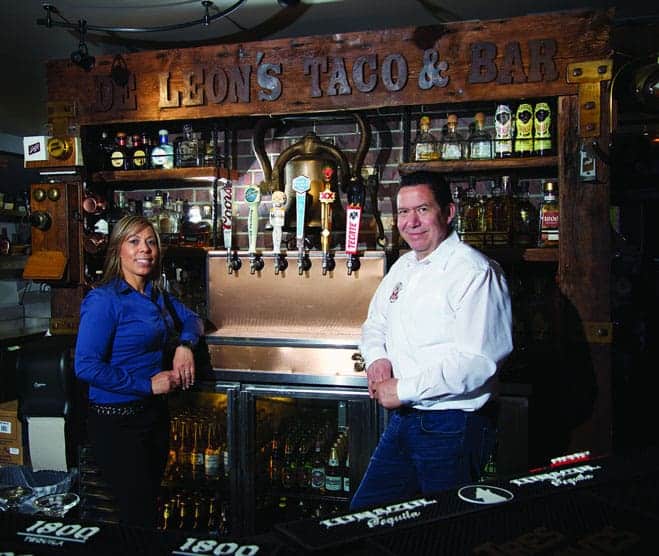 The De Leon couple does not forget their Hispanic origins either. They care about showing the best of Mexican culture throughout the year by doing activities in their stores, and they actively participate in community events to help Hispanics, especially by raising scholarship funds for Latino students.
As a successful businessman, Sergio advises new entrepreneurs to check their contracts very well when they start their business because "many people make the big mistake of signing papers without knowing what they are doing and that is why many fail. Having a good lawyer and an accountant is the best decision you can make in your business."
Sergio and Mayra De Leon have always dreamed big, but with humility, they say they did not expect to go that far. "Those were our goals but you never know what is really waiting for you, we did not expect that it would go so well, it has taken years but at last we are in a place where we can say we won the battle and now it is only going forward, "said Mayra De Leon.