The other day I talked about food with a fashion designer and it was fun because we were inspired, talking about fashion, decoration and cooking, all at once. And so, I ended up telling him about the touch so chic that certain ingredients are given to a dish, as he gives it to his designs. One of my examples was the purple basil on a pizza or salad.
Yes, as you hear it, that famous bright green leaf, with an incredible aroma that is never lacking in Italian cuisine, also comes in color purple. It has a slightly less sweet taste, but it is much more aromatic, there are those who say it has touches of spices like cloves. I still remember the first time I put the purple basil in my mouth, it was in the city of Mendoza, in Argentina and I fell in love.
Basil has its origin in India and there are more than 100 varieties, including several purple ones. Basil is used in the kitchens of Italy, Greece, south of France, Vietnam, Thailand; in Argentina and Peru, its known for its Italian influence.
Purple basil is full of vitamin K, helps with the coagulation of the blood and to strengthen the bones. It is so powerful that it is used in medicine for its antioxidant and antibacterial properties. They say it strengthens the immune system, fights aging, intestinal problems, skin diseases and even insomnia.
Buy it fresh. But be careful that it is fragile. Cut it very delicately or use its whole leaves. Add it at the end of the recipe so that it does not wilt, or lose its brilliance, lovely aroma and flavor.
Related Article: Parsley, A Natural Antioxidant in your Kitchen
Both green and purple basil, you can use it in a dressing, sauce for pasta or protein, salad, rice or risotto, sautéed, stew and there are even those who add it to desserts or to the container of olive oil or vinegar to give it more aroma, color and flavor.
Purple basil love the sun, its season is summer, but it can be grown all year round, even inside a house, with lots of light.
Pasta recipe with green beans, corn and fresh basil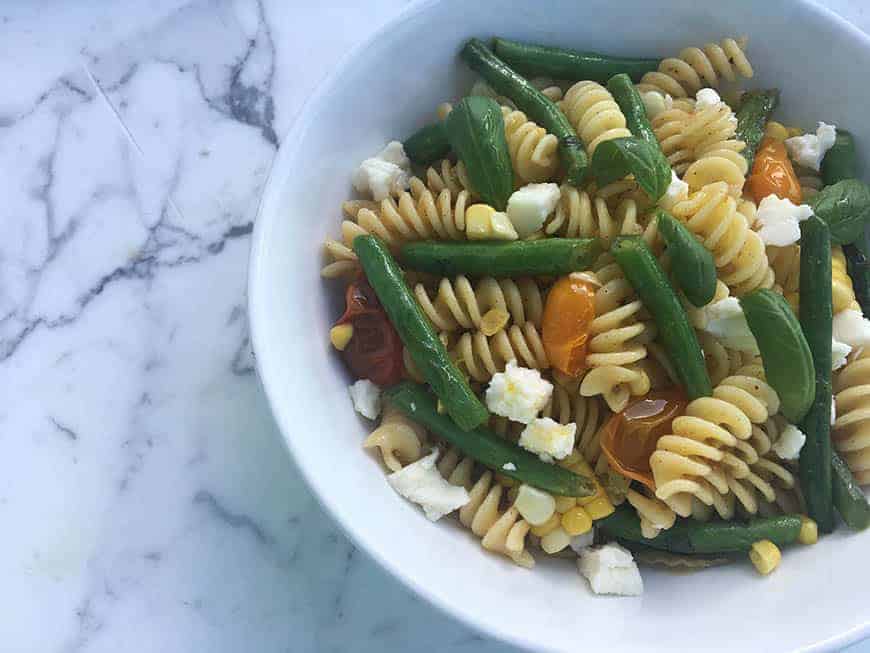 A great recipe to enjoy during spring and summer, warm or cold. Super tasty, easy to make, healthy and very refreshing. Vegetarians are going to get crazy about it. If you are allergic to gluten, just enjoy it without the pasta, use white beans or a gluten free pasta.
What you need:
8 oz pene or farfalle pasta
1/2 pound of fresh green beans, clean, ends cut off and cut in 1 1/2 inches long
3 fresh corn on the cob (or frozen corn if you don't find it fresh)
3-4 medium fresh garlic cloves, minced
1 cup of cherry tomatoes
10-12 medium fresh basil, chopped
4 tbsp. extra virgin olive oil
Salt and pepper to taste
Queso fresco (optional)
What you need to do:
In a medium saucepan with boiling water, add enough salt, the pasta and cook until it is al dente. Then, drain and put the pasta aside.
In the meantime, clean the corn, removing the green outer husk and silky threads. Cut them in half and boil them in another medium pot with a slash of salt for 5-7 minutes. Then drain it and using a knife, carefully remove the kernels. Remove all sides and then set aside.
On another pot in medium high temperature, add the olive oil and sauté the green beans for 2-3 minutes. Add salt, pepper, garlic and reduce temperature to medium (make sure you don't burn the garlic).
Add the corn, stir and cook for 2-3 minutes. Then add the tomatoes and stir for 1 minute.
Add the cooked pasta, reduce the temperate to low, add a pinch of more salt and pepper if needed, stir well and cook for 2-3 minutes until all the flavors combine.
Add the basil, pinch of cheese (optional) and serve immediately in case you want to share it warm. If you want to serve it cold, add the basil and the cheese before serving.
Doreen Colondres is a celebrity chef. Author of the book The Kitchen Doesn't Bite. Follow her on Facebook and Instagram @DoreenColondres and visit www.LaCocinaNoMuerde.com , www.TheKitchenDoesntBite.com or buy her book on Amazon or iTunes.