FUD-Tapatío Smoked Sausage anyone? If you like FUD and Tapatío Hot Sauce are you in for a surprise?
Two big brands come together to introduce the new FUD-Tapatío Smoked Sausage with the unbeatable Hot Sauce Tapatío flavor.
FUD, a Sigma brand and Tapatío hot sauce know the tastes and preferences of Hispanic consumers very well. Their products have always had a high demand among this demographic.
FUD has a 60-year trajectory in the United States, selling a wide variety of meat and dairy products. Similarly, Tapatío has 40 years putting its delicious spicy flavor on the American meals.
FUD which stands for Fino, Único y Delicioso (Fine, Unique and Delicious), partnered with Tapatío to create a new FUD-Tapatío Smoked Sausage. In a nutshell, the idea for this product came about from different data points of the Hispanic consumers, one of them being their preferences for spicy foods.
"We're thrilled to partner with Tapatío. We know consumers crave to personalize their food and, even more, to experiment with spice," said J.J. Téllez, marketing director for Sigma. "Our collaboration will expand into products that will delight consumers with new flavor alternatives that will create more tasty moments to enjoy FUD and Tapatío together, surprising with pairings that many families have been doing at home."
Enjoy the new FUD-Tapatío Smoked Sausage
The new FUD-Tapatío Smoked Sausage is available now. Fire up the grill, and unleash your Tapatío!
The new FUD-Tapatío Smoked Sausage product is available in a 14-oz — package with six links. At the stores, they are easily identifiable by their famous Tapatío Hot Sauce bottle icon.
"We are pleased that the FUD brand has partnered with us in the meat category; they understand the market and are passionate about authentic flavors. Our loyal consumers will enjoy true Tapatío hot sauce in the convenience of products for everyday use," said Luis Saavedra, vice president, Tapatío.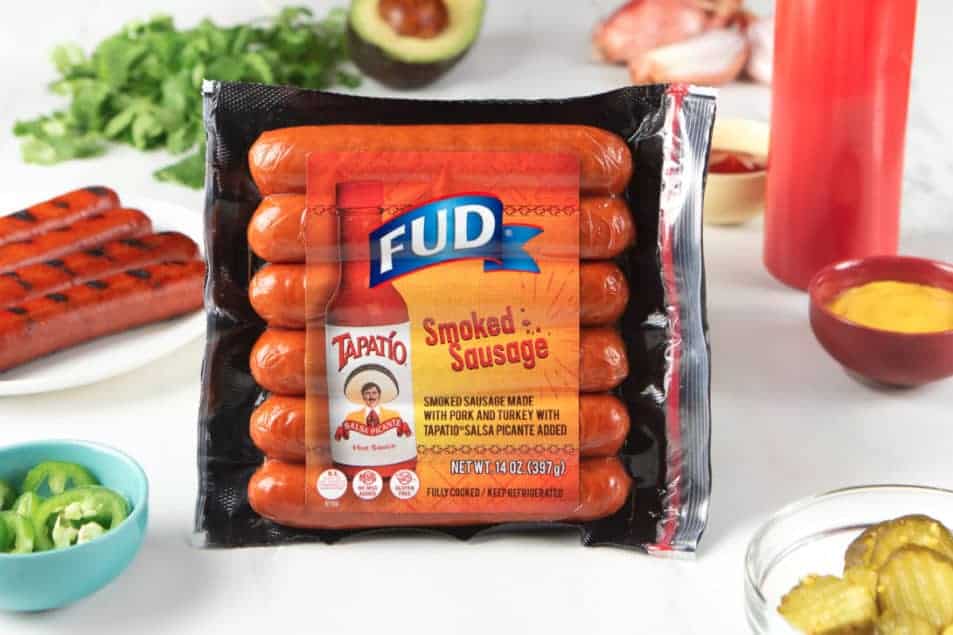 Sigma is a global food company devoted to bringing the favorite local foods to all the communities worldwide.
With a presence in 18 countries around the world, Sigma offers high-quality products in a wide range of prices and categories.
In the United States, the company sells 350 meat and dairy products under the Bar-S, FUD, La Chona, Longmont, Playero, Del Prado, Menú del Sol, and Norteñita brands.
Related Article: Tapatío Hot Sauce – 45 years of quality and tradition
Similarly, Tapatío Foods, LLC started its operations in 1971. More than 40 years later, Tapatío is still a family-owned business, and it has grown into a basic commodity for the Hispanic families and the American families as well.
Tapatio is the number 1 hot sauce on the west coast, and the number 4 hot sauce in the country. Tapatío is a versatile sauce you can use on any dish!
Have you tried the new FUD-Tapatío Smoked Sausage?