Cilantro is the most widely used aromatic herb globally, especially in Latin America, China, and India. It is believed to come from the Mediterranean. Native American Indians used it to relieve constipation, insomnia, and anxiety in ancient times. The Romans used its seeds (coriander) to relieve headaches, while the Egyptians put them inside their tombs.
It is said that there are two types of people in the world: those who love cilantro and those who hate it. There's no middle ground, and that's what makes this aromatic herb unique. Its leaves have a slightly spicy, complex, and citrus flavor. Even those who have never cooked with cilantro have consumed a dish prepared with this ingredient.
It is an herb used within gastronomy, from the decoration of dishes and flavor broths, rice, salads, meats, etc. While the Hispanic gastronomy of cilantro is very famous either for preparing sauces, the famous guacamole, or for beans, its leaves add a peculiar flavor to soups and snacks. Cilantro leaves are often added to a dish just before serving as their taste decreases with cooking.
Cilantro has very few calories and is packed with an impressive variety of nutrients, high in vitamins and minerals. It has excellent antioxidant power; it is anti-inflammatory, antispasmodic, diuretic, bactericidal, anxiolytic, helps decrease the levels of "bad" cholesterol, and increases the levels of "good" cholesterol. It has a chelating effect that helps to reduce heavy metals in the body, such as mercury and aluminum.
Related Article: Can You Imagine A Purple Carrot?
Because it is so prevalent in Hispanic cuisine, cilantro is found in supermarkets all the time. Because of this, the imports of this herb from Mexico have increased. During 2019 its importation only occurred in the second half of the year. In 2020 and 2021, cilantro was imported throughout the year, as we can see in the following graph: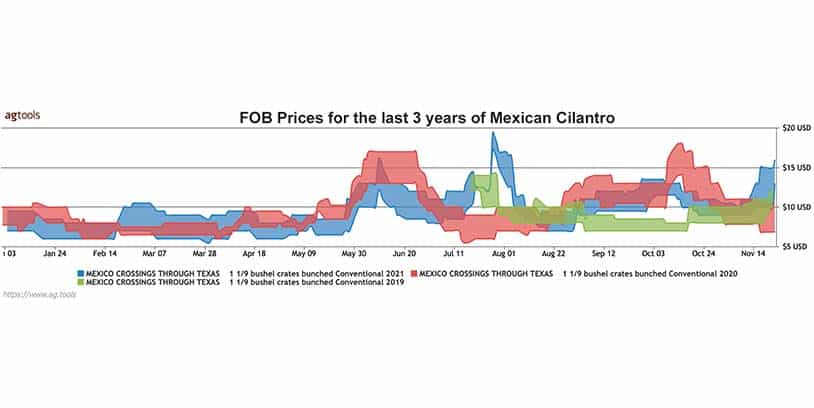 The desire to have cilantro available to consumers year-round has made this herb very volatile in price. In 2021, prices were as low as $5 a box and reached highs of $19.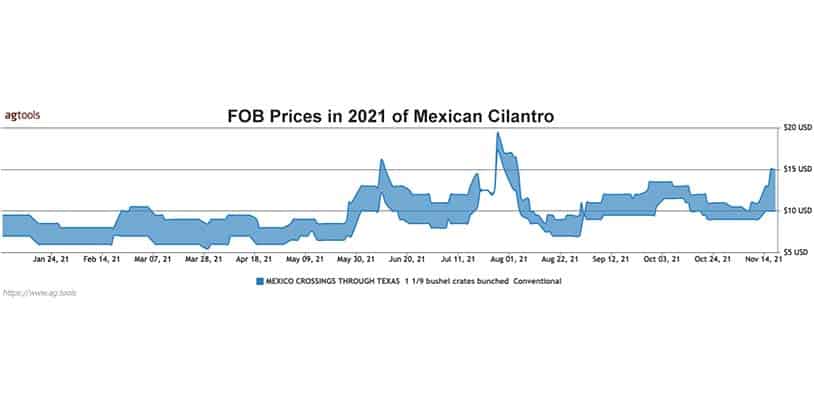 Although cilantro produced in Oxnard is marketed throughout the year, in August 2021, it reached record prices, which were only surpassed by the prices reached in 2015 when Mexican cilantro was not imported for a couple of weeks. This increase is due to a decrease in volume produced in the region, as 2021 had warmer days in this period when compared to 2020 temperatures.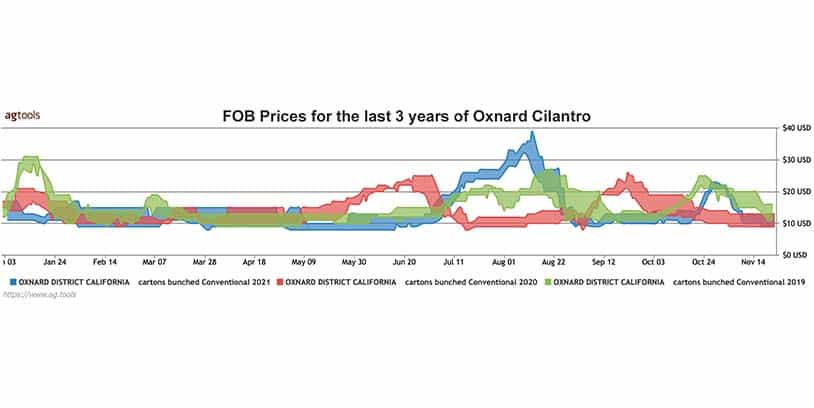 On the other hand, the trend towards health has been reflected in the increase in the commercialization of organic cilantro. Currently, this product's seasonal transition has been adjusted so that in 2021 this herb could be available on the table of families throughout the year.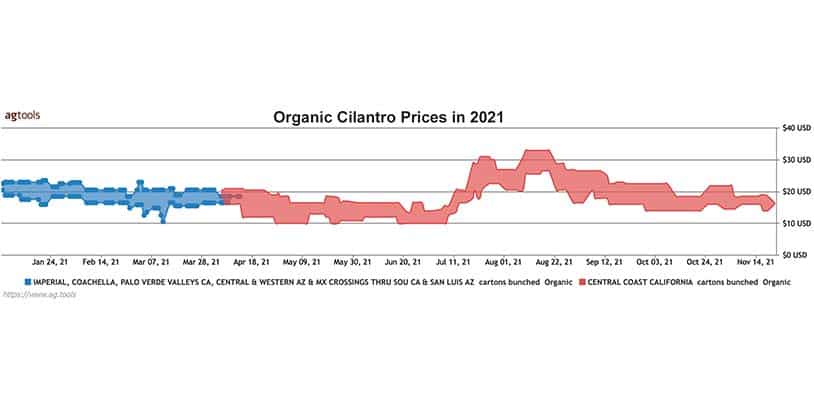 Although cilantro competes in gastronomy with other species considered "exotic," the versatility of its use and its potential give it an important place in research, production, and agribusiness and have made it one of the favorite herbs of consumers. After all, since ancient times, it has been one of the most widely used fresh herbs in the world and has left its mark on the different traditional dishes of different cultures, mainly Hispanic.
Article Courtesy of AgTools