The spicy taste of the chile makes us sweat and rev up. It is both burning and passion, as well as sex. Whether fresh, dried or powdered, chile peppers have an aphrodisiac effect.
Studies say that they increase sexual appetite due to capsaicin, a chemical ingredient that generates the burning and itching effect, and the more it has, the more spicy sensation.
Apparently, they increase the libido, because it has a metabolic effect. Spicy stimulates the cardiovascular system. When the heart beats faster, the blood vessels start to open, causing blood to flow more.
When your cardiovascular system is activated, your brain sends the signal to the body to release endorphins, as it happens during exercise and sex. That's why the correlation between spicy foods and sexual appetite.
The thermogenic effect and the activation of endorphin occur in both sexes. That is, spicy stimulates men and women equally.
In the case of women, the endorphins that regulate pain and pleasure can be directly influenced by capsaicin, causing a high mood. In the case of men, they say that it increases sexual appetite and even testosterone levels.
If they are so wonderful, let's try adding a bit to the evening on Valentine's Day. So that you know your options on what chile to buy, I offer you a list of fresh spicy chiles that, when sold dried, are known by other names and taste different.
Fresh
Jalapeno
Yellow pepper
Poblano
Chilaca
Anaheim Mirasol
Serrano
Ball
Dried
Chipotle
Chili Mirasol
Width
Pasilla
Colorado Guajillo
Dry Chile
Jingle Bell
And remember that Ají Panca and Rocoto from Peru, Ghost and Scotch Bonnet from the Caribbean and Anaheim from New Mexico, also enter the game.
Have a spicy Valentine's Day!
Recipe of Pork Casserole and Nopales in Chile Sauce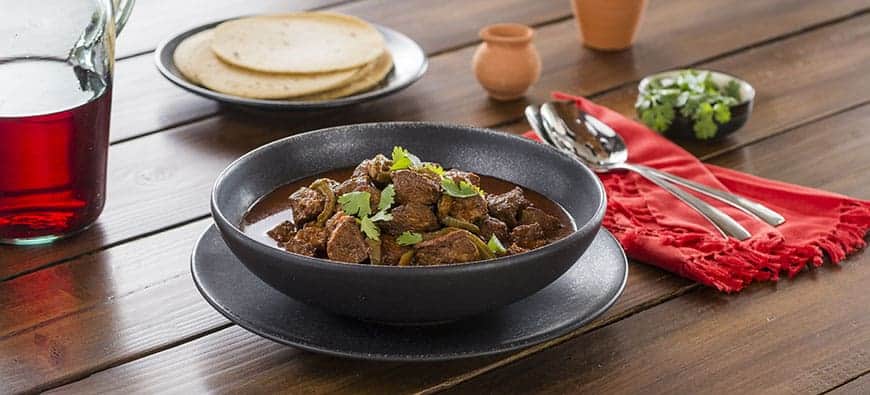 In México one lives intensely, as well as the flavor of this typical casserole reinforced with spicy chiles anchos, guajillo and delicious nopales, which give that rich and thick touch to pork for stewing.
Ingredients
2 pounds of pork for stewing, cut into 1-inch cubes (shoulder / shoulder)
2 chiles anchos, dried (without stems, seeds, or veins)
1 chile guajillo, dried (without stem, seeds, or veins)
3 pear tomatoes, cut in halves
1 white onion, peeled and cut in quarters
4 cloves of garlic
Juice of 2 oranges
2 tbsp of olive oil
2 laurel leaves
1 tsp. of dried oregano
Salt and pepper
3 cooked nopales, cut into strips
Instructions
In a deep container with 2 cups of very hot water, add the peppers and let it hydrate for 5 minutes.
In a blender, mix well the tomatoes, onion, garlic, orange juice, chilies and 1 1/4 cup of the water in which you hydrated the peppers.
In a deep pot, brown the pork in olive oil, season with salt and pepper to taste and then add the spicy sauce, oregano and bay leaves. Mix well and let cook covered for 40 minutes.
About 10 minutes before serving, add the nopales and season with salt and pepper.
Suggestions to serve
Serve with corn tortillas or your favorite companion. If you can't find nopales, use beans or green peas.
Doreen Colondres is a celebrity chef. Author of the book La Cocina No Muerde. Follow her on Facebook and Instagram @DoreenColondres and visit www.LaCocinaNoMuerde.com, www.TheKitchenDoesntBite.com or purchase her book on Amazon or Itunes.