Vacation has ended. This means that the holidays are on the way. So, prepare yourself for the ingredients that fill the snack table. One of those that stays present at my table is olives.
I remember that my grandmother put a small cup of them near the pot to eat them while cooking and I do the same. They are versatile. I serve them with the initial appetizers as the guests arrive and I begin to fill the glasses.
Welcome olives into your kitchen:
Olives are healthy, a natural source of Vitamin E.
Ideal for vegetarian diets or vegans.
They add flavor and color to whatever meal and add a great Mediterranean touch.
They provide a variety of flavors in the mouth. With only one of them, you experience bitter, sweet, salty and acid flavors.
They have a great variety of styles to discover, chamomile, hojiblanca, queen and las rellenas, among many.
It's an accessible product for any budget.
They come from every price, size and types of packaging.
They are easy to use and storage. You can always have a jar in the kitchen.
They are a fundamental part of the Mediterranean diet, an intangible cultural heritage of humanity.
More than 83% of olives consumed in the U.S. come from Europe and Spain, they are the world's leading producer and exporter.
Cheese, break, beer, wine and cured products are your best friends on a table.
As a snack, in salads, empanadas, stews of meat, beans, chicken, in rice dishes and even in a fish or chicken wine recipe, olives are perfect.
Learn more about them on @HaveanOliveDay and on my website.
Recipe of Caponata Latina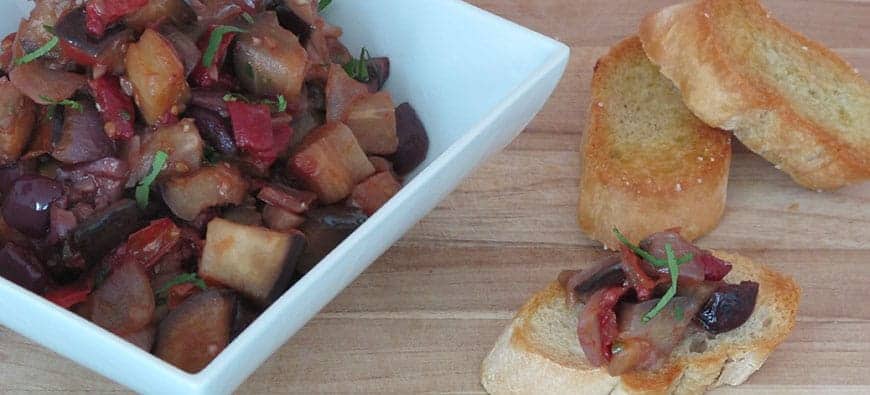 A typical Italian recipe and famous in Sicilian cuisine. It's like a "ratatouille or pisto" or in other words, a sautéed almost vegetable stew that we can eat hot or cold.
You can serve as a companion to any meat, chicken or fish or serve as an antipasto for a party with fresh bread or cookies.
Ingredients:
2 pounds of fresh eggplant
1 medium red onion
2 pear tomatoes
10 black pitja seedless olives cut in half (or kalamata)
3 piquillo peppers (or peppers)
1 chile serrano peq. without veins or seeds cut well peq.
2 cloves of fresh garlic, finely chopped
1 1/2 tbsp of vinegar of Jerez (sherry wine)
1 1/2 tbsp of agave honey (or honey)
1/3 cup olive oil
1 tbsp of fresh coriander
Salt and pepper to taste
Directions:
Chop the eggplant with peel and all, in squares of a little less than an inch. Add salt and leave in a colander in a deep container to release moisture while you cut the other ingredients
Cut onions, the tomatoes and tomatoes and peppers in equal proportion to the size of the eggplant.
In a skillet in medium high temperature, add the olive oil and sauté the garlic for a minute. Then add the serrano and fry for another minute while stirring.
Afterwards, add the onions and fry until it starts to turn translucent and then add the tomato and eggplant and fry for five more minutes, or until the eggplant is cooked. Continue stirring so that it doesn't stick and everything mixes well.
When the aubergine is cooked, add the peppers, olives, vinegar, honey and stir everything.
Add salt, pepper to taste and salt test.
Finally, add the cilantro and remove it from the heat. It can be eaten hot or after being put in the refrigerator and served cold on a toast of bread or salty biscuit. The next day it will taste a lot better.
If you cannot find the piquillo peppers that come in a pot or canned, use normal peppers. You can substitute Jerez vinegar for any "sherry wine", botijas for Kalamatas, agave honey for honey or brown sugar or cane and serrano for red pepper or jalapeño or poblano pepper.
Doreen Colondres is a celebrity chef. Author of the book The Kitchen Does not Bite. Follow her on Facebook and Instagram @DoreenColondres and visit www.LaCocinaNoMuerde.com , www.TheKitchenDoesntBite.com