According to data released by commercial real estate-focused professional services firm Jones Lang LaSalle (JLL), grocery retailers were among the biggest winners from the pandemic. Supermarkets took advantage of these gains by reinvesting in their businesses through facility renovations, improved sourcing options, and new store openings.
The grocery retail industry grew by 9.4% in 2020 and sustained that growth in 2021, with total grocery sales reaching $803 billion last year, representing a nearly 16.0% increase over pre-pandemic levels.
JLL's analysis reveals a 200% increase in new grocery store leases in 2021 compared to the same period in 2019. Aldi was the most active grocer in 2019 and 2020, placing it at the top of the list of fastest-growing supermarkets in the U.S.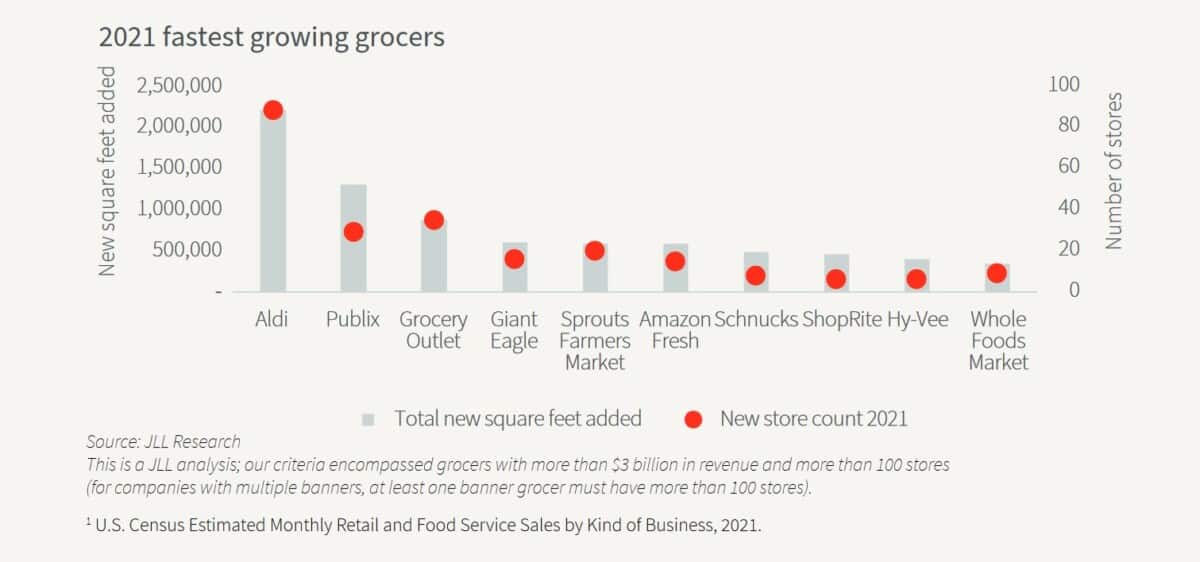 The German supermarket chain opened 88 stores in 2021, totaling more than 2.2 million square feet of new space added. And it plans to open about 150 new stores by the end of 2022. According to JLL, the current total of 2,158 stores consolidates Aldi as the third-largest grocery retailer in the U.S. by store count, just behind Kroger and Walmart.
Related Article: Independent Grocers Urge Antitrust Policymakers to Level the Playing Field
Second on the fastest-growing list is Publix, which added 1.3 million square feet of space in Florida, and in third place is Grocery Outlet, which opened just under 900,000 square feet concentrated on the West Coast and expects to add 28 more stores by the end of 2022.
Moreover, JLL research indicates that online grocery shopping is here to stay. According to eMarketer, e-commerce grocery sales soared to $122.4 billion in 2021-an increase of 12.3% year over year- underscoring a permanent shift in consumer shopping preferences and demonstrating that grocery demand is robust enough to support this growth both in-store and online.
Likewise, inflation will continue to pose a challenge for the supermarket industry due to pessimistic consumer sentiment, negatively affecting shopping patterns in the coming months and ultimately reducing grocery store sales.
This complicates the outlook for food retailers, as "food at home" prices increased 8.6% over last year, outpacing the inflation rate for all retail categories.
Jones Lang LaSalle's research also highlights renewed interest from international capital in investments in U.S. supermarket assets, which totaled just under $600 million, nearly double that in 2020. "We expect grocery-anchored properties will continue to be the bedrock of the retail debt markets," JLL concluded.