The U.S. online grocery market posted $7.2 billion in total sales, down 7.0% compared to last year, according to the latest monthly Brick Meets Click/Mercatus Grocery Shopping Survey fielded July 29-30, 2023.
This month's downtrend was seen across all three receiving methods and was driven by a pullback in order frequency plus constrained spending per order, despite a larger base of monthly active users (MAUs) than the prior year.
"July's results reflect the growing financial challenges many consumers are facing today," said David Bishop, partner at Brick Meets Click. "These challenges, along with evolving expectations, driven by experience engaging with Mass, contribute to the growing gap between conventional grocers and their Mass rivals."
Online Grocery Sales Key Findings: July 2023 YOY
More households buying groceries online:
For July 2023, the overall MAU base continued to grow as the total number of U.S. households buying groceries online increased by nearly 5% compared to last year.
This growth was driven by a more than 7% increase in the Pickup MAU base, while Ship-to-Home's base remained flat, and Delivery's contracted by 1% compared to July 2022.
Related Article: How to Succeed in Grocery e-Commerce Management
Lower order frequency by active shoppers
Order frequency, which dropped 10% versus last year, was the main contributor to the monthly online grocery sales decline, reducing the total number of online orders by nearly 6% for July 2023.
Delivery, which plummeted 13% versus the prior year, accounted for almost three-quarters of the drop in online orders, while Pickup dipped by 3% and Ship-to-Home by 2%.
Constrained spending by active shoppers
The average order value (AOV) slipped approximately 1.5% versus July 2022. Delivery climbed less than one-half a percent, and Ship-to-Home, with the smallest AOV, posted a 1% gain year-over-year; however, neither of these gains was large enough to offset the 2% dip in Pickup's AOV significantly.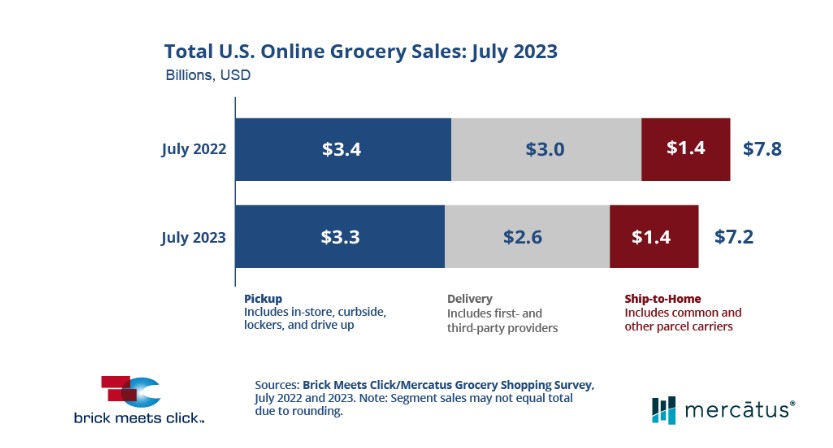 Mass and Grocery formats continue to perform very differently
Mass experienced a surge in customers, while Grocery experienced only a modest gain in MAUs during July, similar to the trend observed last month.
While online grocery order frequency declined for both formats, the drop for Grocery was much more significant than for Mass. In addition, the average order value for Grocery dipped by more than 5% while Mass finished up very slightly.
Widening gap in repeat intent rates between Mass and Grocery
Although the overall repeat intent rate of 63% was down just 50 basis points (bps) for July versus the prior year, the repeat intent rate for Mass was nearly 18 points higher than for Grocery.
The gap between Mass and Grocery widened by 730 bps resulting in the largest gap since the online grocery sales surveys started tracking this metric in January 2021.
Much of the monthly gain for Mass can be attributed to a big improvement in its repeat intent rates for Delivery. Mass also made slight gains in the already large gap it has historically enjoyed associated with Pickup.     
Share of total spending
Online's share of total grocery spending declined 130 basis points in July to 13.2% versus last year.
Excluding Ship-to-Home, since most conventional supermarkets don't offer it, the adjusted contribution from Pickup and Delivery finished at 10.7%, down 120 basis points compared to a year ago, due to Delivery's dramatically weaker performance for the month.