Cardenas Markets concluded its Loteria Scratcher Sweepstakes, and the Hispanic grocery chain announced that it officially presented the $50,000 check to the grand prize winner at its Merced, California store and awarded a check for $10,000 to the second-place winner.
The store chain announced that the $50,000 grand prize winner is Leonel B., a resident of Merced, California.
Marketing Director Adam Salgado joined the Cardenas Markets team members in Merced to celebrate the presentation of the $50,000 check to Leonel B. The check presentation occurred on August 3, 2023, inside the company's store at 1136 Main St. in Merced, California.
During the ceremony, Leonel noted that he planned to share and enjoy his winnings with his family, who also attended to participate in the celebration.
Related Article: Heritage Grocers Group Expands to Texas and Kansas with the Acquisition of El Rancho Supermercado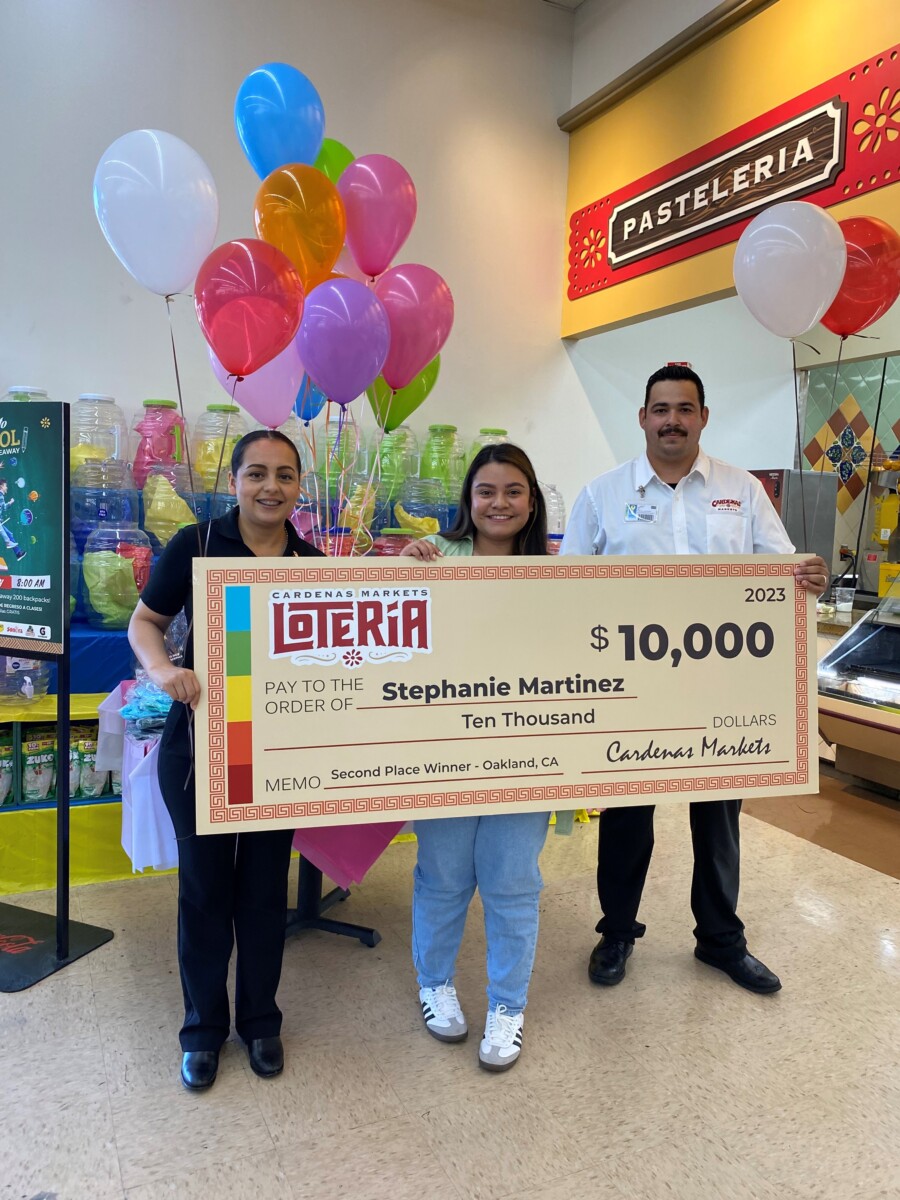 Likewise, on August 5, 2023, District Manager Petra Salinas and Cardenas Markets Store Manager Eduardo Partida presented Stephanie M., a resident of Oakland, California, second place winner of the Lottery Drawing, with a $10,000 check.
"It is an honor for the company to present Leonel and Stephanie with their sweepstakes prizes," said Salgado. "Our customers are at the center of everything we do, and in addition to providing them with the freshest and most authentic offerings, we are also dedicated to offering them fun and engaging opportunities," he added.
The Scratcher Lottery Sweepstakes program ran from April 19 through June 13, 2023, at all Cardenas Markets and Los Altos Ranch Markets stores culminating with the virtual Lottery Tournament.
Cardenas Markets is part of Heritage Grocers Group, headquartered in Ontario, California, which currently operates a total of 113 stores, with 57 supermarkets under the Cardenas Markets brand (California and Nevada), 21 Tony's Fresh Market stores (Illinois), seven Los Altos Ranch Market stores (Arizona), and now 28 El Rancho Supermarket stores (Texas and Kansas).