Walmart captured nearly 36% of all U.S. online grocery sales in Q2 2023, up more than 5 percentage points from the prior year and its highest share to date, according to the new report, Measuring the Online Grocery Market: eGrocery Share in the U.S., created by Brick Meets Click and sponsored by Mercatus.
In addition, the benefits that Pickup offers helped to drive its share increase, which finished at 48% for Q2 2023, almost two points higher than last year.
According to the report, in Q3 2022, Walmart's share (excluding Sam's Club) first surpassed Supermarkets when food-at-home price inflation peaked, and it has been gradually fortifying its top spot as eGrocery market leader each quarter since then.
While Supermarkets held a 150-basis point (bps) share edge over Walmart last year during Q2 2022, Walmart finished with a 570-bps share advantage this year.
"The combined effect of price inflation and the expiration of COVID financial supports has triggered a flight-to-value as purchasing power remains under pressure," said David Bishop, partner at Brick Meets Click.
"This means it's vital for grocers to offer customers more ways to save money while also providing the experience that online shoppers expect, as cost considerations will weigh more heavily than convenience for cash-strapped households in the second half of this year."
Related Article: Walmart Will Pose a Bigger Challenge to Regional Grocers in Online Sales
Related to this research, an independent analysis of CPI data from the Bureau of Labor Statistics, also conducted by Brick Meets Click, documented that the purchasing power of U.S. households dropped over 7% during the first half of 2023 versus a year ago.
This was after it declined more than 9% in the first half of 2022 versus the same period in 2021. In comparison, purchasing power just prior to the pandemic was far less volatile, slipping just 0.5% and 1% during the first half of 2018 and 2019, respectively.
When it comes to how consumers are receiving their online grocery orders, Pickup, the lower cost-to-use service compared to Delivery, has steadily expanded its share of eGrocery sales over the last several years.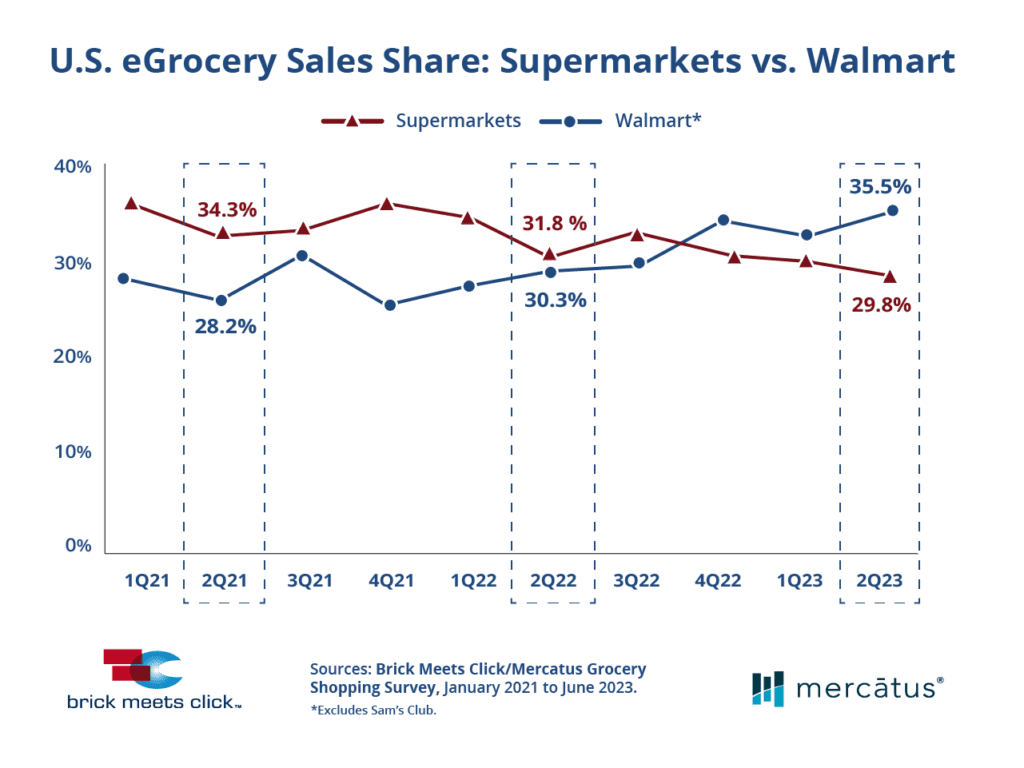 In 2022, Pickup gained 80 bps during the second quarter versus the prior year, and in 2023, it captured another 190 bps, ending the second quarter with a nearly 48% share of the U.S. market.
Supermarkets, in addition to Mass, contributed to the share growth as grocers continued to introduce Pickup services at more store locations.
Target, another Mass rival, is still holding its own in eGrocery with moderate growth over the last two years. It has gained 70 bps of share versus 2021 and finished Q2 2023 with approximately 7% of online grocery sales.
Strong and consistent execution – especially in fulfilling Pickup orders – and a price gap that is halfway between Supermarkets and Walmart likely offered a degree of defense for its online grocery business.
Total online grocery sales were down 1.1% in Q2 2023 versus the prior year, and the main driver of the sales decline was fewer orders completed per household, down 5% year-over-year for the quarter. In addition, consumer interest in buying groceries online declined slightly except for the most engaged households.
The share of U.S. households that completed one or more online orders during Q2 2023 contracted by 275 bps compared to a year ago to just under 53%. The overall pullback was due to contractions across the three lower quartiles of online spending; meanwhile, the households who report doing at least 75% of their grocery spending online expanded by 292 bps versus Q2 2022.
"As competition for the shopper intensifies, regional grocers should be leveraging analytics and insights to provide customers with personalized recommendations, discounts, and offers as well as developing targeted, cost-effective strategies to encourage and reward repeat purchases online and in-store," said Sylvain Perrier, president and CEO, Mercatus.
"In addition, grocers can expand the online market they serve by offering Pickup as a lower-cost alternative to Delivery."
While repeat intent rates during Q2 2023 were down slightly versus last year across Pickup and Delivery and for core formats (Mass, Supermarkets, and Hard Discount), the gap between Mass and Supermarkets for both receiving methods continued to widen. The gap in repeat intent that Mass had over Supermarkets for Delivery climbed by 210 bps, and Pickups grew by 560 bps.