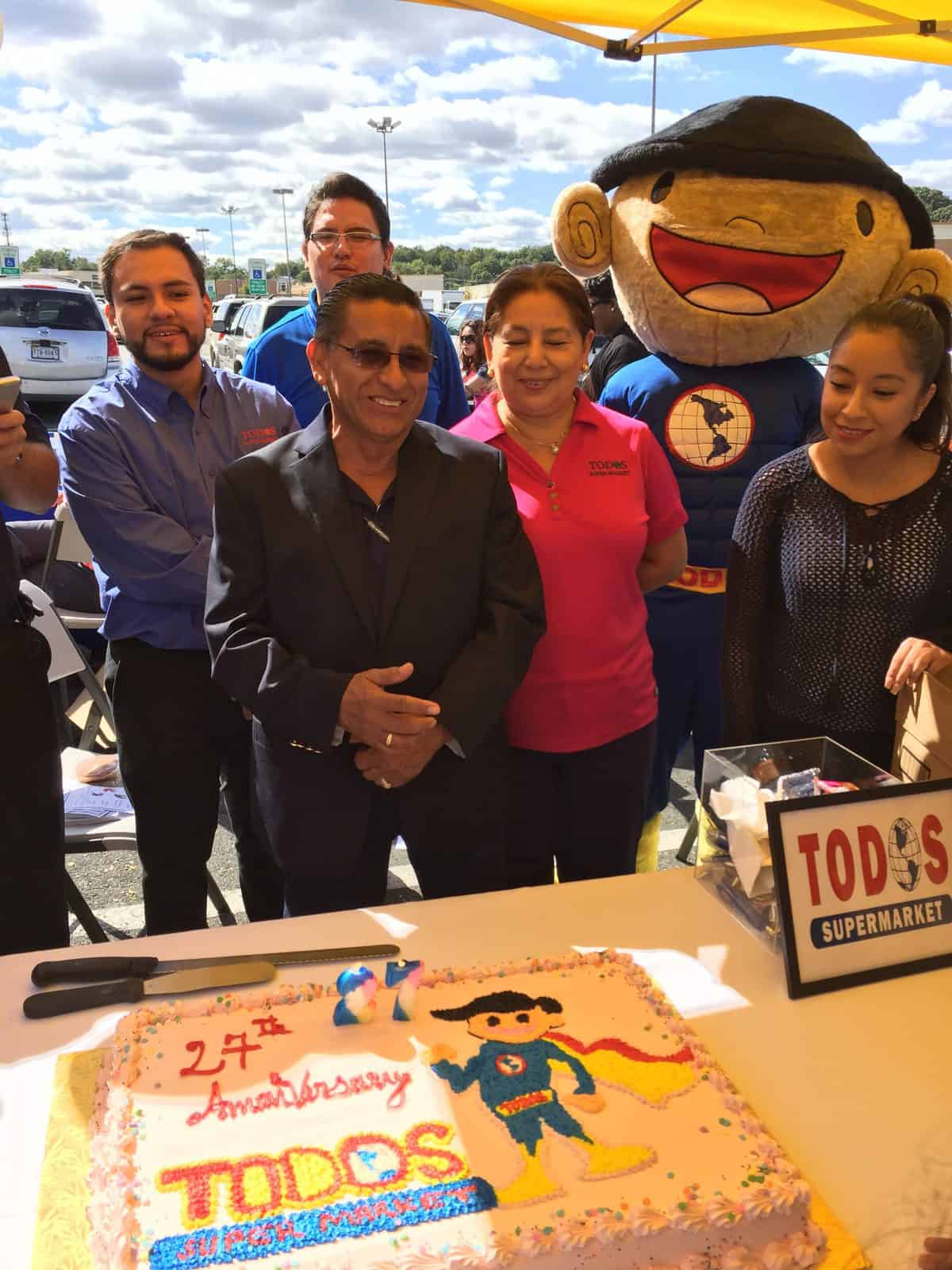 When Carlos Castro left El Salvador in 1980, due to the violence from the civil war in the Central American country, he never imagined that he would end up being a well-known entrepreneurial owner of Todos Supermarket in Woodbridge, a mere 30 minutes from the U.S. capital.
Don Carlos, a fond nickname used by his 180 employees and clients in Todos Supermarket, celebrated 27 years of the opening of the store this past weekend.
When Don Carlos arrived in Virginia, he began to earn his living by washing dishes in restaurants. He provided for his wife and recently-born son, who still lived in El Salvador in that time, with that money.
"My father raised us well because he was a strict man and a perfectionist. He insisted that we enjoy our job, no matter what it was and that we should try to be the best, therefore when I arrived here, I wanted to be the best dishwasher while I worked there," Don Carlos recalled in an interview with Abasto Magazine.
His wife Gladis and just-born son were his main motivation to work hard and prosper in the United States.
Working hard in construction and with the support of his wife Gladis, who decided to clean houses and take care of children, they continued to progress. During a reunion in the house of a friend from Woodridge, that friend suggested to Don Carlos the possibility of opening a store in the city for Hispanics.
The idea stayed in his head and he decided to open a store of Hispanic products in the U.S. called La Cuzcatleca. His wife Gladis dedicated herself to managing the small supermarket, although 27 years ago, they knew very little about that type of business.
Realizing that clients identified their store as a Salvadorian one, they decided to change their store name to a more general one that would be for everyone and re-named their store Todos Supermarket. "It was a name we already knew in El Salvador, there was a store with that name and so we decided to name it that," said Don Carlos.
Managing a supermarket turned out to be more complex than the Castro's imagined, so Don Carlos had to leave his construction business to help his wife Gladis manage the new company.
Todos

Supermarket is more than a grocery store
They began with three people in a local area in the 1990, only a few blocks from where they are located now by the Jefferson Davis Highway in Woodridge. Finding Hispanic products to sell in their store was a journey, resulting in them sometimes leaving it to well-known people and it was their own clients who told them what products they wanted.
Little by little, Todos Supermarket won the trust of the Hispanic community in that area, which grew rapidly and aside from being a Latin grocery store, it was also a place where immigrants could find information or general tips.
"I think it took us 10 years to truly learn well enough, but it was beautiful because people would come up to my wife to ask her questions and she'd tell them to come back at 6 to speak with me. So, without knowing it, there came a point where people trusted us because they considered us knowledgeable and they could come to us with questions," said Don Carlos.
The Salvadorian company saw the great need in the Hispanic community, not just for a store that sold Hispanic products, but for another kind of community service. They moved to a larger local area to 13905 Jefferson Davis Hwy, which has an area of 75,000 square feet, where 50,000 are the supermarket's area and the other 25,000 are dedicated to the administration area and the offices of money orders, notary, insurance agency, travel agency and mail service.
Todos Supermarket has 180 employees, 90% of which are Hispanic and most of the supervisors of the store are women. They also have a second store located in the 17897 Dumfries Shopping Plaza in Dumfries, Virginia.
"We are one of the largest employers of the Prince Williams county," Don Carlos confirmed.
Todos Supermarket has walked a long path. They celebrated their 27th anniversary this past weekend with a community event that was organized by the new director of marketing, Zoila Arévalo, a Salvadorian woman who knows how important serving the Hispanic community is for the Castro's.
In the celebration, which took place Saturday, September 30th in the parking lot of Todos Supermarket, the community enjoyed music, games for children, food from the supermarket and some of their clients, such as Ducal, Goya and Pan Sinai. The Prince Williams County Human Rights Commission, the Office of Equal Employment Opportunity, the Police Department and the fire department were also present.
During the event, clients approached Don Julio and fondly hugged him, thanking him for his support and congratulating him for the anniversary of the supermarket, which belongs to everyone.
Photo Gallery: community party to celebrate the 27 years of Todos Supermarket