The experience of shopping at the supermarket has been evolving quickly in recent years. Now many stores are including cashier-free cash registers, with Amazon Go being one of the pioneers of this industry change. Other stores are using robots to automate different functions. These robots, powered by artificial intelligence technology, will quickly become more prominent in stores. And what is about to arrive at a supermarket near you is the use of smart shopping carts. Caper AI, a retail technology company, based in New York, is the brain behind this new technology.
These intelligent shopping carts will assist you with pretty much with anything from letting you weight your fruits and vegetables to suggesting items based on what you have already purchased.
Caper AI recently announced a partnership with Sobeys, the second-largest food retailer in Canada, to deploy its Smart Cart technology. This partnership makes Caper the first independent automated checkout company with a live commercial deployment with a major retailer.
Caper Smart Carts went into service at the Sobeys 41,000 sq ft. Glen Abbey location in Oakville, Ontario, as part of Sobeys' new digital approach to grocery shopping.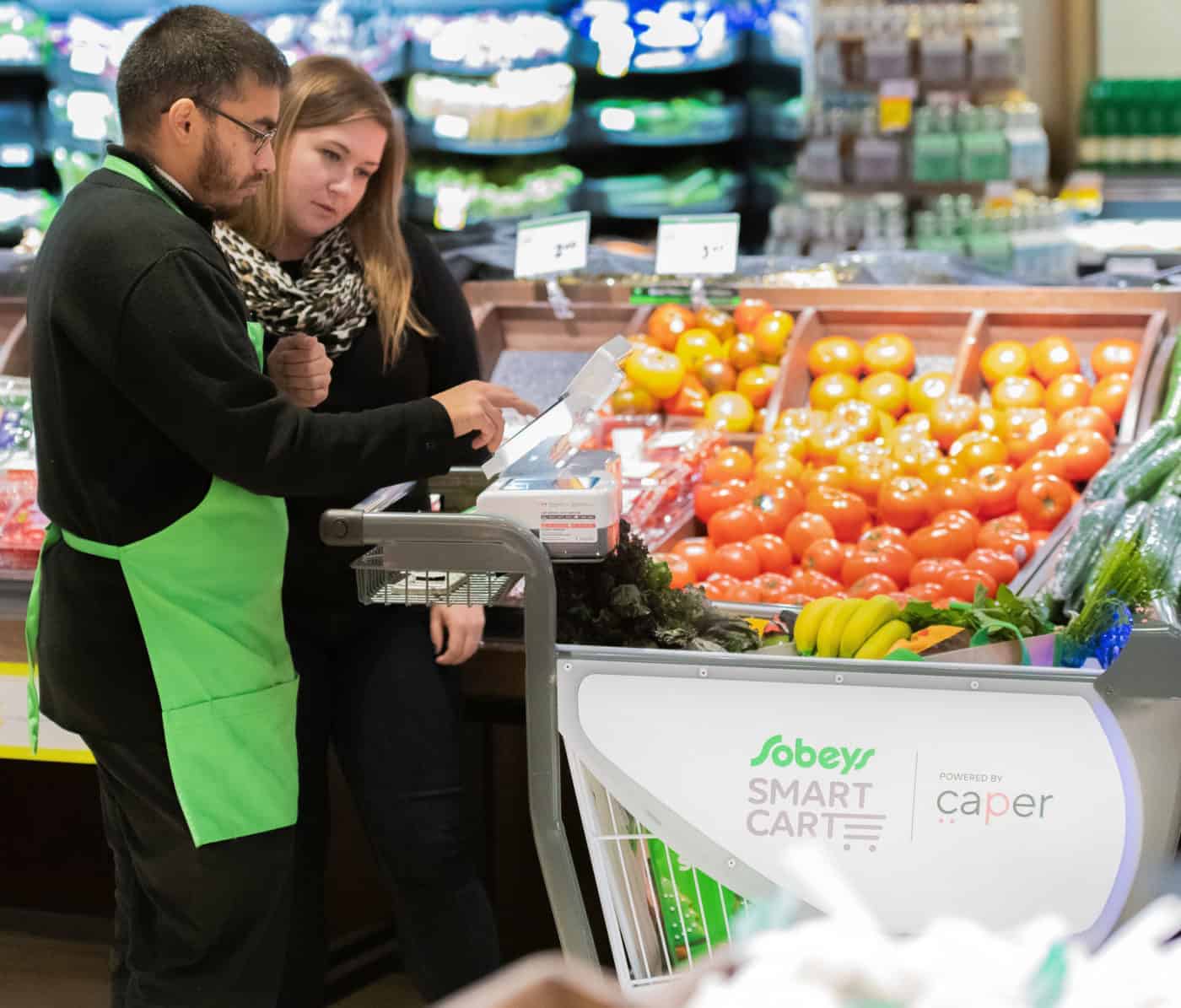 Earlier this year, Caper AI launched with New York-based supermarket Foodcellar & Co., which has since seen significant shopper traction with a proven increase in average basket size and improved checkout efficiency. Caper's plug-and-play Smart Cart allows retailers to rapidly deploy automated checkout with minimal disruption, thus achieving desirable returns on investment.
In the tech race to offer people a more efficient way of grocery shopping, two young entrepreneurs, inventors, created a solution, which aims to revolutionize the shopping experience of millions across the country.
These carts will be user-friendly for the shopper and will no pose a high implementation cost for supermarket owners.
Ahmed Beshry and Lindon Gao, founders of Caper AI, are perfecting their smart shopping cart. During the Groceryshop19 Convention in Las Vegas, this past September, Caper presented its product, and Abasto magazine interviewed Beshry about the development of this technology.
The 26-year-old Canadian has a double major in chemistry and computer science and a great affinity for the artificial intelligence field. He met his partner, Lindon Gao, in New York. They studied the market and saw a great opportunity and potential for their smart shopping cart idea.
"We knew there was a side of the grocery shopping experience that needed improvement. The efficiency, easiness, and speed in the grocery shopping process required a fix. We knew there was a market in which we could go in. Still, we didn't want to stick our foot in before having a complete understanding of the space, people, and business store owners," said Beshry.
Related Article: Cooking of the future, Tyson invents smart cooking oven
"Before starting to develop the smart shopping cart and establish our company, Caper AI, my co-founder and I went to hundreds of supermarket stores in New York City to speak with the owners to find the problems they had in regards to our product. We found they had issues with profitability, no making enough money, business management difficulties, customers using different platforms, and the customer shopping experience was probably the worst one," added Beshry.
With that in mind, Beshry and Gao founded Caper AI, the company that would change the look and usability of the traditional shopping cart you see every day at groceries and supermarkets across the U.S. They want to make a cart that is conventional and easy to use and that people get accustomed to using it for grocery shopping.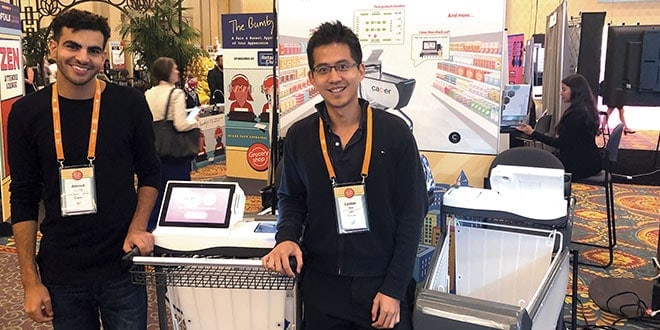 "This is the way we want to solve the problems of bad experiences that customers have in stores. No more long lines and waiting times at cash registers" said Beshry.
How does the smart shopping cart work? The technology is simple. As you walk through the aisles of the supermarket, choosing the items you are going to buy and put them in the shopping cart, they will automatically be added to your final bill.
The smart shopping cart from Caper AI uses sensors and computer vision to determine which items you are placing in it, and you will be charged accordingly.
The carts are also equipped with scales to weigh items such as vegetables and fruits. The technology in this cart will give shoppers recommendations for products based on what you already bought or are buying. It will also provide you with recipe suggestions based on the ingredients already placed in the cart, so you no longer have to guess what to cook for dinner.