After two years as head of Southeastern Grocers, Ian McLeod is leaving his job and the company named Anthony Hucker as interim president and chief executive officer.
The supermarket chain based in Jacksonville, which operates Winn-Dixie, Bi-Lo, Harveys and Fresco y Más grocery stores, said in a press release that McLeod is resigning "to take up another opportunity."
Hucker, who has been Chief Operating Officer of Southeastern Grocers since March 1, 2016, will assume his interim responsibilities effective July 1, and McLeod will remain in his current role through June 30, 2017 to assist with the transition.
"We are pleased that Anthony Hucker will be stepping in as President and CEO on an interim basis," the Company said. "He brings extensive knowledge of the retail grocery sector, with more than 18 years of experience in leadership roles across our industry in the US. Prior to joining Southeastern Grocers as COO, he was President and COO of Schnucks, President of Giant Food and Head of Walmart's Strategy and Business Development division, and spent 10 years as part of the original start up team with Aldi UK."
McLeod came to Southeastern Grocers in March 2015 after serving as CEO of Coles, a company which operated 2,300 grocery, liquor and convenience stores in Australia.
Southeastern Grocers is the fifth largest conventional supermarket in the U.S. Employs nearly 60,000 associates who serve customers in grocery stores, liquor stores and in-store pharmacies in seven states, Alabama, Florida, Georgia, Louisiana, Mississippi, North Carolina and South Carolina.
"It has been a privilege to work with Ian and I wish him all the best. I am humbled and honored that the Company has selected me as the interim President and CEO of Southeastern Grocers. I look forward to working with the rest of the leadership team and representing our outstanding associates as we continue to focus on our strategic transformation and positioning the business for long-term success," said Hucker about his new responsabilities.
In the meantime, Southeastern Grocers has already initiated a search to find a permanent successor for McLeod.
Southeastern Grocers opens more Fresco y Más stores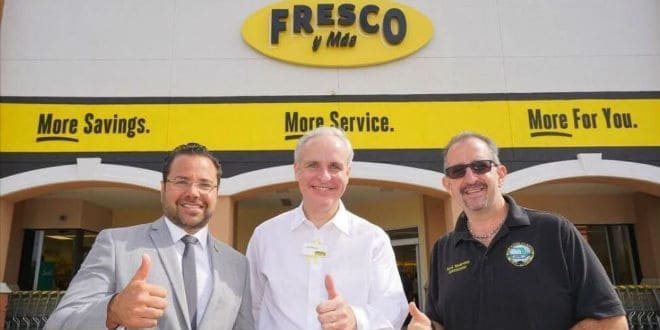 On June 14, Southeastern Grocers celebrated the first year of the Fresco y Más banner with the opening of seven new locations, growing the Hispanic-focused stores to 18 throughout South Florida.
The new stores will feature a Cocina kitchen with ready-to-eat foods, a café with authentic Hispanic food, a renovated bakery department, and a full-service Latin butcher shop (carnicería). These locations will also offer a Wall of Value section, a new Dollar Zone, a refreshed produce department, and more.
The new stores which previously traded under the Winn-Dixie banner, are located in Miami, Hialeah and Hollywood, which is the first one in Broward County.