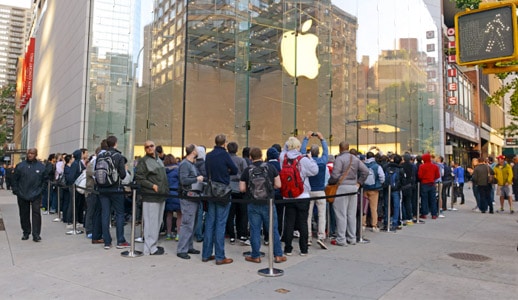 The US computer group Apple posted a higher-than-expected gain in the first quarter of its fiscal year, ending in December, thanks to strong iPhone sales, mainly in the Chinese market.
During the selling season from October to December, the company had a net profit of 18.020 billion, representing an increase of 37.9% over the same period in 2013.
The company sold 74.5 million iPhones in its fiscal first quarter ending Dec. 27. Revenue rose to $74.600 billion from $57.600 billion in the same period last year.
According to the company, more iPhones were sold in in the US than in China, despite some analysts predictions. However, revenue in China rose 70 percent in the quarter, largely due to the massive iPhone sales explosion.
Apple CEO, Tim Cook, described the quarter as "fabulous" by the fact that demand for Apple products soared to a record.
The company obtained 40.1% of revenues in the Americas, mainly in the US, followed by Europe which represented 23% of revenue for Apple during the quarter in which sales in China continued to grow strongly.
Apple's success in the competitive Chinese market can be attributed to its partnership with China Mobile, the world's largest mobile operator, and the attractiveness of the larger iPhones 6 and 6 Plus screens over previous models.
Luca Maestri, Apple CFO, said revenue for the current quarter will increase between 14 and 20% from the same period last year, despite the strong dollar, which has forced other companies to reduce their forecasts.
Apple has set records with each new version of its iPhones. In comparison, the company sold 51 million smartphones in the fourth quarter of 2013, when its iPhones 5s and 5c models were new to the market. A larger screen is the reason for the iPhone 6 and 6 Plus popularity.