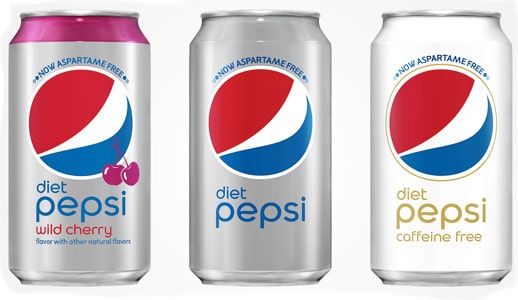 The soft drink manufacturer announced a measure that became controversial in the United States and could run in Europe: their diet drinks will not use the component known as aspartame.
Thus, and in order to stem the decline in sales, Pepsi replaced that component with sucralose, known worldwide for the Splenda brand. The decision does not respond to health warning concerns, but the constant consumer request of this popular cola.
"For Pepsi consumers, removing aspartame is the number one concern," vice president of Pepsi Seth Kaufman told reporters.
The brand made the announcement in the same containers and cans which can be read on the logo: "Now aspartame free."
Pepsi assured their customers that the change will not have a variation in the drink's taste, although sucralose is 200 times less sweet than the last ingredient. The hope of the company executives is that this quick move could give them a great advantage over Coca Cola, who also suffered sharp sales decline in the past year.
For some organizations aspartame has links with cancer, but it is not clear that the sacralosa is healthy as there is no research on it.
Meanwhile, Coca Cola said in a statement it has no plans to change the sweetener in Diet Coke products, which is the diet soft drink most sold in the United States.
The Food and Drug Administration (FDA) said that aspartame, known for its Equal and NutraSweet trademarks among others, "is one of the substances studied more extensively on the human food chain, with more 100 studies supporting its safety. "