High school students from Orange and Los Angeles County culinary arts programs put their cooking skills to the test for a friendly but spirited competition in Southern California. The program was part of the regional Cooking up Change competition at Northgate González Market Headquarters in Anaheim.
Taking part in the competitive excitement were high school culinary teams and future chefs from four area high schools. Participating high schools included Bolsa Grande High School, Los Amigos High School, Rancho Alamitos High School, and Paramount High School.
"Cooking up Change is proud that have provided the platform for student voices to be shared on behalf of healthy school meals. We are grateful for the collaboration of students, culinary instructors, schools, and the greater community for this event and program," said Linda Luna Franks, executive director, of Kid Healthy.
Cooking up Change is presented locally in Orange County by Kid Healthy and nationally by Healthy Schools Campaign. Northgate Markets is a partner and prime sponsor of the event.
Related Article: Champions for Health Honors Northgate Gonzalez Market with President's Award
Kid Healthy is based in Orange County and has hosted Cooking up Change since 2012, the first organization to do so in California. The program works with student chefs for months teaching about the challenges of serving school meals daily; attending workshops on the USDA, Food Presentation, and Public Speaking for Advocacy; and working alongside a chef mentor to create fresh, healthy, and delicious school menus.
"Northgate Markets is pleased to have hosted this important competition once again at our corporate headquarters," said Mike Hendry, executive vice president of marketing and merchandising at Northgate Markets. Our partnership with Kid Healthy is important because we are committed to creating healthier communities in our market areas through various community initiatives including our Viva la Salud program, comprehensive health, and wellness initiative to make it easy for our customers to shop and navigate our stores for healthier food products."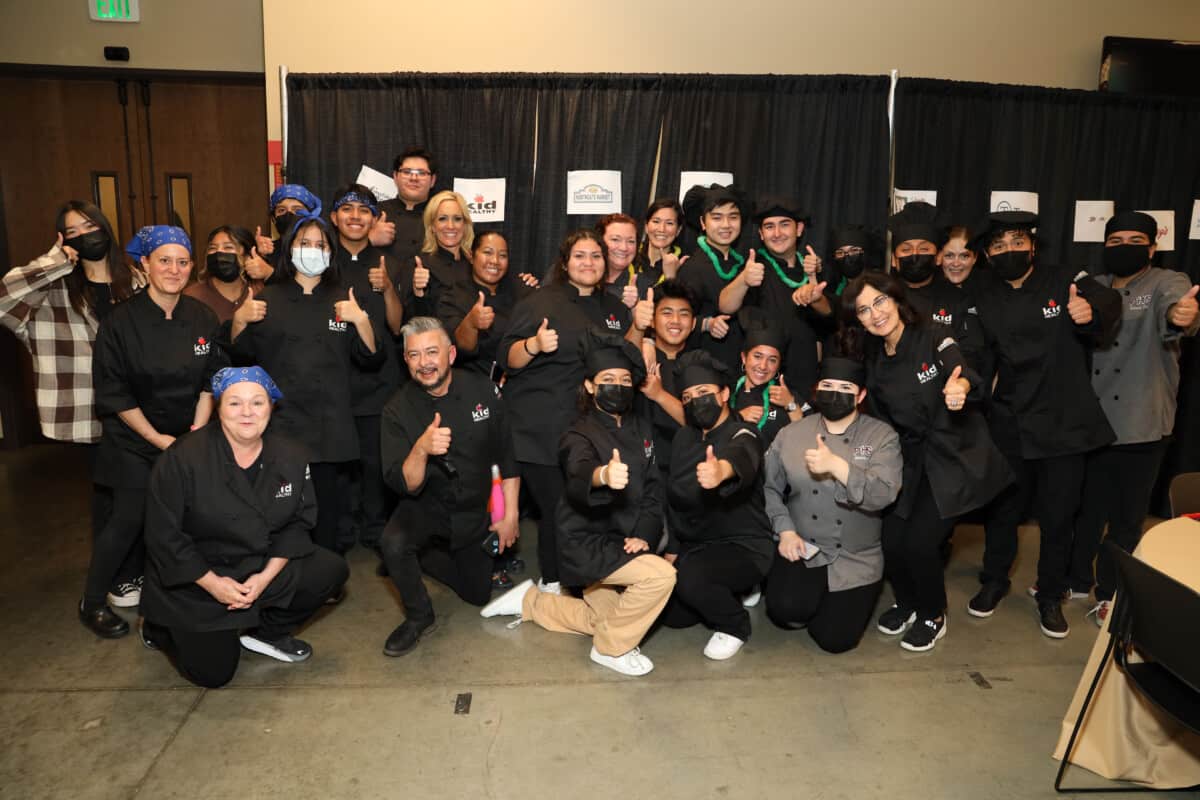 In addition to spotlighting remarkable student talent, Cooking up Change brings attention to the challenges of serving fresh, healthy school meals and the need for reform in our school food system. This focus is an especially important call to action to end childhood obesity in this generation, particularly focusing on school food.
During this year's competition, students demonstrated how they applied their skills to meet or exceed USDA nutrition guidelines and the budgetary constraints that school food service professionals face daily. The judging panel was made up of local business leaders; along with a live audience who heard what the students had to say about school food, taste and rated their entries.
The audience participated in viewing the competition, while students presented to the esteemed judging panel. Guests sampled the entrée selection and vote for "Audience Choice" in the entrée category and "Best Presentation" category. Following the competition, teams had an opportunity to meet with local policymakers to share their opinions on school food and nutrition, and receive scholarships and culinary prizes.
This year's competition winners were:
1st Place: Bolsa Grande High School; menu- Crispy Korean Chicken Sandwich; Korean inspired roast vegetable mashed potatoes, ginger pear salad
2nd Place: Rancho Alamitos; Kalua Pork Hawaiian Bowl, Potato Mac Salad, Peach Yogurt Parfait
Audience Choice: Paramount HS; Demigod Chicken Delicacy, Jasmine's Mystical Lamp of Greens, Enchanted Apples of Love
About Kid Healthy
Kid Healthy's mission is to address health and wellness by engaging school children and families from the most underserved communities of Southern California through culturally appropriate health and wellness programs that measurably improve nutrition and fitness levels.
Kid Healthy was founded in 2003, in partnership with KABC7, as an early collaboration of agencies dedicated to combating the childhood obesity health crisis, particularly among disadvantaged and low-income populations.