After a staggering increase in sales of Fast-Moving Consumer Goods (FMCG) experienced by the retail industry due to the initial widespread panic-buying caused by COVID-19, shopper behavior is changing. The uncertainty about future financial stability expressed by 46% of Americans is one of the main reasons for this change, according to Nielsen's COVID-19 Shopper Survey.
A much more discerning grocery shopper is now emerging. Last spring, the initial reaction of consumers to the pandemic was to go to supermarkets to stock up on products and ingredients required to prepare the entirety of their family meals at home, ignoring prices, according to a report by Nielsen.
Retailers and their trading partners responded as rapidly as possible to the sudden spikes in demand by pulling back on promotional efforts and focusing on their supply chains to keep up, which led to higher prices on 64% of more than 500 grocery store categories, Nielsen said.
The short-term result? FMCG sales soared to $77.9 billion across all U.S. channels for the 52 weeks ended Sept. 12, 2020, translating to year-over-year growth of 9.3%.
According to Nielsen's analysis based on the COVID-19 Shopper Survey, while this lift was astounding for the retail industry, it's time for stakeholders to stop celebrating and examine the long-term implications of inflated grocery store prices as financial stability remains a looming question for 46% of Americans.
Related Article: What Does the Future Hold for the Hispanic Retail After Covid-19?
Shoppers have been primarily driven to make purchases based on health and safety concerns throughout the pandemic. However, a second layer of consumption behavior has been emerging from those experiencing (and anticipating) financial restraint.
U.S. unemployment has fallen from its peak of 14.7% in April, but consumers are still feeling weary and, as a result, the U.S. Consumer Confidence Index plummeted by 21 points from Q1 to Q2 of 2020.
According to Nielsen, the impact of underlying financial risks is not equal among consumer groups, and it's important for retailers and brands to understand where consumers are headed in terms of how they will make purchases and the strategy behind them.
Understanding Newly Constrained Consumers
Of those who participated in Nielsen's COVID-19 Shopper Survey in the first week of July 2020 in the U.S., 29% of respondents said their household's financial condition had worsened from the previous year, forcing many into a segment of newly constrained consumers with adapted habits that align to lost income.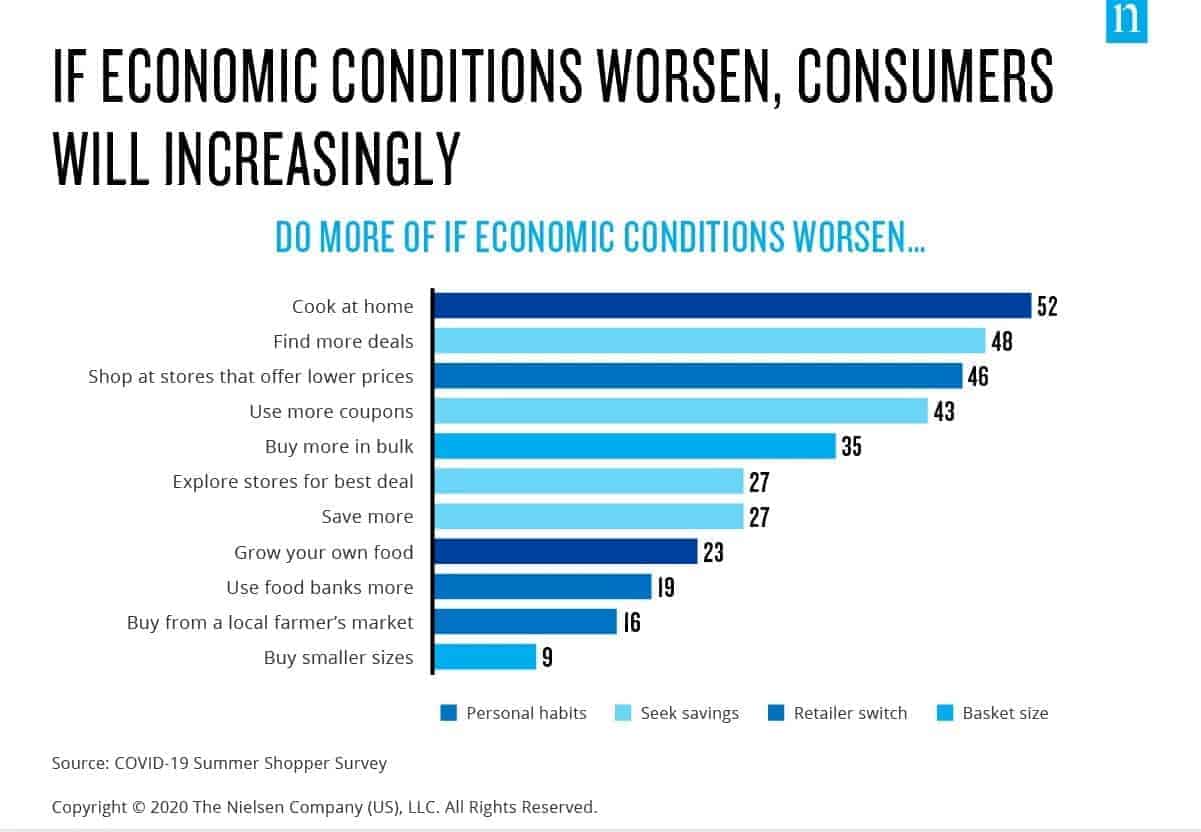 Nielsen's report indicates that joining them in switching gears are the cautious middle consumers who are planning for an uncertain future that may include an impact to their income, though it hasn't happened yet.
These segments are developing new shopping strategies to protect their health and make each dollar stretch further by seeking out discounts and promotions, shopping at stores with lower price points, cutting back on luxury items, increasing their reliance on e-commerce, opting for non-perishable and frozen foods over fresh foods and substantially reducing their overall spending.
Recommendations to retailers, brands, and manufacturers
Brands and retailers need to pay the closest attention to the newly constrained and cautious middle shopper groups. As the U.S. continues to face a recession, more Americans will join these groups and will look to recalibrate their shopping habits, Nielsen said.
Brands, retailers and manufacturers need to determine how to maintain their sales as the majority of consumers substantially cut back on spending and seek deals through various channels. This is particularly important in an environment where prices are inflated.
These shopper segments are less familiar with stretching their dollars to make ends meet. Therefore, retailers, brands and manufacturers need to make it easier to find information on deals and lower prices and assist consumers in making their purchases last longer.
According to Nielsen's research, retailers and brands can properly cater to the growing segment of financially limited consumers by reassessing their assortments for constrained wallets, offering a price match guarantee and freezing prices on essential and non-perishable items, such as paper goods, sanitizing products and shelf-stable foods.
Retailers would be wise to tout their price matching and price freezes, including the duration and related policies, via digital campaigns, social media and impactful on-shelf and in-store signage. In addition, stakeholders can provide customers with information on how to preserve food longer, keep their homes clean with budget-friendly products and provide value comparisons for low-cost products versus their high-cost counterparts.
Retailers and manufacturers who have limited ability to lower costs will find success in directing consumers to more shelf-stable products, balancing ingredient quality vs. costs for essential items to expand more choices across price tiers and reducing packaging materials to lower production and shipping costs (e.g., expand self-serve product dispensers and packaging options).
As more shoppers shift to online shopping, retailers could even reduce costs by re-evaluating costs per square foot to spend less on keeping shelves visually appealing and focus more on expanding selection and reducing out-of-stocks.
Although the U.S. is bracing for a long-term recession, this scenario is drastically different from the financial crisis in 2008. It's not enough for retailers and brands to simply reassess their package sizing, quality and promotional strategies, the Nielsen report said.
In order to make consumers feel comfortable shopping in stores, retailers need to clearly communicate the measures they are taking to keep their employees and customers safe from viral exposure and focus on online information and shopping options.
Brands and retailers looking to capture consumers with less financial flexibility have little choice but to assess shoppers' altered perceptions of value and react accordingly. The demand for promotions, sales, and high-value products that fit current needs will continue to rise as more consumers become constrained, concluded Nielsen.