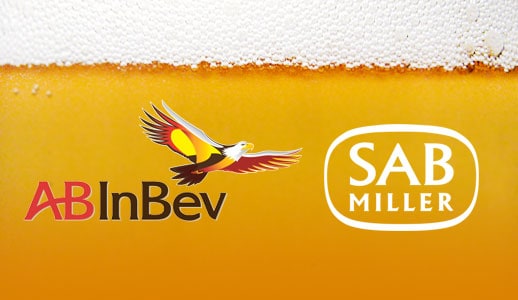 The Belgian-Brazilian brewer AB InBev announced that it reached an agreement to acquire the British-owned SABMiller company for 121 billion dollars, one of the largest mergers in history.
As was foreseen in a preliminary agreement, AB InBev will pay 44 pounds sterling per share to SABMiller, valuing the latter at about 80 billion pounds (121 billion dollars), including debt.
In order to avoid accusations from monopoly regulators, SABMiller will sell its majority stake in the American company MillerCoors for 12 billion dollars.
"The Anheuser-Busch InBev and SABMiller Boards of Directors are pleased to announce that it reached an agreement on the terms of the acquisition," the companies said in a statement.
Third largest merger in history
The new company will produce about 30% of the beer in the world. Some AB InBev brands include Stella Artois and Corona, while SABMiller produces Peroni and Grolsch.
Between the two companies, they produce about 60,000 million liters per year, three times more than the third largest leader in the sector, the Dutch brewer Heineken.
"Our merger with SABMiller seeks to create the first truly global beer and brings more choices to beer consumers in markets outside the US," said Carlos Brito, CEO of AB InBev.
AB InBev emphasized that the purchase expects to be completely closed in the second half of 2016, thus becoming "a truly global brewer." SABMiller is already established in growth markets in Asia, Central and South America and Africa.
SABMiller has about 70,000 employees in more than 80 countries and an annual turnover of over 26 billion.
Meanwhile, AB InBev has 155,000 employees and global revenues of more than 47 billion dollars.
It is the third largest merger-acquisition history, according to the research institute Dealogic, behind those of Vodafone and Mannesmann in 1999, and Verizon Communications and Verizon Wireless in 2013.